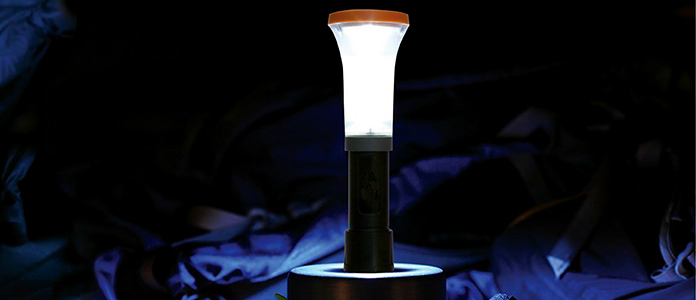 May 2016
Alternatives
to electricity
Interesting and innovative products nowadays give customers light, power and digital connections even in the remotest areas. As the search for alternative power sources gains momentum, RHIANAH RHODE believes that some of these products can even inspire energy-saving customers to use them at home
Energy shortages are going to be part of South Africans' foreseeable future, warns Eskom on its website. In addition, NERSA (National Energy Regulator of South Africa) approved Eskom's application for a tariff hike of 9.4% in March, which went into effect on 1 April.
The rising electricity costs will further tempt consumers to look for alternative power sources.
Outdoor retailers catering for campers and travellers to remote areas know that their customers are spoilt for choice in terms of the vast number of lighting — battery and solar — outdoor cooking, recharging and alternative power options available. Some of these are so advanced that they will also appeal to customers wanting to reduce their electricity usage at home — or prepare for the next round of power outages.
Alerting your customers to the many everyday uses in the home of the items they are looking at might just swing the sale — or convince them to upgrade their purchase.
With so much on offer, will your staff know what to recommend to customers seeking alternative power sources?
Battery-operated
Devices powered by electricity are often on standby mode and plugged into wall sockets without actually being used, yet they consume electricity, says Eskom. These include lighting items such as bedside and table lamps, outside lamps, etc. that are left plugged in, but are only used for short periods. You can alert your customers that there are battery-operated options they might want to consider as alternatives.
Although batteries are an easy power source to use and find, remind customers that devices that require high volumes of power could quickly drain non-rechargeable batteries and result in added expenses.
Therefore it may be advisable to use these type of batteries for less energy consuming products and other viable options like rechargeable batteries, that can be recharged, for devices that require more power.
Customers should be aware of the following when using batteries:
only use batteries that are approved for use with certain products.
do not use counterfeit batteries as they can set alight.
do not crush, puncture or place pressure on batteries as they can cause internal short circuiting that could lead to overheating.
do not dispose of batteries in fires or by other improper means that could cause them to explode.
Every battery type has its advantages and disadvantages. Non-rechargeable alkaline batteries are cheap, widely available and useful to power low to mid drainage devices. Rechargeable alkaline batteries, on the other hand, are cheaper than other rechargeable batteries, but won't last as long. Both alkaline types offer a long shelf life, but are also more prone to leaking than other batteries.
Lithium batteries are non-rechargeable and usually come in small sizes like AA. They are more powerful than alkaline batteries and can be used to power high-tech electronics.
Lithium ion batteries are rechargeable and for their size and weight can store more energy than other rechargeable batteries. For example, they are lighter than Nickel-Metal Hydride batteries, but provide more power. They also retain their charge for longer periods than other rechargeable batteries.
Nickel Metal Hydride are rechargeable batteries with great recharging capability and can therefore be used to power frequently used devices, which drain batteries fast. They also offer a long cycle life.
There are many lighting options on the market with a wide range of light strengths (see the table on lumens) and battery life available.
Lighting up a room
The NEBO Big Larry is a work light with a powerful magnetic base that allows you to use it anywhere you need, hands free, says Kim Romanis from local distributor Lite Optec. The lightweight device is powered by three AA batteries and provides 400 lumens, which is an ideal amount of light for doing office or computer work.
By using Big Larry, your customers will be able to light an area of about 66m2 — typically good enough for an entire room.
Ultra Tec's Emergency and Camping LED also does an excellent job at lighting the entire room. "With up to 100 hours runtime off a single charge, this light is the best solution for load shedding situations," adds Romanis.
The emergency light features a 120 lumen output, LED life of 10 000 working hours, a patented reflector that enables better light distribution, as well as USB ports for charging other devices like a phone, which means consumers don't need to plug their handheld devices into a wall socket to recharge.
It can also be charged with its 220V AC charger or 12V cigarette lighter adaptor.
Black Diamond, locally distributed by Ram Mountaineering, offers a wide range of lanterns that each features a collapsible double-hook hang loop that can be attached overhead in order to provide light in situations where users need their hands free.
They also feature frosted globes that produce bright and ambient light, and dimming switches mean the brightness can be adjusted.
Apollo can light up a room with its 200 lumens and has a maximum burn time of 90 hours. Other useful features include its dimming function, which helps conserve battery life, and fold-down legs that allow for easy placement on the ground or on a table to help improve light dispersion.
Subdued light
When you need to get up during the night or want to read in bed, you need a light that won't wake up the whole camp site or disturb your partner.
Black Diamond offers small lanterns that will do a good job as reading lights:
The pocket-sized Moji provides up to 100 lumens on its maximum setting and has a streamlined and single-piece design that is protected against water immersion.
The lightweight pocket-sized Orbit offers similar lighting options to Moji, and works well for when the user wants to light a small (no bigger than 3m2) close-up area. Orbit is the smaller version of the Voyager, which offers 140 lumens in lantern mode and 50 lumens in flashlight mode. As a lantern it can therefore provide enough light to see by at a dinner table, and in flashlight mode it can be used to read by.
Solar powered
Solar power is an environmentally friendly and renewable energy source that will help save consumers money in the long run. Solar power is however dependent on sunlight and can be affected by things like overcast or rainy weather conditions, which will obstruct sun rays/energy from reaching a device.
Most areas in South Africa average more than 2 500 hours of sunshine per year, and average daily solar-radiation levels range between 4.5-6.5 kWh/m2 or 4 500-6 500 watt-hours — the amount of energy striking a square metre of the earth's surface in a single day, states the Department of Energy on its website (www.energy.gov.za).
The 4.5kWh of energy could power 45 100 watt light bulbs at a time — more than enough energy to power small devices with low watt requirements.
"The annual 24-hour global solar radiation average is about 220 W/m2 [watts (energy) per m2] for South Africa. The solar resource is the most readily accessible in South Africa. It lends itself to a number of potential uses."
UltraTec's MS5235 Silicone Solar lights work both with solar power or can be recharged via a USB cable if the user is in an area where using solar energy is not possible.
These products are ideal for travelling, camping, hiking, etc. as a back-up power outage lantern, or in flashing mode as a vehicle hazard warning or even as a signalling device, says Romanis.
They use Lithium Polymer battery technology, take three to six hours to recharge, have a maximum run time of 12 hours on High mode or five hours on Turbo mode, and their LED lights have a 50 000 hour plus lifespan. The lightweight and fully collapsible lights can also double as storage devices for liquids or as waterproof storage containers.
Powered by other products
Suppliers offer a variety of products that, although they do not operate independently of electricity, do help to reduce the amount of electricity one needs to use. See the section on power banks below.
Ledlenser's XEO19R headlamp has a USB connection that can be used to power cell phones, tablets and other electronics, says Bruce Woodroffe of local distributor Awesome Tools. It can also be converted into a handheld torch, which provides 2 000 lumens for four hours and has a maximum run time of 20 hours. Its two independently adjustable LED light cannons can be individually focused and adapt to the wearer's performance — becoming brighter, the faster he goes. It also features three power levels, an adjustable dimmer and emergency light.
Black Diamond's Ember Power Light flashlight doubles as a power bank, with the option of charging other devices off the flashlight's rechargeable sealed lithium polymer battery. It has a Triple Power LED that emits 150 lumens, offers a maximum burn time of 50 hours and its built-in power meter enables the user to monitor remaining battery life. The lock mode can be used to disengage the battery to prevent power drainage when not in use.
The New Moji Charging Station lantern is not just a 250 lumen rechargeable lantern, it is also a power bank that can charge hand held electronics, says Pieters. In addition to this it can also run on AA Batteries for 50 hours.
Rechargeables
While rechargeable products still make use of electricity to recharge, when they're being used your customer doesn't need electricity, which conserves power in the end.
Ledlenser offers a number of rechargeable torches and headlamps.
The X21R.2 torch offers a maximum lumen output of 3 200, has a run time of up to 40 hours and comes with a charging dock that can be mounted on the wall for convenient and easy access in a black-out, explains Woodroffe.
Its X LENS technology and the patented Advanced Focus System (AFS) help create a perfect lighting experience — AFS combines a reflector and lens to provide a strong focused beam for long-distance, and a diffused light for close-up viewing. The X Lens technology emphasises the light produced by the AFS and creates a cluster of synchronised, precise and bright beams. The Smart Light Technology Pro and new Fast Action Switch enable simple and direct control of individual light functions.
There are various other rechargeable torches in the range that offer different strengths:
The lightweight and compact F1R runs on a lithium ion battery and provides up to 1 000 lumens of power and a beam distance of up to 160m.
The P7R provides 1 000 lumens, a beam that reaches up to 210m and a maximum burn time of up to 40 hours. Its floating charge system with magnetic/wireless charging means customers no longer need to disassemble their torch to get to the batteries, but can just clip it into its charging rack and charge it via a USB cable.
The durable P17R offers a maximum of 400 lumens of power for up to 420m and can run up to 42 hours.
The M7RX also works with a floating charge system and offers up to eight and a half hours of light and has a maximum beam distance of 235m.
The heavy-duty M17R offers 850 lumens, and features the AFS technology.
The P7R, P17R and M7RX models feature AFS, speed focus and have an IPX4 rating, which means they have water resistance if submerged up to one meter.
Black Diamond's Revolt headlamp is a USB-rechargeable headlamp that runs on standard AAA batteries and offers 130 lumens of power. The headlamp is also IPX4 rated and comes with both AAA and NiMH batteries, says Pieters.
Multi-purpose lights
The new M3R is Ledlenser's first keychain-size rechargeable torch and runs on a lithium ion battery that can even be charged while on the go via its USB charger. It offers up to 220 lumens on Power mode for up to two hours and a beam distance of 130m. On Low mode it can run for up to six hours.
UltraTec's bottLED USB is a key ring torch, "which will essentially turn any wine, spirit or 22mm PET bottle into a lantern," says Romanis. The product can double as a handheld flashlight, takes only 2-3 hours to fully charge, and provides users with up to eight hours of light.
The new NEBO Casebright flashlight, also available from Lite Optec, is housed in an impact-resistant, non-slip rubber cellphone case, compatible with iPhone 6, 6s, 6 plus and 6s plus models. "This is a battery operated, unbelievably bright flashlight (400 lumens), conveniently located in a durable, protective cell phone cover," says Romanis.
"Multiple lighting modes at the press of a button, the Casebright is the most convenient, flashlight that is always with you." The battery can be recharged via USB, the cover features a handy battery life indicator, and the flashlight will run between 24 (low mode) and three (high mode) hours.
Preparing food
Suppliers offer a number of gas products that consumers can use to cook their supper in the bush or to boil water for warm drinks — which can also be handy during power outages, or when cooking next to the braai.
Although gas is a great alternative to electricity remind customers that incorrect use can be dangerous:
burning gas requires oxygen, so it should only be used in well-ventilated areas;
canister holders can be affected by the temperature of the surrounding environment: if too cold, the temperature will negatively affect flame heat and burn time.
For cooking, the Jetboil stoves like the MiniMo and Sumo are easy to use and boil a litre of water in under a minute, says Pieters from local distributor Ram Mountaineering. They are also very compact, which makes them easy to store, even in a backpack.
The 1L MiniMo features a redesigned valve for simmer control, and it has a convenient push-button igniter.
This device also features an insulating drink-through lid and a measuring cup, and is compatible with accessories like the new MiniMo-sized Coffee Press, Hanging Kit, and Pot Support.
For those customers who need to cook for a group of people, for example their family, Sumo, which can hold up to 1.8L, will be a better option. Sumo also features the same burner as MiniMo as well as the redesigned valve that offers simmer control.
Another electricity saving product from Lite Optec is the 1.5L Isosteel Flask, says Romanis. "It will keep hot water hot or cold water cold for 12 hours. This means you can boil your kettle once in the morning with 1.5L and keep it hot enough to use for tea or coffee the whole day." The modern design liquid storage product features a Quickstop easy pouring system, is double walled for extended thermal performance, as well as hygienic and easy to clean.
Power banks
Power banks are portable battery packs, which retain a charge that can be used to recharge other electronic or digital devices like cameras, cell phones, tablets, etc. Customers can use them to recharge devices, independent of electricity, which will also help them conserve electricity.
Power banks' capacities are indicated in milliAmpere hours (mAh values) and can have charging capacities of 2 000mAh, 4 000mAh, 6 000mAh, etc., which will increase by increments of 2 000mAh or 2 500mAh.
Depending on the power bank's mAh value, it will be able to charge one or more device at a time. For example, if the power bank has a 2 500mAh value, it could recharge at least one device of 2 000mAh or 2 500mAh at a time. If however, it had 10 000mAh, it could recharge five devices with 2 000mAh each.
Advise customers of the following when selecting or buying a power bank:
All power banks work with batteries and as the battery size increase so too will their size, cost and charging time.
During operating, a power bank will lose approximately 20%-25% of its energy. Therefore devices with the same capacity as the power bank cannot be fully recharged by it. For example, a 2 000mAh power bank will not fully recharge a 2 000mAh device.
Recharging a power bank via a wall socket will be twice as fast as recharging it via a computer USB port.
When recharging devices with a power bank, customers should not use it as it emits heat during recharging, which could cause damage to it and the device being recharged.
If customers have a high device usage rate, they will require a higher capacity power bank with more than one micro-USB charging port. Similarly, if your customer has a low usage rate, he may only want to purchase a power bank with one micro-USB charging port.