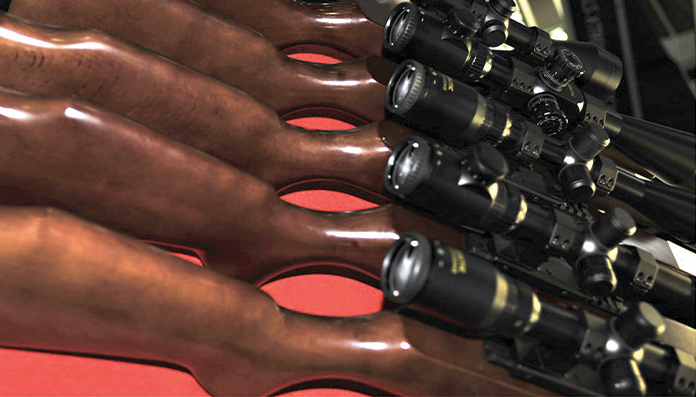 May 2016
How firearms renewal directive
will affect dealers
If the court application by SAAADA to set aside the latest SAPS directive to confiscate firearms when licences are renewed late succeeds, it will have far reaching implications for licensed arms dealers
In February this year a directive from the acting Commissioner of Police hit the firearms industry like a fire cracker lobbed at a flock of pigeons: causing confusion, alarm and wide scale indignation. The result is court action that could have major implications for gun dealers.
The directive from Lt. Gen. JK Phahlane to designated firearms officers (DFO) that persons whose firearm licenses have expired, and who did not apply in time for a renewal of such license, will have to surrender such firearms to the SAPS, or may possibly face criminal charges, is currently being challenged by the South African Arms & Ammunition Dealers' Association (SAAADA) in court.
SAAADA is asking that the instruction be set aside that the firearms have to be surrendered to SAPS if licenses are not renewed in time — and that owners whose licenses have expired, should be given the opportunity to surrender their firearms to licensed dealers for safekeeping while they re-apply.
The fact that firearm owners could be charged, or their firearms destroyed as illegal weapons, have caused an uproar amongst owners. SA Hunters believes that is not feasible or practical to criminalise and prosecute such a large number of people who are inherently law-abiding citizens, says the association's CEO Fred Camphor.
May not destroy
In the meantime, comments by judge Neil Tuchten can be understood to mean that police may not expropriate and destroy any of the firearms surrendered by owners who applied late for the renewal of their licenses, says advocate Martin Hood, who is acting on behalf of the association. In April the judge postponed the SAAADA application hearing to 23 May because it was not urgent, but commented that it would become urgent if the police destroy any firearm handed in. Police are only meant to keep the firearms safe until new licenses are issued.
If the owner applies late for a renewal of his license (less than the designated 90 days before expiry) but before it had expired, the applicant doesn't have to surrender the firearm and the old license will remain valid, the commissioner's directive continued.
"The directive is actually unlawful and the police are contravening the Act, which clearly states that you have to renew your license 90 days before it expires," comments Hood.
Once the license had expired, a firearm becomes unlicensed, and technically becomes illegal. The owner would therefore have to cancel this expired license at a police station when he hands a firearm to a dealer for safekeeping — and then re-apply for a new license. This could cause tremendous administrative problems, because at least 130 000 licenses that have by now expired will have to be processed at one time and the police are already not able to process and handle all the normal firearms administration, says Hood.
Contract with owner
When a dealer accepts a firearm for safekeeping, he effectively becomes responsible for it. As a precaution, he should enter into a contract with the owner on how the firearm should be treated. Issues that a dealer might want to discuss with the owner handing in his firearm could include:
Will the dealer only be responsible for safekeeping/storing of the firearm until the owner's license had been renewed, or he obtains a new license — or will the dealer take over the firearm to resell if he wishes? If the dealer and owner agree that the license would be cancelled and that he forfeits the firearm, the dealer will be able to sell it, but if the agreement is that the firearm is handed in for safekeeping, he will not be able to sell it, advises Hood.
They should agree if the dealer will be charging a monthly storage fee, what the cost would be and if he would he be able to raise this after some time?
How long should he wait for the owner to obtain a license? Should they renegotiate the contract after a pre-determined period if the new license had not been granted in, for example, a month?
What happens to the firearm when the owner is denied a new license?
May a dealer sell a firearm that was handed in, and if so, what would be a fair price?
They should also agree whether the dealer will be free to sell the firearm if he is unable to contact the former owner after an agreed time.
Confusion about licensing
When an owner applies late for a renewal of a license, the Act says he must give a valid reason why he didn't renew his license in time. "We believe that the person applying for a new license should be given the opportunity to explain before he forfeits his firearm," says Hood. "There is massive confusion around the status of firearms licenses, which makes it difficult for owners to keep track of when they have to renew their licenses."
For example, there is the court order SA Hunters obtained in 2009 that the old green licenses should remain valid until the constitutionality of the new Act (Firearms Control Act of 2000) is ruled on — these licenses are therefore not up for renewal.
The holder of a new license who also has a green license may believe that he does not have to apply for renewal until the ruling — but the Amendments to the Act tabled last year makes provision for the green licenses to remain valid for only two years. This was vigorously opposed by various firearms bodies.
There are also different periods of validity of licenses — hunting licenses, for example, are valid for ten years, but self-defence licenses for five years.
For firearms owners who previously had the old green licenses, renewal is a new concept. Many simply didn't think about it. By November last year it was estimated that 7% firearms owners had failed to renew their licenses in time. Yet, for the past five years, since 2011, they were allowed to renew their licenses late — often even after the licenses had expired. Suddenly, after the directive in February, late applicants are penalised be being required to surrender their firearms.
"To reverse this policy is inconsistent and capricious, and prejudices firearm owners who have a reasonable expectation of proper and objective administrative action, consistent with past practice and policy," says Hood.
Some owners have received reminders from SAPS that their licenses will expire before the designated 90 day period, others received notifications within the 90-day period, while others were never notified.
To add to the confusion, the Head of the Central Firearms Register (CFR), Brig. Mabule, sent a directive to DFOs that a new competency certificate must be submitted and approved before the license renewal can be accepted and captured for processing. This is wrong, says John Welch, chairman of the SA Gun Owners' Association (SAGA) Trust. "The instruction is applicable to applications for NEW licenses and not renewals."
Furthermore, competency certificates had originally been issued for ten years, some without a date stamp. Amendments to the Act proposed last year that competency certificates should only be valid for five years, had not yet been implemented.
"The root cause of all the problems regarding licenses is that the police are not engaging firearm owners, and they are not listening to owners and the issues they have been raising over a long time," says Hood. They even ignore instruction of the Parliamentary Portfolio Committee to engage with stakeholders.
He cites the example of the commissioner's February directive, which is "an internal directive, communicated internally, not addressed to firearms owners. They never even sent an SMS to alert owners that their firearms could be confiscated, or to warn them that their licenses will no longer be valid."
This scenario resulted in slew of legislation, he adds. "We're all paying for state's mistakes and no one is ever held accountable."
When their letters and requests for meetings with SAPS went unanswered, SA Hunters again in March went to court to challenge the constitutionality of certain clauses in the Act and Amendments proposed last year, and to seek clarity on other issues. This application had not been heard by the time of going to press.