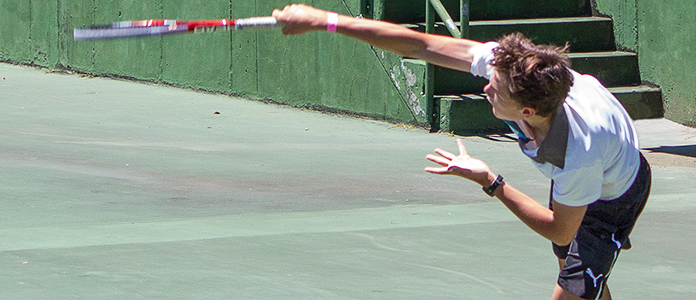 A player in the 2013 Western Province Junior Masters tournament. Photo: Carin Hardisty.
May 2016
Innovative technologies
in the latest tennis rackets
Tennis racket manufacturers are introducing hi-tech technologies that will not only help your customers improve their game, but also make it more enjoyable and reduce injuries, reports RHIANAH RHODE
Tennis brands have introduced innovations and improved on old technologies in their ranges to make the game more comfortable, fast-paced and enjoyable for players.
Rackets that record players' playing style, shoes that get them to the ball faster and a handle system that allows them to feel the ball better, are only a few of the latest technological advancements your customers can choose from.
Racket handles go hi-tech
Dunlop's new SR-X shock reduction handle system replaces the previous ISIS-X system. The new construction features a new vibration dampening system and offers better durability and enhanced playability.
The high strength moulded carbon fibre handle houses two twin Energy Cores that channel and transmit impact energy evenly through the handle and filter out bad vibrations to offer the player a more enhanced feel. The suspended fibreglass rods are moulded into the top and bottom sides of the handle, which has been reinforced with carbon fibre and PU for more rigidity and strength.
"On impact, the SR-X's unique combination of materials and construction help to filter out heavy impact and jarring, yet still allow good sensations and feel through," says Steve Gallienne of local distributor Brand ID. "SR-X technology filters shock and vibration faster than standard handles, allowing you to feel the ball, not the impact.
Recording data
Wilson and Sony have collaborated to develop the Sony Smart Sensor, which can be inserted into the butt cap of certain Wilson rackets. "The smart sensor gathers data about your shots and then analyses your play in real time, allowing the player or coach to work on improving performance," explains Brad Summers of local distributor The Golf Racket.
The data is accessible through an app that is smartphone or tablet compatible and records things like ball impact spot, ball spin, ball speed, and swing speed. The user can also play back recorded video while viewing his swing and shot analysis data.
Babolat's Play technology gives a player a complete picture of his game by recording game-related data that can be used to improve his performance. It integrates a racket, website and mobile application and can also capture ball speed (km per hour or mph), features a ball impact locator, and can record up to 150 hours.
The Play racket features sensors (6 axis sensor, Accelerometer, Gyroscope and Piezoelectric) in the handle, which capture movement and measure them in space and racket speed, while vibrations are recorded to help determine impact location. The racket records players' technique, power and endurance to create their unique Pulse, which constitutes their playing style and overall ranking in the Babolat Play community, which features all players using the racket.
The captured data can be transferred via Bluetooth to a smartphone or a USB cable — which plugs into the butt cap.
The Pop technology, which is also available in a wristband, records motion activity like forehands, backhands, smashes, volleys, spin, shots, playtime, rate (shots per minute), best rally, and power/racket speed to help measure the wearer's game consistency over long periods of time.
Improving play
Wilson also uses a number of other technologies in their rackets to improve play and although "not all the rackets incorporate all the technology at the same time, the good thing is that over time the technology gets filtered down to the cheaper rackets," says Summers.
The BLX technology used in their rackets incorporates basalt fibres, a natural volcanic rock, that can be repurposed into fine gold fibres that offer good vibration resistance. It is one of the softest and most absorbent materials, which gives a nice soft feel, explains Summers. The basalt fibres are longitudinally woven with Karophite Black to create a composite.
This also features in Wilson's Amplifeel technology, used in the grip of rackets to enhance their feel. The use of basalt inserts and foam give rackets an unbelievably soft and clean enhanced feel, he says.
Spin effect technology is the first racket system that increases ball revolutions per minute (RPM) — producing greater spin — without players changing their swing, says Summers. This spin effect can add over 200rpms of spin to a player's shot and allows for 5.1cm higher net clearance and 30.5cm higher margin of error.
Wilson's Fast Speed Technology (FST) features Octagon geometry, which allows the racket to move through the air faster, no matter what angle. It is aimed at the young and aggressive player.
The Hammer technology increases the racket power and stability on contact as well as the sweet spot by moving the weight more to the head.
Head, locally distributed by Omni Sport, has introduced its new Custom Made technology that allows a player to adjust their racket weight, length and balance to their personal preference. It also enables him to change the string tension, as well as the handle's shape and size.