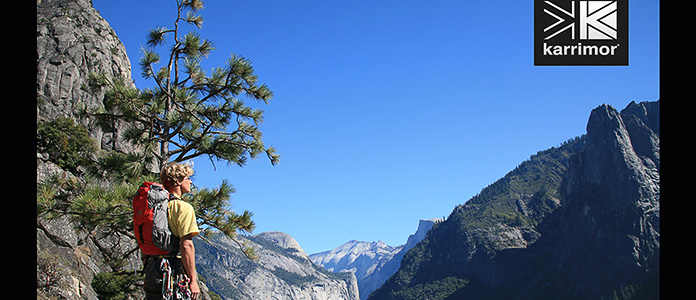 May 2016
Karrimor running
and outdoor in SA
By receiving the rights to distribute Karrimor in South Africa, Drimac Trading offers retailers the opportunity to stock a wider range of the brand's products in the outdoor and running categories
Since 2008, Karrimor has had one distributor in South Africa: Brand ID, who still distributes Karrimor's school backpacks. Now, in 2016, Drimac Trading has the license to distribute the brand's outdoor and running clothing, footwear and its other accessories.
Initially, Karrimor will only be available to Drimac Trading's own stores, but the brand's products will soon also be available to other retailers.
Karrimor is a brand that is known worldwide. "A goal-driven brand dedicated to the pursuit of discovery; it's about breaking boundaries, discovering new heights and achieving goals," is how the brand describes itself. "Karrimor is an adventurous spirit with a down-to-earth practicality. A born doer with a starter finisher philosophy. Karrimor is not afraid to leave the comfort zone knowing that outside is where the magic happens!"
In South Africa, Karrimor is well-known for its backpacks — especially those used by school learners. Back in 1946 the British brand, however, started off in a shop that made cycling bags! Today it has footwear, clothing and accessories for a variety of activities, such as outdoor leisure and running.
"Outdoor enthusiasts are passionate about the challenges and adventures that come with getting close to nature. Not too close though — they want the very best gear to keep the elements at bay," states the brand. "They know the good brands and they research specifications carefully before they buy. They don't want cheap, but they do expect real value for money." To this end, Karrimor's products are thoughtfully-designed with useful features that will help the end user get the most out of his activity — and the technology's there as well!
The brand caters for four types of running customers:
True Runner: 30-45 years old, male or female in the upper income bracket who runs between 30-60km per week, often runs in races and may even travel to race, and wants the latest in technology.
Weekend Warrior: men and women who might run roughly 30-40km, mostly over the weekend with work or family commitments restricting the running schedule. The runner might run in local races and is in the upper-middle income bracket. The runner is looking for quality at an affordable price.
The Active Family: parents (late 30-early 40 year olds) and two children, who are also actively engaged in sport. They need to purchase multiple pairs of footwear, so value for money is important. They are also more likely to spend time in-store ad browse for further accessories and clothing. This is a volume customer who responds well to service and knowledgeable sales staff, which may lead to further sales.
Running Fashion: someone who purchases running shoes, but who isn't a runner, and enjoys the style or the feel of a quality running shoe. Some examples might be working people who spend a long time on their feet, delivery people, outdoor workers who don't require safety shoes, etc.
Similarly, Karrimor has categorised its outdoor consumers:
Skilled Adventurer: 25-45 year old man or woman (majority is men) who actively participates in skilled outdoor pursuits, such as climbing or mountaineering, and is interested in high-end technical kit that performs at the highest level. The consumer will do research on the product and is prepared to pay a premium price for a premium product.
The Active Family: parents (late 30-early 40 year olds) and two children whose holidays include a variety of activities involving sports, such as walking, cycling, climbing and swimming. In general, the children are more likely to have an active lifestyle. Value for money is important, as the family will need to make multiple purchases, but functionality and safety are also important and they will be prepared to pay for products that guarantee performance and will last.
Weekend Trekker: 35-55 year old men and women — often couples without children — who enjoy weekends away with friends and tend to holiday in the countryside or outdoors where they might enjoy walks, river crossing and a scramble — but not scaling Everest. Functionality is important and they are likely to be brand loyal, placing value on a brand that they trust to last and perform.