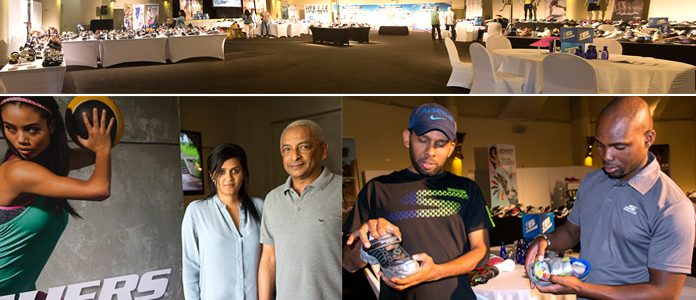 Left: Brand Folio LLC General Manager Archana Das and Director Roy Gomez visited South Africa to attend the second Skechers range presentation. Right:Brand Folio LLC Key Account Manager Basheer Kurukkan (left) and Moses Ramutshedi of the Johannesburg office demonstrate the lights and game on the kids sneakers.
May 2016
Unique sourcing
from Skechers
Every three months South African retailers now get the chance to pick their Skechers stock from the more than 1 600 SKUs launched for that season. There is no restriction on the number of models, styles or colours they may order, or who may order what. Every retailer can therefore select an unique offering best suited to his customers
For a retailer attending the Skechers range presentation by new distributors Brand Folio LLC is like being a kid in a candy store without adult supervision: you can pick a little of this, add a little more of that, and for good measure, a few more of those from the vast range of 1 600 SKUs to be delivered between October and December.
There are no minimum orders and nobody prescribes what any retailer — big or small — may, or may not, select. What's more, the products shown to South African retailers are exactly the same as what Skechers stockists from across the world are currently selecting from, namely the full Skechers summer range.
Even if you just want to order twelve shoes, they'll deliver, without discrimination against anybody or any market segment, Brand Folio LLC director and founder Roy Gomez and general manager Archana Das confirms.
After all, they believe that a retailer knows his own customers best and he would therefore make an informed decision about what he will be able to sell, or not.
Besides, the Skechers range launched every season is so vast — lining a large hotel conference room (top) — that the selection made by every retailer will be different. "Twenty stores in a mall can all stock Skechers and yet offer their customers a completely different selection," adds Das."Even our Skechers stores can at most take 300-450 SKUs, while the full range is 1 600."
Their retail partner, the highly successful Apparel LLC, will be opening, relocating and revamping Skechers stores in South Africa. One of their many stores in Dubai is considered the best Skechers store in the world.
This distribution method is one of the main reasons why this Dubai-based company became one of the biggest Skechers distributors in the world, and how they grew Skechers into the #1 footwear brand in the Middle East.
In 1999, when former Reebok distributor Gomez agreed to take over and try and sell the four containers of Skechers shoes another Dubai distributor ordered but couldn't pay for, nobody in the region had heard of the brand. Last year, they shipped more than 7.5-m pairs of Skechers shoes across the Middle East and Africa, achieving triple-digit growth.
They plan on achieving the same success in South Africa — despite the depressed economy and unfavourable Rand exchange rate. They could almost say because of the depressed economy, as they subscribe to the Warren Buffett philosophy that the best time to enter a market is when it is down, because you can give it a lift by offering something new.
Besides, Skechers shoes are priced right, meaning that they are priced according to the value consumers place on a shoe, says Gomez, even if it means that they have to cut profits.
The range presentation at the end of April was their second in South Africa, and the first in Cape Town.
"South African retailers have been so surprised to see so many shoes from one brand." What puzzles them is the fact that South Africa has such a diverse population, and yet you see basically the same shoes in all the stores. "All sport shops carry the same five brands," says Gomez. They hope to change this mindset.
He finds it especially encouraging that most retailers increased their orders as much as 150-200%, says Gomez, even though their first orders only arrive for the July-September period.
They know what we want to do marketing the brand and therefore have the confidence to buy bigger, adds Das.
Their mantra is Unseen-Untold-Unsold. They make it possible for as many as possible retail customers to see all the available product, then tell consumers all about it with extensive marketing campaigns across all platforms, which result in good sales.
This, they back with investing in their retail customers with, for example, providing slat walls, merchandising windows and a shop-in-shop system that can be adapted to suit the size and needs of a retailer — even if he just wants a to order a single vinyl wall.
Extensive marketing campaigns is another reason for their success in the Middle East and Africa — for example, over the years they've booked 30 000 TV slots in Dubai, and they do a lot of grassroots marketing.
As elsewhere, their South African marketing campaign, starting in June, will be across all channels: billboards, street poles, bus shelters, print media, social media, sponsoring of running clubs and DStv as well as SABC slots, featuring local celebrities talking about the products, etc., says marketing man Adam Levin.
They are currently talking to various South African celebrities and will soon add local names to the impressive international list that include athletes from US marathon champ Meb Keflezighi, to performers like Ringo Starr, Demi Lovato, Meghan Trainor and many in-between.
The local campaign will be a re-launch for Skechers in South Africa, he explains, telling everybody about the achievements of the brand founded in the early 1990's by Robert Greenberg and his son Michael.
For example, that Skechers sells the second most athletic footwear in the US — following Nike — and that the brand sells over 135-m pairs of shoes a year across nineteen categories (walking, running, trail, hiking, golf, casuals, sandals, etc.) in more than 160 countries.
They also want to tell people about the many awards the brand have won, for example, the latest June 2016 Runners' World selecting the Skechers GoRun 4 as its Editor's Choice. Other industry awards include Company of the Year (three times), Best Lifestyle Brand of the Year, Fashion Footwear Brand of the Year, the Design Excellence award, and more.
"For Skechers, its all about product," says Gomez. "It is a product-driven company, not a money-driven company."
Therefore, the best selling athletic shoe in the world is not a Nike, adidas or Puma — but the black Skechers GoWalk, he says proudly. "Everybody walks," he explains, and the Skechers walking shoe is exceptionally comfortable. "Once you've put it on, you don't want to take it off again." In the US, Skechers has 81% of the walking shoe market … Nike has 5%, he continues.
"Skechers often comes in the top ten when running shoes are rated."
Technically, they make a very good, comfortable, shoe: technologies like the slipper-soft air-cooled memory foam footbed, or the 360° bendability of the Flex sole, are married to uppers in an unending variety of fashionable materials, designs, styles and colours across all categories.
Most of Brand Folio's sales are to women (40%), with 30% each sold to men and kids. "Women tend to buy more shoes than men," says Gomez.
Their kids range is a delight for children of all ages. "A game you wear and shoes you play with," is how Das describes the shoes that light up when pressed, stamped on, or play tunes with dancing lights when certain buttons are pressed.
The next Skechers range presentation will be at the end of July. This might be in the new Brand Folio offices in Melrose Arch, Johannesburg. They also plan on opening offices in Cape Town and Durban to be closer to customers.