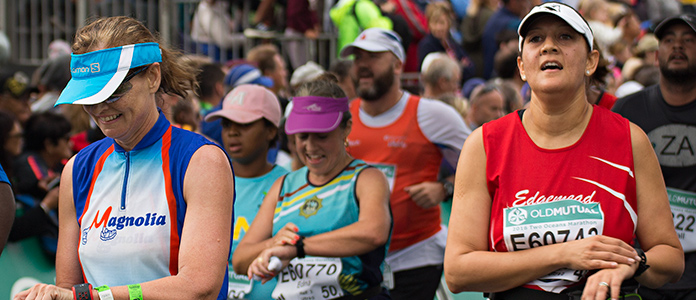 May 2016
Women power ...
also in running
In some events women runners outnumber men. Are you prepared to meet the needs of this fast-growing market segment?
Women's running has not only grown into a significant market section — in some instances the number of women runners are overtaking men. This could require a rethink of how a store's running shoe department can be revamped to best serve the needs of women.
Up until recently male runners comprised the bulk of the running market — although most brands offered a couple of models in women styles, or at least in prettier colours.
Two years ago more than 60% of the runners in the Cape Town Marathon were male, says organiser Kevin Lodge of Top Events. This year the percentage of men was down to 55%.
The biggest growth in the number of women entrants are in shorter events, he adds. For example, 55% of the runners in the half marathon and 10km of the last Safari marathon were women. "The female market is very powerful, and one that's seeing more and more participants," he says.
The number of women participating in the half marathon of the Old Mutual Two Oceans Marathon has also been growing steadily — from 51% in 2014, 54% in 2015 to a clear majority of 56% this year.
Men still dominate in the ultra-marathon, but this year the number of women attempting this gruelling distance had grown to 29% — up 2% from 2014.
This is a world-wide trend. In the US the number of women runners in road events had increased tenfold to 10.8-m between 1990 and 2013, by which time they began outnumbering men.
While there is big growth in the number of women participating in fun runs, Lodge agrees that "there's that aspirational female runner who wants to compete in marathons".
Apart from the number of women actually attempting ultras like the Two Oceans and Comrades, the excitement generated by South African elite women runners after so many years' domination by the Russian twins is creating interest in the sport, even amongst non-runners.
This year's speculation around Caroline Wöstmann — will she achieve the incredible by winning again, or will it genuinely be a training run for the Comrades? — trumped interest in who the male winner would be. Anticipating this interest in the top female runners, event sponsor adidas this year built their Two Oceans marketing campaign around women's running. It paid off: not only did Wöstmann win, but their sponsored runners Tanith Maxwell came second in her second Two Oceans, with veteran Colleen de Reuck in fifth place.
More women shoe sales?
In South Africa unit sales of women's shoes has definitely increased in the last few seasons, says Michelle Chowles of the local Brooks distributor SBR Agencies. "Sales of women's running shoes now marry that of men. What is also evident is the growing participation of women in road running races, park runs, social runs, charity runs/walks."
Sales to the woman Metropolitan runner — the urbanite who runs for the enjoyment — is equal to, or even higher, than sales of the men's shoes in both the Fresh Foam and Vazee ranges, says John Andrew of New Balance SA.
Apart from more women participating in 5km and 10km events, sales statistics supplied by GfK Marketing Services also show big growth in women's styles, he adds.
In Europe the sales ratio of women:men running shoes has changed from 30:70 a few years ago, to 50:50. "In certain parts it's gone up to 55:45 as the number of women who run are starting to overtake the men," says Bradley Fisher, senior footwear merchandising manager EMEA for Brooks. This shift towards women runners is happening across all brands, not just for Brooks, he adds.
And the major running brands are catering for this market with 40% and more of their global ranges made for women. For example, Brooks has an even split between men's and women's styles, 46% of the adidas running range is aimed at women, Asics make 49% of their running shoes specifically for women, New Balance makes 46%, Nike 47% and Puma 40% of their models for women.
Why women shoes?
Interestingly, the differences between men's and women's feet do not end with shoe size. As biomechanical studies contributed to the understanding of runners' feet and footstrike over the years, manufacturers realised that the old cliché shrink 'em and pink 'em is somewhat simplistic when catering for the women's market.
Women generally have proportionally narrower heel areas than men, biomechanists like Prof. Carol Frey of the University of Southern California found. In her study of 255 women aged 20 to 60, she found that more than half of them had narrow heels. This has been confirmed by several other foot experts. Therefore, many women find that when a man's shoe fits comfortably over the forefoot, the heel tends to slip — and conversely, when the heel fits, the forefoot pinches.
In addition, US biomechanist Kate Bednarski found in a study of highly competitive runners that women who run about 80km a week have higher arches and even narrower heels than other women. The higher the arch, the more rigid the foot, which requires a better fit and more flexibility in a running shoe.
What's more, the height of a woman's arch can be affected by hormonal changes, a study by the University of Melbourne, published in the Journal of Applied Physiology, found. Oestrogen is a soft tissue relaxant and as oestrogen levels rise during a woman's monthly cycle, the height the arch would rise, which influences the biomechanics of the foot — especially the plantar fascia tissue that stretches down the length of the foot and helps to stabilise the foot. This study influenced major design changes in the ASICS range of gender-specific running shoes.
Women generally have wider hips than men, which means that the angle of their quad muscles in relation to the kneecap differs from men — which could cause pronation, and hence the need for more motion control in the shoe. Manufacturers often address this problem by using different materials in the mid- and outsoles of women's shoes than in men's shoes.
Because women generally weigh less than men who would wear the same shoe size, manufacturers often use lighter and softer materials in the midsole. Women's shoes, for example, often have thinner cushioning in the forefoot to reduce the weight of the shoe as they don't need the denser cushioning to absorb the impact of the heavier load men usually carry. "The cushioning material in men's shoes would often be too dense for women. As a result, women wouldn't fully compress the material and benefit less from its bounce-back qualities," ASICS found.
On the other hand, men with narrower feet who have trouble finding shoes may want to look at some women's styles.
What do women want?
The big question remains, however: do your South African female customers want you to stock gender-specific running shoes, or not? Furthermore, is it the right time to strongly promote a new footwear category while retailers are reducing their offerings to cope in the current depressed (and depressing) market?
On the other hand, could attracting more women customers not help generate new sales in an untapped, but growing, market? "I believe that women do want a specific running shoe that caters to their specific feminine needs," says Gordon Gassert, Jordan & Co range developer responsible for the Olympic International sport shoe ranges. "Fabrics, colours and construction make a huge difference to the female consumer."
ASICS has developed a gender-specific last to improve the fit for female runners and prevent problems like heel slippage. Their Personal Heel Fit (PHF) with memory foam that moulds itself to the wearer's individual heel shape to promote a better fit and proprietary gender–specific forefoot cushioning, Solyte, to offer women greater impact absorption and more bounce, further distinguishes their women's running shoe offerings.
While shoe manufacturers do address the differences between female and male feet in their designs, they do not shout about it, says Andrew, because his experience is that a women are not particularly interested whether the shoe was specifically designed for them, or not. "Women tend to want the same specs as men, but they will obviously want different colourways and sizes," says Andrew.
The colour of the shoe is especially important for women and the Metropolitan woman runner will, for example, want to match her shoe colour to her running apparel, he adds. The popularity of shoe colours in women's styles will therefore depend on the season and the running apparel colours that are trending.
"In the women's business, there is no performance without style," says Steven Swaby of Brand Folio LLC, local distributors of Skechers. "She wants to make sure that she looks good, she feels good and she functions well — and it's kind of in that order."
He therefore doesn't believe that there is such a big demand for gender-specific technologies. Most women run with a male partner — or at least know a lot of men that run — and they want a shared product experience and information. "In other words, they want to know that a shoe works, regardless of the gender," says Swaby. "Yes, women's versions are smaller, lighter and obviously the colours are brighter and more feminine, but the geometry of the shoe is basically the same.
"It is not so important to offer a women's-only shoe, it's important to offer a wide range of styles and technologies for men and women so that we are able to service every runner, regardless of their level of running, gender or financial situation."
The Skechers Performance women's running shoes basically use the same technology as the men's, adds Swaby. They've made an exception with on-trend pop colours that make this group stand out. Apart from colours, what most women runners want is "stability shoes that combine cushioning features and support features into its design … the most important of which reside in the midsole of the shoe."
While agreeing that women want to benefit equally from the technology offered in men's shoes, Chowles believes that "women do want a women-specific shoe as it relates specifically to fit and feel. The difference would be made by the width of the shoe."
Women are, however, more influenced by cosmetics in terms of colour and style when making a purchase and this is even more prevalent among younger women — depending on the level of runner. Functionality would, however, be more important to the serious runner, while the club and fun runner would buy on aesthetics — design and colour, says Chowles.
"Sometimes, however, women who have bigger feet may need to take a man's shoe and some women also prefer a broader fit. Brooks US offers different widths of shoes, however, in South Africa we only bring in a standard B-width. The volume doesn't justify bringing in shoes of different widths."
Most footwear brands therefore supply a much smaller women's range in the relatively small South African market than what is available globally.
Impact on retailers
Whether they widen their gender-specific running shoe offerings, or not, retailers cannot ignore the fact that running has become as much of a women's as a men's sport. A few small in-store adjustments could convey the message to women runners that we love you.
Separate the men's and ladies running sections, advises Gassert. "Women like to be treated as individuals and hate being placed behind men as an after-thought! The environment they shop in will influence their purchase potential."
The effective merchandising of product is important, agrees Chowles. "The store should be clean and offer changing facilities should a woman want to try on gear as part of her purchase. Provide facilities with mirrors where she can sit and try on shoes," she advises.
And, very importantly, sales staff should be approachable and be patient during the sales process: allow her to try on and test different shoes to find the right running shoe for her — "she wants to walk away believing that she has made an informed decision".
Make sure that your changing rooms appear inviting to women with good lighting, full-length mirrors, and places to hang clothes adds Andrew.
Also, make sure that your staff approach women customers with sensitivity and do not try and pressurise them into buying something they may regret, he continues. By all means offer technical assistance, and steer her in the direction of the shoe you believe is right, but do it gently, without force.
He also advises that store managers should be aware that women run for many different reasons (see below). " A retailer should take a good look at who his typical customer is and gear his product towards this type of consumer.
For example, the Loyalist woman runner will be interested in the technologies offered in very functional models, while the Metropolitan woman runner will be attracted more to the colours and designs on offer, says Andrew.
While men generally run for exercise, women run for socialisation, believes Swaby. "Many successful stores create a social environment where women can gather around run-based activities. Some stores will bring in a women's fitness expert for a seminar — maybe they'll have a representative from a sports bra company who'll come in and do a fitting, or they'll organize a women's run club and group outings."
Some women say it's very empowering to run, says Fisher, but they don't necessarily feel safe running alone, especially at night or in certain areas. "This is where they see women starting running groups, with other women who also feel safer in a group. The beauty of it is that it's not just the aspirational runner joining in, she's also inspiring her female friends and family members to join her on her runs, thus also increasing female runner numbers."
A retailer can therefore offer a service by having information on hand about running groups women might want to join.
---
Expert advice on selling to women
A major study of sporty women provides interesting insights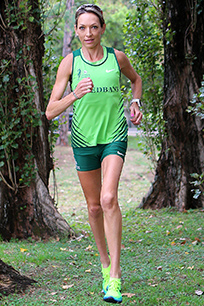 Elite runner Charné Bosman from Tuks hpc
is an Andrenalina and a Naturessa, as she
enjoys training in nature. Photo Greg Calde-
cott.
Women often feel unwelcome in sport stores, says gender marketing expert and consultant Ulrike Luckmann, who produced the European Sporting Goods Intelligence report Women & Sports* with Karen Laubach.
They interviewed 3 200 sporty women in Germany before compiling the extensive report.
Women tend to browse through clothing stores and impulse-buy because they enjoy visiting the stores, but visit sports stores simply to make a quick purchase, Luckmann told the ISPO Academy.
She believes by making a sport store a more appealing environment for women, retailers can enhance sales. Examples of how retailers can make their stores more women-friendly are:
Pay special attention to the decoration in the window and make sure it is never boring.
Design the entrance area so attractively that women feel invited to enter — for example, a themed section near the entrance could attract women shoppers.
Decorations inside the store should be eye-catching and intriguing, for example by using appropriate pictures.
Make the store easily navigationable so that women don't leave because they become impatient trying to find suitable products.
While she recommends that retailers get feedback from female staff members about making the store attractive to women, the study showed that women do not necessarily want to be advised by other women — provided that the male shop assistant is seen by her as an expert consultant who wants to understand her needs so that he can advise her accordingly.
The study group classified athletic women into six groups in terms of their attitudes to sporting goods, affinity to brands and their purchasing behaviour. She strongly recommends that a retailer should try and understand what type of sporty woman he is dealing with and advise and her accordingly.
For example, the very competitive Andrenalina only looks at functionality and is not much different to men when purchasing gear. They are, however, in the minority — only about 8-10% of female athletes.
The Dietessa, who wants to run in order to lose weight, often feels that sports retailers don't take her seriously because she is overweight. A retailer should encourage her ambition to do sport and display large clothing sizes where she can easily find them.
Vitalia participates in sport to improve her health, Naturessa participates because she enjoys being outside in nature, Socialina participates in sport or joins a running club for the social benefits, while Trendista, who wants all the latest products from trending clothing and footwear brands, is a retailers' dream.
*To order the study contact Sporting Goods Intelligence at info@edmpublications.com and obtain further information from Luckmann at luckmann@luckmannpr.de.