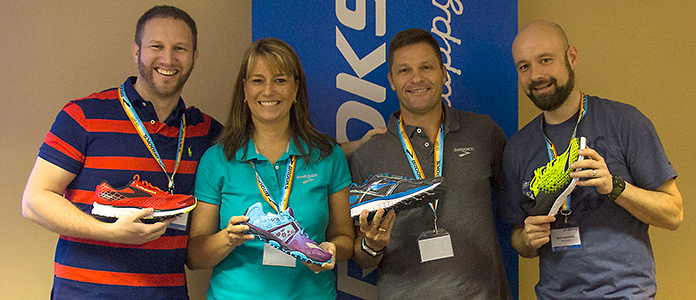 Bradley Fisher, senior footwear merchandising manager EMEA, local distributors Michelle and Clive Chowles and Lars Luermann, Brooks sales manager distribution EMEA.
July 2016
Brooks = Running
Brooks' EMEA executives recently visited to keep the South African market up to date
Brooks is a true running brand, says Lars Luermann, sales manager international trade and distribution EMEA. And this is probably best illustrated by the fact that their European headquarters in Amsterdam is housed in the Olympic stadium, from where employees had a birds-eye-view of the 2016 European Athletics Championships, contested in the stadium from July 6-10, and their environmentally-friendly global headquarters in Seattle, which borders the popular Burke-Gilman Trail, making the offices a gathering place for runners.
Luermann and Bradley Fisher, Brooks senior footwear merchandising manager EMEA, were in South Africa to introduce the Run Signature research project, which is bound to revolutionise how footwear is sold in future (see May issue of Sports Trader), as well as the latest offerings from the brand.
Unlike other athletic footwear brands, Brooks took a decision in the 1990's to only focus on running. "This gives runners a clear message and tells them what Brooks is about," says Luermann.
While Brooks' target runner market is 21-45 years old — based on the fact that globally the majority of runners fall in this age group — they want to inspire everyone to run and be active, whether young or old, hobby or hard-core runner. They also want to inspire more people to enjoy running. Hence, their powerful Run Happy slogan that so strongly resonates with all runners, he explains.
SBR Agencies began distributing Brooks in South Africa in July 2012. "When we took on Brooks, we knew we had a tough time ahead of us with regards to rebuilding the brand here in South Africa," says Clive Chowles. "We felt the best way to do this was through grassroots marketing — taking the brand to the runners. We're involved in-store, we're at events, club time trials, we're educating the consumer, profiling the brand … all so that Brooks will be top of the consumer's mind when it comes to their next running shoe purchase — and so that when they buy the Brooks brand, that they know they have done the right thing."
This strategy paid off. Over the past three years, the number of Comrades participants running in Brooks has tripled (2012: 200; 2015: over 700). They pre-launched their first range at Comrades 2012.
"The first year we only had international runners coming up to us and talking about the products," says Chowles. "The second year at Comrades we saw a few more locals. By the third year, however, people were coming to the stand mentioning shoe models by name."
Overall, the brand visibility is growing and they see more and more runners wearing Brooks. Their estimated market share in South Africa is now 5% of the technical running market, and 5-30% market share of SRA (Speciality Running Account) business, depending on the SRA, says Chowles. They are stocked by 90% of SRA's in South Africa.
"It's because of the speciality running stores that Brooks SA has managed to be where we are today," says Chowles, adding that Sportsmans Warehouse was committed to the brand right from the start and has partnered with Brooks SA on several events.
Product returns comprise less than 1% of their sales of footwear and apparel in South Africa, he says.
Apparel is about 10-15% of the Brooks business, and they want to grow that, says Luermann. "We want to work on our brand awareness and apparel is the gateway to get more brand awareness, and get more people into our gear."
This, however, causes seasonal challenges, because when it is spring in Europe it is autumn in South Africa, for example.
Globally, one of Brooks' main strengths is the good service they provide — as a regular annual survey amongst US and European consumers attests. Brooks is always ranked #1 or #2 amongst the brands rated for service delivery, etc. "Other companies might have more marketing dollars, but we want to be better in service," says Luermann.
Internationally, Brooks has also invested in ensuring their retail partners' future by taking a business decision not to supply online stores that heavily discount products from the start. Instead, they enter into a signed agreement with their selected retail partners, essentially creating a club of retail partners with the same aims.
Due to the smaller South African consumer market for premium product, their objective is to get all retailers to buy into their core five models, namely the neutral Glycerin and Ghost, the Adrenaline GTS for support, Ravenna for guidance and the trail shoe Cascadia. This is their evergreen range, of which they always have stock, says Chowles.
Sales of the Ravenna is one of the fastest growing in the Brooks range, both in South Africa and internationally.
In South Africa, there is a lot of focus on the Cushion me experience quadrant, says Michelle Chowles, who attributes this to the strong local focus on the Two Oceans and Comrades marathons. "PureFlow and PureGrit, which fall in the Connect me quadrant, are also being adopted well by retailers as an extension to our core range."