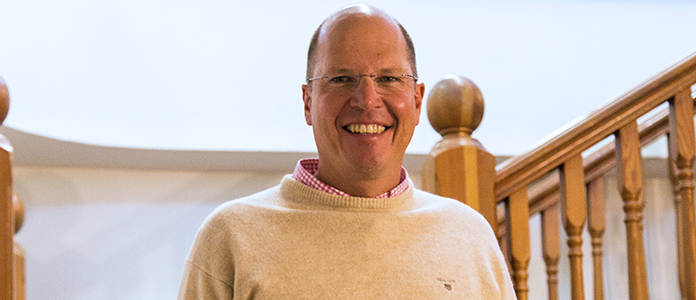 Kevin Hodgson in the historic Mill House building, headquarters to Holdsport in Cape Town. Photo: Nicol du Toit.
July 2016
CEO tells why
Holdsport holds its own
Retail is not for sissies, says Holdsport CEO Kevin Hodgson, while explaining how the group comprising of major retailers Sportsmans Warehouse and Outdoor Warehouse, as well as distributor Performance Brands, achieved double-digit growth in a period when the South African economy has been teetering on the brink of a recession.
It is not necessary for Stats SA to tell us how close we are to a recession for retailers in the industry to know how tough trading conditions are. And yet, the Holdsport group managed to achieve double-digit (11.8%) sales growth over the past financial year and increased their operating profit 15.8% to R308.9-m.
There is no doubt that the South African macro-economic picture is bleak, acknowledges CEO Kevin Hodgson. There are question marks over our GDP growth, we are not creating jobs, we are losing jobs, there are issues in the mining industry, resulting in people being laid off … all factors that have a ripple effect on consumers' ability to spend at retail.
Yet, the group's retail sales grew 12.4% to R1.68-bn (like-for-like 9.4%). In the Sportsmans Warehouse division sales grew 12.8% (10.7% like-for-like) to R1.28-bn and operating profit increased 20.2%. They opened three new stores in George, Hillcrest and Secunda, expanded one and the Springfield (Durban) store was closed, bringing the number of Sportsmans Warehouse stores to 37 at the end of March 2016.
The sporting goods industry has been relatively lucky, explains Hodgson, as there are still good participation levels from South Africans who are sports-loving people who enjoy the outdoor lifestyle. The government is also promoting sports participation at schools, still the main source of sporting goods customers.
In addition, sports retailers cater for a more affluent, upmarket, consumer group "and there is a degree of resilience among these consumers. They seem to have survived the economic downturn," he says. The lower LSM consumer is, however, under pressure.
But, the number of participants in that traditional sport group is not growing, he cautions. Schools still have roughly the same number of sports teams as a few decades ago and sports clubs are less vibrant than they used to be.
"People have less time, and clubs are suffering as a result. Therefore you see growth in individual sports like running, trail running, cycling — sport in which you can participate in your own time, without all the things that come with structures and rigidity. Those seem to be growing at a greater rate because of changes to our lifestyles."
Sporting goods trends
Another change has been the plethora of products available to sports participants. A few years ago your average a club runner would wear a cotton t-shirt he probably got as a handout at an event, a pair of shorts, and shoes. Now he will wear compression socks and shorts, arm warmers, moisture management technical clothing, activity trackers, a music player, a running belt with water bottle and pouches to hold his energy supplements … it will still be one guy participating, but his spending on equipment would be so much more.
"If you take a snapshot of a Sportsmans Warehouse store today and compare it to five years ago, and compare that to five years before that, it would look very different," says Hodgson. There are constantly evolving trends in the sporting goods industry — for example, new wearable technologies, gadgets, nutritional products, technical fabrics, all types of product trends that change the make-up of a store.
"In the sporting goods industry your challenge is to make sure that you anticipate the trends. You must see them coming and then go and procure a good range of branded merchandise to offer your customers a good selection to choose from."
Customer demand for specific brands drive purchases, he says, and you can't force them to buy a specific product. Their stock selection is therefore driven by what customers view as the most desirable brands. "It is our duty to offer the widest possible choices, but there is a limit. If there are a hundred brands in a category, it is not possible to stock all."
Factors that will influence their selection are the quality of the products and if the suppliers made good decisions in terms of marketing and distribution to create a demand for their products, which can include other retailers. "If they do that well, their brands will continue to be in demand. But, if they don't, and another brand is doing better, we'll have a duty to stock that brand in lieu of the non-performing brand."
They are constantly being approached by people offering new brands and products and their buyers will look at them because it might just be the next big thing. "You have to watch what's happening in other stores as well."
Outdoor more conservative
The outdoor industry is very different, Hodgson explains. "Outdoor retailing revolves around camping furniture, tents or sleeping bags that basically stay the same from year to year." Equipment represents the bulk of the product mix in Outdoor Warehouse and new trends and brand names play much less of a role than in sports. An exception was the high demand for outdoor lighting products – to which manufacturers responded by introducing innovative LED products – during the power outages in the previous financial year.
While the 4x4 camper will probably be as — or more — affluent than the sports customer, he will be more conservative in his purchases of goods that he will expect to last a long time. The challenge is to find local manufacturers that will produce the good quality he'll want at a reasonable price.
They were therefore satisfied with the 10.9% growth in Outdoor Warehouse (5.3% like-for-like) sales to R400.2-m reported for the past financial year, says Hodgson. Outdoor Warehouse opened new stores in Woodlands (Pretoria East) and Pietermaritzburg, relocated the West Rand and Alberton stores and expanded their stores in Centurion and Pretoria East. They had 23 stores at the end of March.
The camping-dominated South African outdoor market is very different to Europe, he points out. There winter sport products sell on brand names, product trends and seasonal launches — similar to sporting goods.
Performance Brands
"When you look at quality, well-regarded, retail businesses across the world, they share one common denominator: they have significant influence over the products they sell," says Hodgson. "The ones that stand out in the long run have had influence over the procurement process and offer a lot of merchandise that is exclusive to them."
He therefore considers a significant exclusive product offering to be of strategic importance to business growth as it allows you greater control over product and attract customers to the one store where they can find this brand.
They would also like their own brands — Capestorm, First Ascent, OTG and most recently, Second Skins — to be seen in the same light as international brands. "We make them available to other retailers, they are not exclusive to us, and we position them as bona fide brands."
While the independent market is still very much big part of the industry, you are not seeing much growth and new entrants, believes Hodgson, especially in outdoor. "The owner of an independent store is a formidable sales person and formidable competition. They are a very important part of the industry."
Challenges for industry
"There are not many industries where retailers have to compete with their suppliers," says Hodgson. Brand stores have become a significant part of the retail industry since the 1990's, and in malls this often means that the retailer has to compete directly with his suppliers' own stores, he says.
While the brand may consider the concept store as a marketing exercise to showcase their ranges, the retailers they compete with trade to show a profit. Since they are all competing in a retail space where he believes there are too many sporting goods stores already, this has implications for the whole industry.
There is overall far too much retail space in South Africa, and yet new malls are continually opening, Hodgson continues. "Look at the mall space allocated to sport stores, it is far more than the actual size of the sporting goods retail industry."
Sport constitutes about 1.5% of actual South African retail, but he believes the space allocated to sport retail in shopping centres is far more than 1.5% of the available space.
In contrast, sports retail occupy about 1% of total retail space in the US. "If you go to North America retail is well structured, and the tenant mix is well thought out — you have some hardware, food, apparel and sport — and they plan so that all tenants can trade well. It is very well thought out and landlords respect the rights of tenants."
Holdsport buys Second Skins
South African activewear brand Second Skins has been wholly acquired by Holdsport on June 17th this year, just before our print deadline.
"We have every confidence that this transaction will bring exciting new energy to Second Skins, backed by the assets of a large group that will be leveraged to further achieve our vision and improve our ranges, service and marketing," said Second Skins MD Brett Trollip in a letter to customers.
He will continue to manage the company under the new ownership, supported by their existing executive management team, which will remain in place.
He assured all customers of their ongoing commitment to providing the best possible value and service "as we have done for the past 30 years. We look forward to bringing you many more cutting-edge products."
Regard for tenant mix
In Australia they go even further: the local council can zone an area for a set number of retail stores of a certain type and "a new entrant may not just go and open there, by law," Hodgon explains.
"Here the landlord has no regard for the tenant mix," he continues. "Or they think they'll create this sporting node and group all sport stores together — but do not think to ask what we think about it." The result is a fragmented approach to the tenant mix.
The new format Sportsmans Warehouse store they opened in the Mall of Africa was an experiment because they felt that they had to have a presence in a mall that was considered to be such a significant retail event. The focus in this smaller (800m2 compared to the traditional 2000m2) store is mainly on apparel and footwear, as opposed to the 60 (equipment):40 (footwear and apparel) mix in the other Sportsmans Warehouse stores.
Because of the high rental in the mall, they knew they had to do something different. "It is, however, still early days to judge the success of the experiment," says Hodgson, who believes it will take years before the residential areas around the mall take root to provide a significant customer base.
Online trading
In modern retail you have to provide an online channel as customers expect this, but your customer base does not really grow due to online shopping, believes Hodgson.
In the sporting goods industry customers want a degree of touch and feel: cricket bats from the same manufacturer could have a different pick up and feel that will appeal to different players. "Online can never replace the magic of a 10-year old going into store and trying the different products," says Hodgson, who does not believe online will replace brick and mortar sport stores.
Online retailing is also much more complicated, expensive and labour-intensive than what new entrants may anticipate: you have to photograph and present all goods, write a description — and do it again as the ranges change. Once sold, products have to be packaged and distributed by courier, which can be more expensive per item sold than store rental and sales staff salaries.
An online presence is therefore no shortcut to retail riches and many new customers."Retail is a hard game," says Hodgson. "It is not for the faint-hearted, and it is not for sissies."