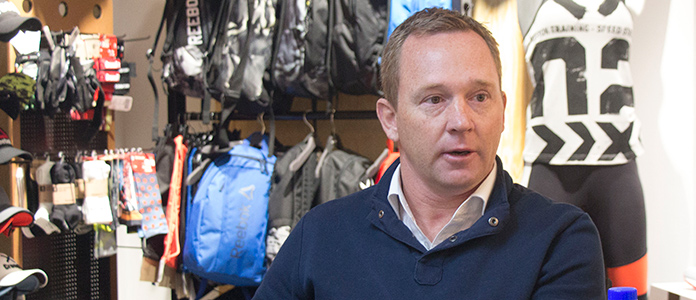 Roddy van Breda, adidas SA's MD, talks about the impact of major events in 2016 on adidas SA. Photo: Carin Hardisty.
July 2016
Exciting times
for adidas SA
What do major events like Euro 2016 and the Rio Olympics mean for a brand like adidas?
It is an eventful year for adidas SA. In a good way. Their UEFA Euro 2016 sponsorship gave an energy injection to the soccer category, just as their Two Oceans and Caroline Wöstmann partnerships gave impetus to their running category. And then there is still the Olympics to look forward to, where their soccer ball and several brand ambassadors will feature.
South Africa's Wayde van Niekerk and Akani Simbine will, for example, be among the top athletes the global team from adidas will be looking after to ensure they lack nothing to perform at their best.
"The Olympics is good for the industry, as it creates a lot of talkability and inspires people to participate, watch and get involved in sport," says adidas SA MD Roddy Van Breda. "For adidas sport is at the core of everything we do."
They also have a few players in the sevens team that will debut at the Olympics this year. The hype around sevens is incredible, says Van Breda, and they therefore consider rugby as a key sport, especially as South Africa stands a chance of winning a medal in Rio.
Worldwide, soccer is a key focus and growth area for adidas. This year, for example the brand is expecting to grow their global soccer sales 13.6% to €2.5-bn on the back of added interest and new product inspired by Euro 2016 and the Copa America.
In addition, adidas is supplying the ball for the Olympic soccer matches.
Authentic running brand
Between their Two Oceans Marathon partnership, Boost and inspirational performances by Wöstmann, adidas SA has also established its credentials as a technical running brand. Wöstmann's incredible story of how she started running late in life to lose weight after the birth of her child has been inspiring many women. Her courageous finish in this year's Comrades touched as many people as if she had won again.
Despite her record-breaking achievements she remains humble and an amazing person and "it is a massive honour to have an association with her," says Van Breda.
Before the Two Oceans Marathon, which adidas sponsors, she came to the office to talk and interact with staff members — and inspire the 50-odd who were running themselves.
The start of their partnership with the Two Oceans Marathon coincided with the launch of the Boost technology and helped "authenticate adidas as a real technical running brand," says Van Breda. "Boost is a phenomenal technology and has been an absolute game changer."
The partnership does not only offer them brand exposure along the route, but a strategic position at the Expo, where 30 000 runners have to pass through and see and talk about the new products on display. "We can also get feedback from their side," says Van Breda." It is important to understand what runners want and think of our products."
New Brand Centre
They are also finalising the revamp of their offices and Brand Centre in Cape Town. Apart from a classy showroom for each product category available from all brands — running, training, kids, women, team sports, lifestyle, etc. — staff and visitors can relax at chairs and tables in the foyer where refreshments are available. There is even enough seating for lectures and presentations.
Apart from the major key categories — soccer, running and training for men and women — they will also display products from what they call sport authenticator categories, where rugby is key, but also includes cricket, hockey, swimming, outdoor, cycling, etc.
In addition, their contemporary styled originals ranges have been "flying off the shelves," he says.
Stay aspirational
While acknowledging it has been a tough year for consumers, he believes that with everybody more focused on fitness and health the sports industry is in a good space, and growing.
"It depends on how we focus on building our brands and making sure that our brand is absolutely aspirational. We must make sure we are relevant when consumers talk about brands. We must look at ways to become more innovative, ask what we can do differently." One kind of innovation is the conversation channels digital — especially mobile — opened between brands and consumers, creating a link between athletes and influencers talking to consumers about the brand and product launches and also allowing consumers to communicate with them by giving feedback.
"In challenging times you always have to do things better than you have been doing it in the past," says Van Breda. "A brand has to look innovative to appear to be doing things better."
The fact that people are talking about the adidas Speedfactory in Germany where new styles will be made by robots at a much faster pace than was thought possible before, is an example how adidas positions itself as an innovative brand, he believes.