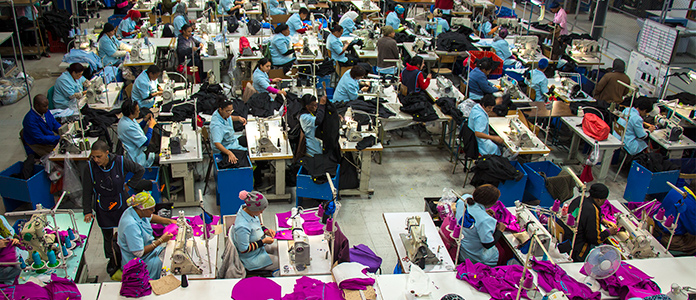 The K-Way factory in Cape Town practices Lean manufacturing. Photo: Carin Hardisty.
July 2016
Lean manufacturing
improve productivity
Several changes occurring in the global apparel industry like the needs of the new consumer, the move towards customisation and the fast-changing fashion cycle, has forced manufacturers to adapt and transform their production methods accordingly, a recent manufacturing webinar was told. RHIANAH RHODE reports back
The new fashion consumers are mostly Millennials, who want more personalised and customised products with a better fit, that get to them faster, and cost the same as mass made products, Francoise Replumaz, senior manager of marketing for apparel and fashion at Lectra, told a recent manufacturing webinar organised by the online publication just-style.
The fashion cycle has become so fast-changing that retailers are pressured to be on trend and have products available at faster rates than the previously acceptable two to four collections per year, says Replumaz.
The new consumer is all about speed and novelty, and have a see-now, buy-now attitude. He wants the products immediately after seeing it on the runway, not at the regular six month cycle rate, she explains.
The new consumer is also less forgiving of defective goods and will be more likely to purchase products from a brand multiple times if they are happy with the fit they received from the products they previously bought.
The shifting market demands of the consumer, the need for production of more customised products, rising wages in emerging markets (where manufacturers source from), increasing raw material costs, etc. are some of the reasons why manufacturers need to start looking at a new manufacturing paradigm that includes looking at innovative plant models, new supply- and valuechain approaches, and a new human capital model, says Replumaz.
Tough US and EU laws for importers
Government laws and NGO's are some of the challenges manufacturers have to contend with when it comes to the production and import of textiles, softlines and footwear into the European Union and the US, said Christian Gerling, GM of consumer and retail services EMEA LA at Underwriters Laboratories. He delivered a seminar on Textile, Apparel and Footwear: the main challenges for manufacturers and retailers at Source Africa 2016, held in June in Cape Town.
While these governments have manufacturing regulations for imported products, manufacturers also have to comply with state laws in the US. This can make it rather complicated to sell products into the US.
Federal laws like the Consumer Product and Safety Act (CPSA) of 2008, "which has been the biggest breakthrough in the area of consumer product safety in the last decade, requires the manufacturer to be able to trace the product back to the point of its raw material in the supply chain," he said.
Products manufactured for children all fall under the CPSA. The US Consumer Product Safety Commission (CPSC) therefore has the power to set safety standards and recall products that place the consumer at risk — or ban products if there are no other alternatives.
All children's products have to be independently tested by a CPSC accepted accredited laboratory and must have a written product certificate, which provides evidence of its compliance, as well as tracking information, affixed to them, said Gerling.
Other Federal laws require that the label of all imported textiles must specify the fibre, the country of origin, and the manufacturer or dealer identity, as well as the care instructions. Footwear product labels must also specify the composition of the product, including the raw materials.
Some state laws go beyond federal requirements, Gerling, said. For example, Washington State bans the use of lead, cadmium and phthalates in children's products.
In California, Proposition 65 requires the importer or distributor to alert customers if a product contains chemicals that are known to cause cancer, birth defects or any other reproductive harm. Even if there is doubt about the possibility of harm, the label has to carry a warning. "These warning labels, however, will affect the sale of your products."
Rules in the European Union
In EU countries a rapid information exchange system called Rappex is used by 31 countries and the European Commission to warn about dangerous products. A member state can put an alert into this system, which is open to anyone, to warn consumers in all member countries about a risky product. "You need to avoid ending up with any product in Rappex because if it is there it will stay there forever," warned Gerling.
Last year 2 000 consumer products were entered on Rappex — 72% of them clothing, shoes and fashion articles. Sixty percent of the risky products came from China.
NGO's and their part
Non-governmental Organisations like Greenpeace and ZDHC are watching the use of chemical substances during the production process, and serve as another watchdog over manufacturers, said Gerling.
Greenpeace hopes to eliminate all hazardous chemicals from the supply chain and products by 2020, as reported in the article on water repellent chemicals used for softshells in Sports Trader of March 2016.
ZDHC is a voluntary association of 22 leading brands who did not want to join the Greenpeace initiative, but also want to eliminate hazardous chemicals in their products by 2020.
Lean for operational excellence
In response to these changes, Lean apparel manufacturing means that companies can reduce operational cost by eliminating waste in different forms like using excess equipment, time, material, space, etc. and derive more value from products. This helps manufacturers to achieve operational or product excellence.
Implementing Lean to improve operational excellence means cutting out unnecessary waste, for example, eliminating fabric waste, ensuring overall equipment efficiency and improving the flow and layout of the manufacturing process, says Replumaz.
Manufacturers can reduce fabric waste by using automated processes that help save them time, for example, by improving their needs analysis to avoid over-purchasing of fabric, and implementing an efficient cut plan that will further help reduce material wastage. The equipment used in the manufacturing process must also perform well and be of a good quality.
Manufacturers can look at where in the process time is wasted and improve the production layout and flow to optimise space to develop the end product faster and more efficiently.
In order for Lean to be successfully implemented, each manufacturer has to create a list of key performance indicators (KPIs) related to its own business model and apply Lean in response to it, says Replumaz. The methodology works best when applying multiple techniques, but this will change from business to business as the requirement for each will most likely be completely different.
The Lean methodology is also very much about inclusiveness, says Replumaz. From the cutter, to the person who handles sewing, to the management team, everyone needs to be aware of the Lean principles and included in the process. The human component is just as important as the other components in the manufacturing process in order for the implementation to be successful, she explains.
An example of best practice Lean implementation is an undergarment factory that refined bad processes. During the manufacturing process material pieces were constantly going missing between cutting and sewing, which led to wastage of fabric when new pieces had to be cut, as well as time wastage when employees either had to search for the lost items or production had to be halted to wait on new pieces to be cut. Addressing this issue with Lean methodology helped the manufacturer increase its productivity by 20%.
Lean for product excellence
Using Lean in product development means manufacturers should focus on their consumers throughout the development process, taking into consideration things like the right fit and consistency required by the end user.
In order to create products that suit the end user well, designers should ask themselves: who am I designing for? and not stray from the intended target market. They should also consider the type of fit that will make the consumer happy, says Replumaz.
Their research shows that 62% of consumers aren't happy with how their clothing fits, 85% would buy a brand again if it fits well, one in every five garments are returned as a result of poor fit, and one in every three garments purchased online is returned as a result of poor fit.
Manufacturers should focus on improving their performance by implementing fast product cycles and processes that ensure products get to the consumer as fast as possible. They can do this by shortening development cycles, streamlining development processes and improving team collaboration, says Replumaz.
An example of best practice Lean implementation for product excellence is a garment manufacturing business that improved productivity and profitability by using 3D prototyping visualisation in order to decrease miscommunication regarding how products should look. This cut down the number of physical prototypes the company had to make, consequently saving them the fabric and time it takes to make them.
Successes & failures
Approximately 90% of companies fail to reach their targets through implementing Lean within the first two years, because their focus is on improving cost, rather than the bigger picture, which includes other areas like delivery, manufacturing, lead times, quality, etc. she explains. When manufacturers focus on the bigger picture, they are more likely to succeed, she says.
In order for Lean implementation to work, companies must define their KPIs, which should be closely related to their business model, and how they need to improve them. Although measuring the achievement of Lean will not be the same for every company, if companies have compiled their list, it will be easy for them to see if Lean implementation has improved the problematic aspects.
The investment return rate on implementing Lean will depend on how many areas the business has decided to address. Generally, where a small number of issues had to be changed, improvements could be seen in approximately two years. But, if there are many areas that have to be addressed, it will take longer.