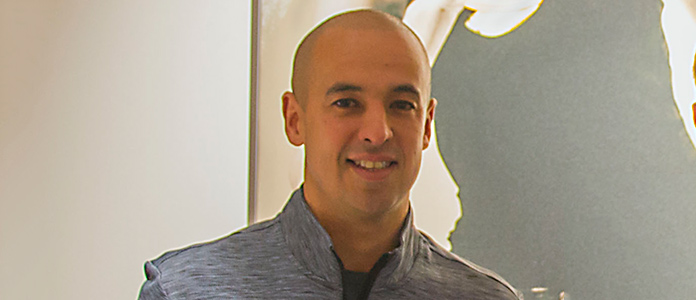 Energetic new Reebok SA Brand Marketing Director PJ Morilly takes the brand's fitness focus so seriously that he is threatening to conduct exercise classes for staff members in their new Cape Town office.
July 2016
New home for
Reebok in SA
What changes can retailers expect from Reebok, which is now distributed in South Africa from Cape Town in a joint operating model with adidas?
July is a testing month for PJ Morilly and his Reebok SA team. Their first range is in retail and consumers are currently delivering their verdict on the repositioning of the brand that is now available from Reebok SA as a subsidiary, instead of a distributor.
From July 1 this year Reebok SA is following the joint operating model with adidas SA, employed in most countries. Although the adidas group had globally bought Reebok more than ten years ago, the local distributor agreement with Bruce Joubert and his Reebok SA team had continued. In June last year it was decided that South Africa will also follow the joint operating model and not renew the distributor contract that ended in June this year.
This means that joint functions like supply chain, finance, HR, sales, etc. are handled by the existing adidas structures, but Reebok and adidas each have their own brand teams.
Morilly, who has been with adidas as key accounts manager since July 2010, was appointed Reebok Brand Marketing Director in May last year, and was tasked with developing a new summer range and reposition the brand at retail in time for the range launch in July this year. To achieve that, they had to present the new range to key accounts from October last year.
The main change is that it is now a fully imported global range with good, better, best offerings and corresponding price differentiation across all categories, says Morilly.
With twelve consecutive quarters of growth, Reebok is on the move, and going forward there will be much clearer direction from global with a focus on three clear categories. These will be training, running and Classics.
The brand's CrossFit partnership will continue as it adds credibility in this functional fitness space, but "we also want to show the width of the brand in terms of other fitness categories," says Morilly. They will therefore also focus on combat sports like boxing and MMA, yoga and dance.
Training products will be aimed at lifestyle as well as functional fitness for men and women — in other words, boxing as a fitness activity rather than as a blood sport in the ring. They also signed a partnership with Fight Club with twelve gym franchises countrywide, where a large percentage of the members are women.
In running, the emphasis will also be on training, targeting the 5-10km runner, trail runner and obstacle course competitor, rather than the elite marathon runner. They have signed a partnership to be the official footwear and clothing partner of the Jeep Warrior series, with the first joint event in Durban in mid-July.
Reebok has also created a new running event property in conjunction with Stillwater Sports called The Cell C Day of Races. There will be an event in Johannesburg on 28 August and another one in Cape Town on 11 September.
Classics, aimed at the huge lifestyle market, will be a big category for Reebok going forward, says Morilly. The heritage and retro offerings reflect the brand's American DNA.
"For retailers there had to be a bit of a change in mindsets in terms of what they were used to from Reebok, and where we're taking it now," he says.
They will be targeting more premium retailers with a more tiered range. "We're reducing our number of accounts and making sure the product goes to retailers distributing similar levels of product. We'll look to making more of a statement within their doors," he explains. "We will be selling more product through fewer doors, instead of selling a couple of products in many doors."
They will try to make sure that the products offered to consumers will be the products that would appeal to the consumers who enter those doors, and sell through. As time goes on and business grows, we'll open up more doors, adds Morilly. "But for the time being it is important that we are seen in the right doors."
The large slides collection that previously offered many independent retailers a good commercial opportunity with Reebok, is no longer available from global. The new range that is now being introduced in line with the global positioning of the brand, is therefore no longer relevant to many stores on the previous distribution base.
They've been working closely with the previous distributor to make the transition as smooth as possible. Joubert and his team had been distributing Reebok in South Africa since 2003 and they have a lot of praise for what they had done in building the Reebok brand.