July 2016
Retailer showcase:
Safari Outdoor:
Retail experience
second to none
The customer's experience is the number one priority for Safari Outdoor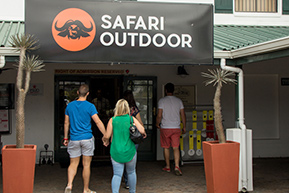 The outside of the Stellenbosch Safari Outdoor store.
The opening of the Stellenbosch Safari Outdoor store in 2008 was the launchpad for five friends' shared dream of providing customers a retail experience that is second to none. They set out to offer customers a full range of premium hunting products at competitive prices in a setting that displayed their passion for retail and the outdoors, as well as offer expert advice.
The opening of the first Safari Outdoor store was more a result of timing and opportunity, as opposed to a carefully researched option, says Willem Immelman, one of the five founders and the only one still actively involved in the business (the other four are shareholders).
The next two stores, Johannesburg and Pretoria, were however chosen for "visability from major access routes, safe parking and access, and the available size to carefully craft the experience we want to offer customers."The Rivonia store in Johannesburg is their flagship, and covers 2 000m2.
The stores cater primarily for a higher LSM customer, who is educated and passionate about hunting and the outdoors, explains Immelman.
Reasons for their success
Employees pride themselves on being able to offer customers expert advice.
The stores offer extensive ranges in all their product categories.
All the stores are in easily-accessible locations.
They offer products at competitive prices.
Safari Outdoor has developed a near cult-like following among its customers, because of staff's personal involvement in their customers' purchases and the relationships that have been built as a result.
Today, the three Safari Outdoor stores form part of a group of companies owned by Outdoor Investment Holdings, a decentralised vertically integrated business. The other companies are Formalito, an arms and ammunition distributor that has been in business for 50 years, and Inyathi Sporting Supplies, which distributes products for the shooting, hunting and outdoor markets.
"We are always looking to expand, but our immediate focus is to ensure that the experience we offer customers in our stores is consistent and remains at a level that exceeds expectations," says Immelman.
Beyond the store door
Not only do they do their best to provide top service to their customers in-store, Safari Outdoor is also involved in several initiatives that promote and further the enjoyment of hunting and the outdoors.
Safari Outdoor has started their own shooting club, which allows members to "enjoy a rapid rate of sport shooting, an adrenaline rush, and training beyond compare". The club hosts Practical (SAPSA), Defensive (SADPA), Educational (IFTASA), Long Range (SAWS), and Tactical (TACSA) sport shooting events, with accreditation to obtain Dedicated Sport Shooting Person status (Sect 16).
Through Hunters for Charity — a partnership with Uitkyk Vleismark — hunters can donate their excess deer or pig meat, which is distributed by around 40 feeding schemes to orphans, the elderly and families in need.
Safari Dogs is an initiative between Safari Outdoor and Matthew Berry, which aims to create awareness about and cultivate the tradition of gun-dog hunting by offering advice on breeds, bloodlines, and training solutions. Berry is an ex-SADF tracker dog handler, and is currently a gun dog breeder and trainer with 25 years' experience. He is the chair of the KwaZulu Natal HPR club, a founding member of SAVHDA (South African Versatile Hunting Dog Association), and a member of Wingshooters.