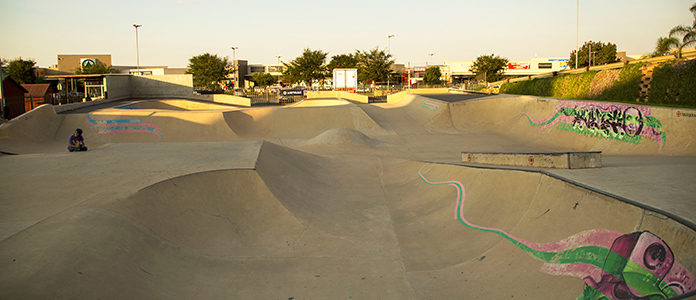 July 2016
Skateboarding:
Up or down?
Skateboarding is enjoying a lot of attention, both locally and internationally. GERRIE VAN EEDEN investigates if this attention translates into growth for the sport
Ever since surfers in California wanted to hang ten when there were no waves and started fitting roller skate wheels to wooden planks in the 1950's, skateboarding has appealed to people wanting to be associated with the lifestyle that has a walk and talk and attitude that sets those that have it apart from the mere wannabees.
But, now skateboarding has grown into such a popular sport, that pros are seen as celebrities and trendsetters. There is even talk about including it in the 2020 Olympics.
It's no longer viewed as a reckless activity for rebels and young hoodlums, but rather as a wholesome activity that can build communities and empower the youth. Big brands with big money vying to host and broadcast international competitions and events have also done loads to raise skateboarding's profile. And in this regard, South Africa is not far behind the curve at all.
Local is lekker
Locally skateboarding has grown a lot thanks to international events rolling over to our shores. The Maloof Money Cup that took place in South Africa in 2011 and 2012 left a world-class skate park in Kimberley, with the intention that the facilities would remain as permanent parks in the community after events have been completed.
Since this landmark event, the Kimberley Diamond Cup as well as the Skateboarding World Championships in 2015 have also graced the park's halfpipes and handrails.
Of course that's not the only half decent skate park in Mzansi. The Boogaloos skate park in Johannesburg is famous among skaters from across the city and the City of Cape Town has long since embraced skaters, with an unused underpass being converted into a community-led, award-winning skate park.
Add to that the Wavehouse Skate park in Umhlanga Ridge, which was designed by the king of skateboarding, Tony Hawk, himself and you soon have a country teeming with possibilities for skateboarding to grow.
"More skate parks, more local events, international events on television and international professional skateboard athletes visiting and doing demos in South Africa, as well as local television coverage of the sport, will increase skateboarding participation," says Mark Powell of At Once Distribution.
Powell used to be part of the team behind the Boogaloos stores and skateparks, and today he is involved with the Airwalk skateboarding and lifestyle brand.
Over the past couple of years, the sport has shown constant growth due to products becoming more accessible and affordable. And it is a sport for everyone, with more and more women taking part, he says. There is, however, still room for growth in this segment.
"Something that can boost ladies' participation is having regular ladies skate days at the local skate parks, with basic instruction on the day," suggests Powell.
Olympic sport
Skateboarding is certainly not a fading fad, but a sport that is bound to grow much bigger. It is on the shortlist of five sports out of which the Tokyo Olympic Committee will choose two new disciplines for inclusion in the 2020 Games.
In his response to this news, the president of the World Skateboarding Federation, Tim McFerran, reiterated the point that skateboarding is an expanding global sport.
"The World Skateboarding Federation has grown from the idea of providing social development and leadership to skateboarders and governments on a global basis, to an organisation with almost 4 000 members representing 92 countries and sanctioning over 60 contests in all disciplines of skateboarding, including street, vert, bowl, slalom, park, downhill and freestyle," said McFerran.
And it continues to grow. "In the short time since our establishment, we have been overwhelmed by the continuous stream of applications we are getting to join our group on a daily basis."
Variety
That there are almost more ways to practice skateboarding — think terms like vert, park, street, ramp and downhill — than there are different brands involved, has for years contributed to the mass appeal of the sport.
If a participant or someone new to the sport does not fit in with one discipline, there are others to try that are just as exciting.
And this variety is also evident in retail. You can buy a shoe or a deck specific to what you want to do with it from a brand that you like more than others, and it will automatically serve as a fashion statement.
The design and look of the equipment used, play a major part, and that is what retailers need to keep in mind. "The shape, performance and quality of the skateboard, the quality, comfort and durability of footwear and the unique point of difference in style of the apparel, is what is important to a skater," says Powell.
Even though skateboarders have always been portrayed as happy-go-lucky individuals with no cares in the world, they will in truth be "alert to excellent product, performance and quality as well as cool fashion trends, brands and styles," says Powell. "They won't really notice or pay attention to the opposite."
The look
But, skateboarding is more than just wheels on a wooden board and a handrail to slide down. The grease that keeps those wheels turning, is, and always will be, fashion.
Skateboarding culture and the skateboarding look was well-embedded in popular culture during the mid 90's to the early part of the new millennium. To a lesser extent, it still influences fashion, especially for teens and young adults.
Shoe brands like DC Shoes, Vans, Etnies and Converse have spilled over into the everyday fashion of a whole subset in society.
The reason for this is that skatewear, apart from protective gear like helmets and knee pads, are mostly comfortable clothes that can be worn every day as a fashion statement. Those who actively take part in the sport, pay a lot of attention to what they wear and how they look.
Wearing the right brand is important, but conversely, not wearing the right brand, is not a game changer. This opens the door for local manufacturers to get into the market and establish themselves, because if enough people can start wearing your brand, it is only a matter of time before it becomes the hottest one gracing South Africa's halfpipes.
So whether it is for fun, fashion or someone who seriously wants to contend on the biggest scale, skateboarding kit and equipment is something that appeals to much more than just the local ruffians behind the mall. Skateboarding is a world-class sport that just keeps on growing, and will continue to do so.