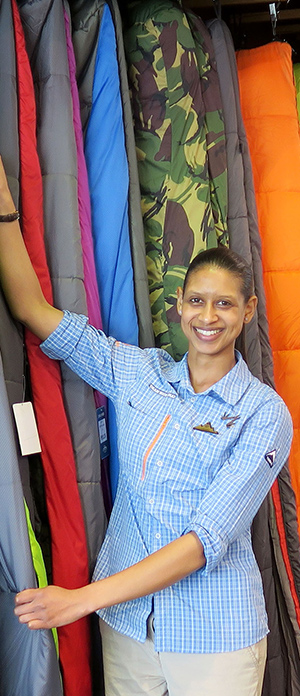 July 2016
Selling more...
sleeping systems
Lindsey Charles from the Cape Union Mart Adventure Centre Canal Walk was nominated as a top salesperson by Gavin Forbes, who is the area manager for Cape Union Mart. "Lindsey's personality and laugh is infectious. Vibrant, energetic and well-liked by colleagues and customers, we had no alternative but to promote her to product specialist. She is one of Cape Union Mart's brightest stars, and our stores are a better place to shop when Lindsey's laugh can be heard." She started her journey at the company 10 years ago as a casual, but was offered a permanent position within a year, he says. At first Charles worked in the clothing department, but later found that she had a passion for working with precision product like GPS, Go Pro, multi-tools and sleeping bags. She also had a short stint in Cape Union Mart's learning and development department where she was responsible for training and development programs, but customers are her real passion, he explains.
"My love for technical products and people has made me successful," says Charles from the Cape Union Mart Canal Walk Adventure Centre. She loves working with, understanding and figuring out technical products and, on the other end of the scale, working with customers and helping them is a rewarding part of her job, she explains.
A good sales person must be passionate, conduct himself in a professional manner and deliver excellent service from beginning to end, says Charles. She is very passionate about delivering excellent service, and employs these traits in her own sales skills and finds it works very well.
Even though sales people should try and develop a relationship with customers, they should not forget that there should be a professional distance as well, she reminds.
You should be in a position to give customers expert knowledge. "For me, the more knowledgeable I am about the products, the more credible I will come across, and I also know it helps the customer and ensures he walks out of the store with good advice.
For her, every interaction is a learning curve and she believes that assisting customers with products she is unfamiliar with, gives her a chance to expand her own knowledge and can then use that new information in other interactions with customers.
Charles finds when meeting and greeting clients, she has a natural style and manner. For her approaching customers is not just about making a sale. "I believe in being genuine with customers and actively listening to their needs, and not just selling them a product because it's a high value item." Sales people should sell according to customers' needs and must also be friendly and approachable in the way they come across, which will make customers feel comfortable and feel that they can strike a conversation with them, and from there they are able to give them the knowledge they need or make a sale effectively, she points out.
Product knowledge is a large part of being good at making sales and for her this has been a collection from day one of stepping into the Cape Union Mart store, says Charles.
The store trains staff every morning, which helps broaden staff members' knowledge base and, in the past, these training sessions have helped her gain a lot of knowledge, says Charles. The store also has very strong relationships with its suppliers and often receives training from them to help brush up on their products.
A good sales person should be self-motivated and ready to learn things as it will enable them to cope in their environment, be passionate and enthusiastic about learning new things, be conscious of their surroundings and people in it, and should be able to accept feedback and change what can be improved, and not be resistant as it can help improve their sales experiences, says Charles.
Listening is a key factor in sales and once a sales person has greeted a customer he needs to engage by asking open-ended questions and listen to his needs before advising on a product. This helps prevent him from selling the wrong product to him. "You don't want to sell just any sleeping bag, which is not actually ideal for the area or conditions he is going into — if you haven't listened to the needs the customer has mentioned, this can happen," she warns.
Knowing the customer's needs also helps in gauging how long you need to speak to him, adds Charles. Once you have assessed and advised according to the customer's needs give him space to look around, but stay within reach in case he needs anything else. "Don't just let customers wander, because once you have them it's your opportunity to sell to them and give them the information they need in order to make an informed decision about what they should buy," she explains.
Every sales experience should be about making the customer happy and having them leave satisfied and not feeling bombarded or overwhelmed when they leave the store, adds Charles.
More about Lindsey Charles
WHAT STARTED as a short-term casual job in 2006 has become a career for Lindsey Charles from the Cape Union Mart Canal Walk Adventure Centre. Over the last 10 years Charles has held a number of positions at a number of the store's branches and its head office, including sales, administration, learning and development, and product specialist and facilitator – a role she fulfils in her current position of trainer and senior product specialist.
Charles studied a marketing course for two years while working at Cape Union Mart over weekends and holidays, but found that her real passions drew her back to the store. "I enjoy technical products and working with people," she says. Although her job requires her to be an all-rounder and specialise in everything, the key area is precision products such as binoculars, fitness units, knives, etc., she explains.
Charles has always had a natural interest in the outdoors and participated in athletics (running) during her school-going years. "Cape Union Mart attracted me, because it is very outdoor-related." She never used to hike much until she joined Cape Union Mart, which has exposed her to more experiences and developed her love for hiking, she says.
Although Kili is still on her bucket list, Charles has participated in a number of store-organised events, which has helped her gain knowledge about a variety of products that she works with in store. A slack packing event like the Donkey Trail, which is a multi-day hike, has helped her learn more about how to pack for hikes of that length, she says. Other Table Mountain and Cederberg trips have also added to her knowledge.
---
Tips for selling sleeping systems
When selling customers items to sleep in or on you first have to discover their needs, says Lindsey Charles from the Cape Union Mart Canal Walk Adventure Centre. This is achieved by asking relevant, open-ended questions like where will you be going?, where will you use the sleeping system?, what time of the year will you use it?, how long will you be away for?, etc. so that the customer can elaborate, she says. The customer may think a sleeping bag would be best, but you can then use his responses to determine if a mattress, other product, or even both would be more suitable for his needs.
Closed-ended questions can, on the other hand, result in customers not giving enough feedback for the sales person to make a suitable product selection from, which can reduce the likelihood of a sale, she explains.
It is important to consider where the customer is going and the conditions of the environment he is going into because it will affect the type of sleeping system you recommend or whether an additional item like a liner would be needed etc. as it can increase or decrease the warmth ratio or insulation the sleeping system gives off, she explains. "If your customer is going to Kili or to Everest, you're not going to sell him a Hollow Fibre sleeping bag, which is better for camping in summer conditions. You're going to sell a down sleeping bag because it is your best insulator and will trap heat more efficiently."
Inflatable mattresses can add warmth and therefore, if conditions are really cold when sleeping outdoors, using one of these as a ground mat will keep the user warm from the bottom up.
The temperature ratings, fillings and the amount of insulation required for the environment he'll be staying in will determine which sleeping system is best to advise or whether an additional liner or mattress will be required, says Charles.
A liner is a great add-on that adds value to a customer's purchase as it has a dual purpose: to either add warmth to your sleeping bag or help the user maintain his sleeping bag: because he won't have to wash his sleeping bag all the time, he can just remove the liner and wash it separately.
Sleeping bag liners are usually used in addition to a sleeping bag and not really on their own, says Charles. They make life simpler for your customer who often does multi-day hikes, for example, and doesn't always want to wash the sleeping bag afterwards. Some fillings, like down, require special care and takes long to dry, — having a liner will allow the customer to avoid this and cause less wear on his product. Sales people can also market the liner as an investment to the customer and explain how buying it will add value to his experience and purchase, she says.
Sleeping bags on their own are more suited to an area where there is accommodation and mattresses are provided. They are also useful when hiking for a few days, due to their portability and the fact that they are like beds that can fold away small enough to pack into a hiking bag without adding too much weight or bulk.
When sleeping outdoors or doing more expedition-style trips, however, she would recommend adding either a self-inflating mattress or ground mat that will help keep the heat locked in, or a liner for additional heat.
Self-inflating mattresses are convenient for travel as they are smaller, lighter and more compact than an ordinary mattress. The fact that they inflate themselves in minutes also means less time wasted and the user does not need to overexert himself when setting up camp for the night.