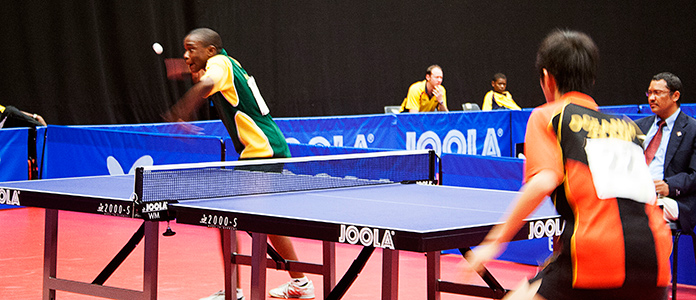 July 2016
Socialising games
want to go Olympic
We may consider table tennis, darts, snooker and billiards as recreational games, but in many other countries they are considered serious sporting codes, competing in the Olympics, or with serious Olympic aspirations, reports CARIN HARDISTY
Globally, table tennis is a serious Olympic Sport and professional darts and snooker players earn more than a decent living from playing the sports.
In South Africa, however, sporting codes like table tennis, darts and cue sports are well-known, and supported, as socialising games. Played in bars, social clubs, at home, etc. the games attract attention from young and old and provide entertainment among friends.
To what extent has the social aspect taken South African attention away from the competitive side of these sports? Almost completely, say local suppliers.
In his experience, a lot of table tennis products are bought for social use rather than for competitive use, says Steve Gallienne of Brand ID, local distributor of Dunlop table tennis.
"Most consumers buy these products for social and recreational purposes," agrees Glenda Babaya of Day Motion, manufacturer of pool, table tennis and darts equipment. "All these products are often found in pubs, hotels, homes and other recreational environments."
It is generally accepted that sports-mad South Africans pride themselves on knowing the important players in sports. Do they at least know who the top players are in table tennis, darts, and snooker or billiards?
The average South African consumer has no clue who the top players are, says Babaya. "Only the real fanatics would be in touch with what is happening at this level of competition."
"In South Africa, the top players don't make a difference to sales — neither consumers nor retailers associate the players with the brands. Especially since darts isn't shown here on TV," says Nigel Prout of Opal Sports, local distributor of Unicorn Darts and PowerGlide cues.
In England, the players are big names due to the television exposure, he explains. "There, everyone also knows which brand sponsors the dart board, because the camera zooms in on the brand name when showing where the dart landed."
As a result, local buying decisions for these recreational sports are influenced more by what the consumer wants from a utility point of view, adds Babaya. The quality of the product and finishes play a big role.
Locally darts are sold more on price than anything else, adds Prout.
Olympic codes
Among these sporting codes, table tennis is probably the one that's regarded by most South Africans as a sport. It is certainly considered more of a sport for schools these days than, for example, snooker, says Gallienne.
The South African Table Tennis Board (SATTB) is a member of SASCOC and runs competitive leagues countrywide. Several South African teams have been selected to compete in the Commonwealth Games, various regional international competitions and even the Olympic Games over the years … but alas, without achieving much success.
Played at the Olympic Games since the 1988 Seoul Games, table tennis globally has benefited tremendously from television coverage. In 2004, table tennis attracted the 5th highest worldwide television viewing audiences during the Athens Olympic Games.
This could be due to the sport's popularity amongst millions of Chinese viewers. Their players have dominated the sport at Olympic, as well as World Championship and World Cup, level since the 1960's. The current Olympic gold medal holders are China's Zhang Jike and Li Xiaoxia and they expect to have at least one contender on the table tennis medal podium at every Olympics.
But, there are also professional table tennis players in other South East Asian countries and Europe. The competitive side of the sport is governed by the International Table Tennis Federation (ITTF), with 220 members — considerably more than the international rugby and cricket federations!
There had been support for table tennis to be added to the official Olympic sport list long before is was accepted in 1988. The ITTF's minutes show that interest was expressed as early as 1931.
Interestingly, however, ITTF President Ivor Montagu strongly opposed this move in 1946, because he believed that the Olympic Games should be restricted to individual athletes competing against each other.
"Second, I think sports that do not have their own world title competitions need the Olympic Games," he said. "We, and similarly lawn tennis with the Davis Cup, do not need the Olympics. For us they are a duplication.
He was also concerned that their application would be unsuccessful. "If we were refused it would be a rebuff and a humiliation to the game." The Koreans were, however, happy to accept table tennis at their Olympic Games.
Table tennis isn't the only social sport/game that has shown interest in being included in the Olympic Games.
Billiards and snooker miss out
The World Professional Billiards and Snooker Association made a bid to be included in the 2020 Tokyo Olympics, but missed out from being included on the short list — to surfing, among others! The association is not lying down, however, and will bid again — this time targeting the 2024 event, whose host still has to be announced.
"We know we are a strong sport, we will come bouncing back. We think we deserve our chance," Jason Ferguson, World Professional Billiards and Snooker Association chairman, told BBC Sport.
"Like any athlete, we will dust ourselves down, regroup and start again. We understand what we need to do and will be a lot stronger next time," he said. "We know there are some areas we need to work on — our (lack of) female participation was probably one of the reasons we lost out.
"We are already accepted in the 2017 World Games in Wroclaw, Poland. The IOC will be there and will be judging the sports that will go through to 2024. That is a golden opportunity for us to showcase what we're made of."
With eight out of the current top ten ranked snooker players in the world from the UK, it is no rocket science to predict who'll dominate the medal table. That is, if the high earning top snooker players don't go the golfer route and decide to compete in their own major tournaments, rather than in the Olympics.
With annual earnings of £678 124 (R1.5-m) from snooker, a player like top ranked Mark Selby might not want to play in a tournament where his only payment might be a medal.
Unicorn commits to developing youth
UNICORN DARTS recently signed a new five-year contract with the Professional Darts Corporation (PDC) to continue to be the official dartboard supplier in all PDC competitions. The brand has a solid history with PDC and its events, stretching back almost 20 years.
The renewed contract between Unicorn Darts and PDC sees the dart brand continue to sponsor PDC's second-tier Challenge Tour, the Development Tour (players aged 16-23) and the World Youth Championship (the final of which is shown live on TV).
"We've always been very keen investors in the future of our sport," says Unicorn Darts MD Edward Lowy in a statement. "We've always been about giving people opportunities, and now going forward we're looking to launch a Unicorn investment to help younger players to get on the tour."
Through its Next Generation player search, the brand will sponsor three players between the ages of 16 and 23 to take part in the 2017 PDC Qualifying School and will support them on the circuit during next year.
They are also very excited about the new Eclipse HD dart board they introduced with some key new features. "Unicorn Darts' new HD2 dartboard features ground-breaking technology and sets a new standard for dartboards — in terms of look, performance, and quality," says the brand. "Using the finest Grade A sisal, the dartboard also features the new Spider2 radial wires and Super Thin Bullseye that provide for a seamless playing surface, improved playing areas around the bullseye, and the most visually-stunning dartboard ever."
With no radial intrusions around the edge, and a new bullseye with thinner metal means that they are freeing up quite a significant bit of the bullseye, says Lowy. "We're now using an invisible number ring and clear, rotatable numbers — even in different colours if customers want them!" This will allow the players just to focus on what they are so good at doing, which is scoring, he adds.
The HD2 board was used for the first time in a competition environment during the Betway World Cup of Darts in June 2016.
Darts make Olympic bid
Darts is also trying to make an entry into the Games, with former Team GB director of elite sport, Sir Clive Woodward, joining calls for darts' claim to be awarded Olympic status.
Despite the support, darts won't be able to become an Olympic sport before 2024 at the earliest, the IOC had told the Daily Mail newspaper in 2011. This is because the sport was, and is not yet, recognised by the IOC.
"I think we've got every chance of being an Olympic sport and, if they did put us in, I know they'd sell a lot of tickets and the atmosphere would be fantastic," Phil Taylor, one of darts' greats, told the newspaper at the time.
Last year, the IDF (International Darts Federation) met with the IOC to discuss possible recognition, and agreed that IOC observers would attend one of the next big darts world championships to decide if it will qualify as a possible Olympic sport.
Not everybody is happy about this prospect, though. "I can't see the IOC ever joining forces with a crowd of people having a great night and a few beers. It just doesn't seem to fit," says Barry Hearn, chairman of the ­Professional Darts Corporation (PDC). Their televised community tournaments attract a wide audience.
"To water down darts as an Olympic sport with strict regulations would destroy the whole ­infrastructure of the game that we have built up. There is more entertainment wrapped into darts than perhaps any other sport out there. It is quite unique.
"Everyone says to me when they come, I've always wanted to go to the darts. The moment they come (to enjoy a PDC match in a community hall), they're hooked and they come back again. And, while you can continue that, you're in good shape. One of darts' big secrets is that it is working-class sport performed by world-class performers."
The fun, razzmatazz and possibility of high earnings that came to be associated with the PDC also resulted in the formation of the SA Pro Darts Organisation in 2008. This was after league players were sanctioned by the amateur darts federation, Darts South Africa (DSA), for taking part in the first South African PDC tournament that was staged in Montecasino, Johannesburg, in 2007.
Top world darts stars like John Lowe, Phil Taylor, Eric Bristow, etc. played exhibition matches and South Africans competed for prize money worth thousands of Rands — and the chance to compete in England for even more money.
Several of our top darts players therefore passed on the chance to represent South Africa (without compensation) as part of Darts SA, and turned pro.