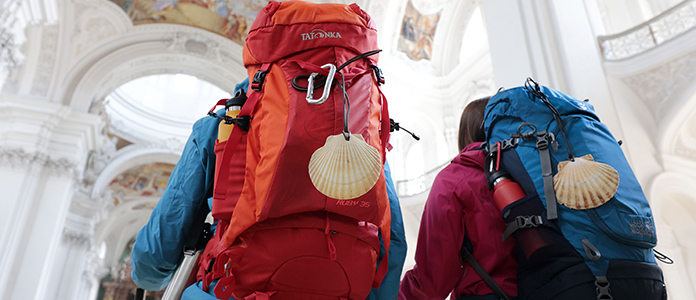 Photo by Anja Koehler for the OutDoor show, which takes place 13-16 July in Friedrichshafen, Germany.
July 2016
The backpack
is the new black
The unassuming backpack has become a must-have accessory reports GERRIE VAN EEDEN
Afew years ago a school kid carrying a backpack — rather than the standard school suitcases — was viewed as a renegade and a rebel. These kids spearheaded the backpack trend in the school halls. But it wasn't in school that the backpack market first boomed … outdoor adventurists, hikers, cyclists and campers had been using backpacks in various shapes and sizes for years already.
The history of the backpack starts in 1938 with a guy named Gerry Cunningham, credited for two of the biggest innovations in the modern-day backpack — the use of a zipper and nylon to make the pack.
Despite being a popular mode of transporting gear for outdoor activities, it took nearly 40 years for this industry to start catching on in other markets. Only in 1975 did it become commonplace for students on campuses all over America to use backpacks to carry their books around. Naturally it took some more time for this backpack use to become commonplace in South African schools.
In the UK, the value of backpack sales has grown every year since 2008, Euromonitor, a market intelligence firm, found in 2013, reports The Guardian. In the US, in the same period, the market grew by 44%. And the trend is showing no signs slowing down.
The youth with their backpacks are inspiring adults to also make use of this handy companion, says Dada Segwe of Bontsho Bosweu Shop. Nowadays, backpacks of all shapes, sizes and functions are worn by a wide variety of people. You will find a businessman in a suit and tie, commuting to work with a backpack, next to a student in flip-flops, also carrying one.
But do the backpacks we use today serve only a fashion statement, or as a functional piece of gear? And what are people looking for when considering buying one? Why are backpacks so popular?
We asked retailers for their opinions on why the backpack market has developed to the massive industry it is today. The general consensus is that backpacks' ease of use and the fact that using one frees your hands, are major factors when determining why the accessory is so popular.
Also, a backpack is designed to be comfortable, and consumers enjoy the many smaller pockets, Warrick Kernes of Action Gear points out.
Internal storage pockets with zips for small things such as money, cellphones, flashdrives, etc. are popular among consumers, agrees an Outdoor Warehouse buyer. "Also, organisational compartments!," adds an anonymous respondent.
"Daypacks offer the commuter an alternative to a plastic packet," says a respondent from Bush & Bundu Traders. "This person is not necessarily an outdoor adventurist, but a person who uses public transport to and from home."
In fact, 92% of respondents indicated that their customers buy backpacks for non-outdoor use.
Urban packs are popular, adds one anonymous respondent. "Anyone from university students to businessmen look for a pack that can house electronica. Onboard-compatible travel packs are also very popular. And then the bicycle-specific daypacks have a healthy following."
The convenience of being able to carry day-to-day items to school, varsity and around town is a big factor, says one respondent, who adds that the backpack has also become a fashion statement.
A third of respondents indicated that they sell backpacks that are designed for use as a fashion item, as opposed to for the outdoor, and half of these indicated that fashion backpacks are their top sellers. Some retailers, like Outdoor Warehouse, have found that the demand for fashionable backpacks contribute to as much as 70% of their overall sales. "The sales of non-outdoors and less technical backpacks are more than the ones specifically designed for hiking, for example."
This is not to say that those packs can't handle the punch, but the design and look of a pack can sometimes sway a customer to choose one over the other.
Also, keep in mind that the retailers who gave these answers are sport and outdoor retailers — not fashion stores.
Most respondents did say that the purpose of a backpack is to be functional, however there were a few that claim that their customers put the brand of the backpack first before looking at the function. "It's all about the brand, brand, brand," says Anton Momberg of Sege Sport.
"Customers are very brand conscious," agrees an anonymous respondent. "The colour and aesthetic appeal is also important. Features take third place."
Of course, fashionable products can also be functional.
Functionality plays a major role in the products that most retailers stock. A backpack that looks the part, but cannot carry the load of all the valuable electronica that users lug around, will not be a good investment.
In addition to the functionality, the strength of the fabric and stitching, overall appearance, as well as the price are all features that Bush & Bundu Traders' customers look at in a backpack.
Another fact to consider is that these days people carry more stuff around than they did 10 or 15 years ago. Laptops, tablets, portable hard drives and cell phones are all things that don't necessarily fit into pockets or handbags anymore. This is especially true in the city, says an Outdoor Warehouse buyer, where people walk a lot more to shops, gym, etc. and need to carry their personal belongings with them.
Technology is so much part of our everyday lives, that consumers want it with them all the time. Including when using their backpacks – a third of respondents indicated that their customers won't even consider a backpack if it doesn't feature a dedicated space for a tablet or laptop.
The majority (58%) of respondents, however, indicated that their customers are a bit more forgiving and that this feature is nice to have, but not crucial for them. "For sport and outdoor activities, a backpack allows you to comfortably carry your gear and water supplies. For everyday use, it serves as a replacement for the laptop case," explains Kernes.
There is also a rise in the LSM profile of commuters with the cash to purchase higher end daypacks, another respondent points out.
Who buys them?
So schoolkids and students were the pioneers when it came to backpack usage in an urban environment, but according to more than 40% or our respondents, it's shoppers between the ages of 30 and 50 that today make up the majority of their backpack sales, with backpacks for students and schoolkids a top seller for a third of respondents.
Only a quarter of respondents indicated that the age group in between, the 20-30 year olds, is their best buyer. This might indicate that those starting out in life with less expendable income, sees a backpack more as a nice to have, than a necessity. Or perhaps those in their 20's still use their backpacks from when they were students or at school. Either way, only a quarter of respondents indicated that the 20-30 year age group is their top backpack customer.
The school bag, however, is only the top selling type of backpack for a sixth of retailers ... the same percentage as those who indicated that the fashion backpack is their top seller among backpack sales.
Not surprisingly, the majority (58%) indicated that of all their backpack sales, they sell the daypack the most. What with all (100%) of respondents stocking daypacks. When asked what types of backpacks they stock, half of respondents indicated that they sell school bags, half sell technical backpacks, and a third sell fashion backpacks.
The right bag for the job
The fact remains that backpacks, daypacks or any other type of rucksack, are remarkably versatile. There are so many different options: schoolbags, urban packs with sleeves for laptops and tablets, packs for day hikes, and travel-friendly packs aimed at the commuter. "A plethora of alternatives, each with a different design element and even a hint of trendiness," says one respondent.
According to the website Carryology.com, which takes bags as seriously as the name suggests, there are eight different types of backpack shapes that link between shape and functionality. These can be divided into three categories: outdoor, work and everyday.
The outdoor shapes include hiking backpacks, snow/ski/surf backpacks and bike backpacks. These are all geared towards a very specific activity, and because of this would hardly suffice for the urban user.
The work shapes, the office and school packs, have a more square appearance to accommodate books, folders, files, laptops or tablets.
The last category is backpacks for everyday use. This includes the urban-use backpack, which is the most common and most functional, with the shape suggesting that it is suited for a variety of uses, with a laptop sleeve and a water bottle holder among the common features. Lastly you get the fashion heritage, which looks the part of a technical backpack, but will not fulfil the functions of one, and the pure fashion backpack, with no main shape, except one main compartment. Function is a by-product.
In the end, it depends on what the consumer wants from a backpack. The fact that after nearly 80 years there is such a large variety of backpacks available on the market, in such a large variety of shapes and sizes, means only one thing: consumers will keep on looking for the backpack that fits their specific needs, and they are bound to find it somewhere.