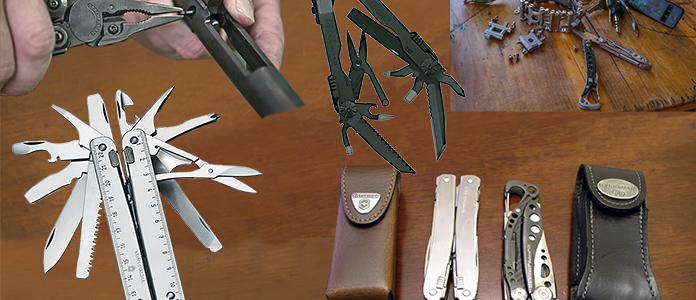 July 2016
The story of tools
that do everything
There are nowadays more than hundred multi-tools with a wide selection of implements for various activities on the market. But, contrary to popular belief, this product category wasn't invented in the 1980's ... the concept was in use at least nearly a century earlier
It is commonly assumed that multi-tools entered the market around the 1980's and that Tim Leatherman was the inventor. But, that version of history depends on how one identifies a multi-tool.
It is certainly true that Leatherman's first patented design for the Mr Crunch multi-purpose tool was so unique that he battled eight years for it to be accepted by the market – and then only after it was considerably simplified into the Pocket Survival Tool (PST).
It is also well-known that knife companies weren't interested in the concept because they labelled it a tool, and tool companies said it was a gadget that wouldn't sell. So, yes, Tim Leatherman certainly brought something unique to the market.
But, it was by far not the first knife with tools attached — the famous Swiss Army Knife, a compact pocket knife with tools like a screwdriver, bottle opener, can opener, wire stripper, etc. folding into the handle, dates from the 19th century. Over the years, various handy tools were added to this pocket knife, like tweezers, toothpicks, nail files, pliers, etc. so that some of them have as many implements as a large multi-tool.
Victorinox got the contract to manufacture these multi-purpose knives for the Swiss army in 1891, and two years later split the contract with a Swiss cutlery manufacturer that later became known as Wenger. Both these companies had the right to manufacture these knives for the army until 2013 when Wenger, which was bought by Victorinox in 2005, ceased producing knives under the Wenger name.
Swiss army knife had become a world-wide generic name for a pocket knife-tool combination after World War II when American soldiers, who could not pronounce the official name Offiziersmesser, coined the name.
The multi-tool introduced by Leatherman in the 1980's was much bigger and sturdier than the Swiss Army knife, says local Victorinox distributor Stan Gordon of Cutlery Distributing Group. "Multi-tools, for example, have a much heavier-duty plier head than the one featured on the Swiss Army knife."
Ironically, several multi-tool models have come full circle and are now available as pocket tools the same size as the Swiss Army knife — and some are even small enough to be carried on key chains.
In 1997 Victorinox announced that they would also be entering the multi-tool market. The following year they introduced the Swiss-Tool, which is still highly regarded today (as indicated by all online reviewers we consulted).
The reason why Victorinox took their time to come to market with a multi-tool was because the owner, Carl Elsener, did not want to introduce a tool that might be unsafe and would require constant updates, explains Gordon.
The company was named after his great-grandmother Victoria and Elsener was careful to protect their famous and respected brand name. He would not produce a product that was not of the highest standards and had an unique design, adds Gordon.
"Victorinox pioneered a locking mechanism that is easy and safe to operate," he continues. "All implements opened to the outside of the handle, making the tool more comfortable and safe to use under heavy working conditions. It is only necessary to open the tool when one wants to use the pliers. They also pioneered round smooth edges on the handles."
All the implements were made of top quality stainless steel and mirror polished, so that one item could be opened smoothly and on its own, which was also a unique feature at the time, says Gordon.
The next version of the SwissTool, introduced some years later, was the more ergonomic and lighter Spirit, which "is not as heavy duty as the original, but is still exceptionally robust," according to Gordon.
Victorinox offers a lifetime guarantee against defects in material and workmanship on all their products. "The slogan companion for life is something appreciated by millions of satisfied clients around the world, who recognise the ingenuity and craftsmanship of Victorinox products,"says Gordon.
Enter Gerber
Like Leatherman, Gerber Legendary Blades come from Portland, Oregon, where they began making handcrafted cutlery sets as gifts in 1939. Today they are one of the biggest knife manufacturers globally and make anything that cuts — knives, axes, handsaws, and since 1991, also multi-tools.
This was after the company became part of Fiskars. All their multi-tools, from the first — now almost legendary — Multiplier, have been produced as part of this Swedish group.
Their design was unique because the pliers slid up and down in the body and their Safe-T-Loc system lock each tool in place.
Gerber now supply a very wide selection of multi-tools, from key-chain sized to the robust and highly regarded Diesel, each with various combinations of components.
Their collaboration with the adventurer and TV show host Bear Grylls also resulted in a multi-tool that bears his name.