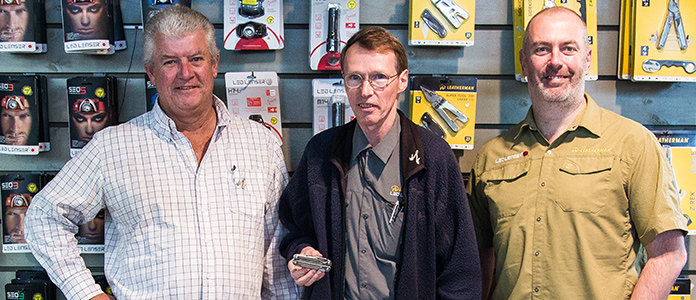 Tim Leatherman (centre), before signing tools in Cape Town. Left is local distributor Bruce Woodroffe and International Sales Manager Stuart Theobold, is on the right.
July 2016
Tim Leatherman
talks multi-tools
During a recent visit to Cape Town Tim Leatherman talked about his favourite multi-tools, which of the Leatherman tools retailers should stock and why the 25-year warranty is a profit centre
Tim Leatherman takes out the Charge TTi tool he has been carrying in his pocket for the past eight years. "I suppose the owner of the company has a license to carry the deluxe version of the Wave," he says with a self-depreciating smile.
All the most requested tools in the Charge, with slight upgrades which sets it apart from their most popular tool, the Wave, is one of the few luxury trappings Leatherman enjoys. He has a gentle, measured way of talking and in his casual shirt and pants he looks much more like the young mechanical engineer who 40 years ago began designing a tool that would eventually bear his name, than the owner of a company earning about $100-m revenue a year.
Although he officially retired as president of the Leatherman Tool Group Inc. he and college friend Steve Berliner had registered in 1983, he is still a part-time employee who happens to chair the board and own the company.
Part of his employment duties include travelling to some of the 70 countries where Leatherman is now sold. He agreed to an interview while preparing to face the many Leatherman owners who would flock to the Cape Union Mart store to turn their tools into collectors' items with his signature.
The Leatherman team has just been to the Nampo Show where he signed about a thousand tools for about ten hours per day over four days. As customers have come to expect, they also repaired damaged tools, many of them from use beyond their capabilities.
South Africans are the hardest on tools of all the users world-wide, confided Stuart Theobald, Leatherman's International Sales Manager from the UK, who joined his chairman on his fourth South African visit. This is probably because South African farmers take the American saying seriously that you can fix anything with a Leatherman and duct tape and use their tools for everything, including cutting bloudraad.
"A man came up to me with a Skeletool and said this tool saved me a fortune," Leatherman recounts an experience at Nampo, where they repaired the wire-cutter on this particular farmer's tool. "He said I have a game farm and had a valuable sable caught in a snare. It would have died if I couldn't cut it free. He freed the animal, but used the tool beyond its capabilities."
While many companies might consider a 25-year warranty a cost centre, Leatherman considers it a profit centre that "really assures you a customer for life. There is a saying that if you have an unpleasant experience, you'll tell 25 people. If you have a pleasant experience, you'll tell seven."
The vast majority of tools are sent to their service centres not because of poor workmanship or because there is a problem with the tool, but because it has been used beyond its capabilities, he stresses. "We never charge anybody for fixing a tool and they just can't believe that a company would actually honour their warranty. So they tell seven other people about the good outcome."
Apart from the fact that the tools have been manufactured to last 25 years, when a customer is happy with a tool he bought, he will want to buy an updated version that is even better than the previous tool, he says.
This is probably why the brand is so popular in South Africa, their fifth biggest market after the US, Germany, Australia, UK, and France, confides Theobald.
Since the first Pocket Survival Tool (PST) was brought to the market in 1983, suggestions from customers who "told us this tool is 98% perfect — just add this little thing and it would be 100% perfect", resulted in a plethora of tool designs that should appeal to customers from all walks of life. These include hunters (the MUT), women (Micra), children (Leap) or skateboarders (Jam). And of course, no store should be without the Wave, advises Leatherman, because "everybody loves a Wave".
In fact, it was Leatherman's willingness to accept advice from others that enabled him and his partner Steve Berliner to make a marketable tool. The patent granted in December 1980 for the Mr Crunch plier tool looked considerably different — and much more complex — than the PST, which eventually exceeded their sales expectations more than seven-fold within the first year. They were hoping to sell 4 000 tools per mail order, but sold 30 000. Nowadays they sell about 2-m tools per year.
Mr Crunch was like a wish list of everything the young Leatherman would have needed to fix the $300 Fiat and fixtures in the cheap hotels he and his wife stayed in during their much-documented European trip in the mid-1970's. He started designing a portable tool that can fix everything in his garage after the Leathermans' return to Portland, Oregon, in 1976. But, "it took eight years before the idea was accepted," he explains.
It was only after they followed advice to simplify the design and discard many of the tools and features in Mr Crunch — which halved the production costs — that they could interest customers in buying a PST and started their own company to produce them. Before that, knife companies said they were not interested in making tools, while tool manufacturers said they didn't make gadgets.
A mere 27 years later, in 2010, Time magazine listed the Leatherman tool among the 100 most influential gadgets of the previous century.
While the Wave has been their most popular tool, Leatherman says the compact Micra, also available in pink, has been the best selling product in the history of their company. Although most tools land up in the hands of men, they are often bought as gifts by women, and it was therefore logical to design a tool aimed at women, he explains. It is also often bought as a gift for their wives by husbands who feel guilty about spending a lot of money on their purchases.
The Rebar is another of his personal favourites, which he sometimes carries instead of the Charge TTi, when he feels like a smaller tool. "I like it so well because it reminds me of the original PST design, with more updated features and designs." He also wears the innovative Tread on his wrist.
The Rebar was also successfully combined in a gift box with a Led Lenser torch after Leatherman acquired this German lighting manufacturer.
Like any successful invention, Leatherman had to contend with cheap copies from the East. "The price was a tenth of ours, but the quality a 20th," he says.
They initially prosecuted the American importers of the knock-off products, but eventually decided that the cheap copies were of such inferior quality that disgusted customers would actually be more likely to go and buy a proper Leatherman tool that could do the required job once they discarded the copy.
While the tool designs are constantly updated, one thing that has stayed the same is their pledge to provide employment to the people of Oregon by manufacturing the tools at home. They do, however, have some features manufactured elsewhere — for example, some tweezers are made in Switzerland and corkscrews come from France.
They also acquired the PocketToolX company in 2013 and subsequently produced various simpler tools aimed at action sport enthusiasts like surfers, skateboarders, snowboarders and even archers.
While they from time to time make other products, like knives — even garden shears! — none superceded the popularity of their multi-tools, which has been the Leatherman Tool Company's main business for more than thirty years.