A good news
retail story
The right brands and owning their own building made American Clothing successful, even in tough times.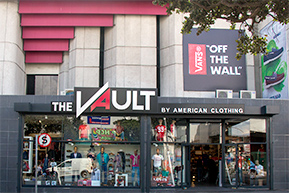 "In these days of economic gloom, a good-news retail story is an inspiration for all. With his fourth store, opened in December 2015 in Cape Town, Kamlesh Chagan has not only gone bigger, but also better.
The inspiration for the interior of The Vault by American Clothing comes from studying the current look of world class stores overseas and then employing a store designer who had been responsible for the look of top local fashion/lifestyle stores to replicate the look and feel.
The stylish and spacious 360m2 store is further stocked with the most sought-after brands: Nike, Vans, Converse, Superga, ASICS Tiger, Caterpillar, Levi's, Jordan, Sebago ... even Timberland, to name but a few.
"This store will take [shopping in] Wynberg to a whole new level," says Chagan of the store that would be at home in an upmarket shopping centre.
Yet, it serves the needs of the community he came to know so well since opening his first store in Wynberg more than 25 years ago.
The Chagan brothers — the youngest, Girish, oversees the day-to-day running of the new store until it is well established — grew up in a retail environment in Retreat, where their father started a business 50 years ago.
When Kamlesh wanted to get married, he decided that he no longer wanted to work for a boss as dental technician, but that he wanted to run his own business.
Despite his father's misgivings he opened a smaller store than the family store in Retreat at a higher rent in Station Road, Wynberg.
This store was so successful that he opened another store and bought a building in Main Road, where he opened another small 60m2 store. He bought the building next door and combined two stores into one 300m2 main street store buzzing with customers seeking stylish shoes and clothing.
He subsequently bought an old bank building down the road, and started planning the flagship store that opened in December as the aptly-named The Vault. In addition, he has 800m2 warehouse space in a second storey and has moved his head office there.
"The other stores are volume driven, this store is lifestyle driven," says Chagan.
It is as much about offering a pleasant shopping experience, browsing among the brand-filled displays, as about selling stock.
---