Brisk trading in the new American Clothing store, The Vault. Photo: Trudi du Toit.
March 2016
The yo-yo Rand caused
uncertain holiday trading
The constant fear factor of price increases due to the steep drop in the Rand exchange rate, caused a pall over the December-January holiday trading period — although many pre-Christmas customers spent as if 9/12 and its aftermath didn't happen, retailers report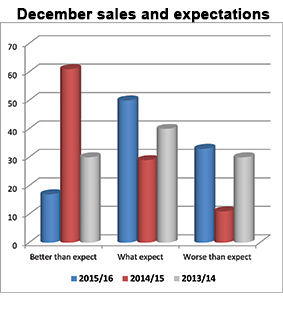 While retailers and suppliers in the industry walked around with calculators to make sure that they could still stay in business with the up-and-down Rand exchange rate after the Nenegate shock on December 9th last year, the drop in the value of the Rand did not have that big an impact on customer spending ... although retailers believe this will be the biggest challenge they'll have to face in 2016.
Most (58%) of the retailers who responded to our annual survey on December-January trading (see right) said that the currency drop did not motivate their customers to close their purses and spend less.
Although, one respondent commented that "trading went well until the firing of the Finance Minister and then levelled off." This influence of politics on trading was confirmed by another respondent, who commented that "because we were trading so well at the halfway mark, we were disappointed at the end of the month [December], but still slightly up."
The December drop in the Rand value to more than R15.41 against the dollar (from R14.27 in November) came as a shock to most people in our import-based industry, as it instantly added almost R30 to the price of a $25 dollar product (see table below right).
That was after the Rand had already been on a downward slide for most of last year. Between February 2015 and January 2016 the Rand lost 30.93% value against the dollar. The cost of a $25 item would therefore increase R139.75 from R290.75 in February 2015 to R430.50 in January 2016, purely based on the exchange rate.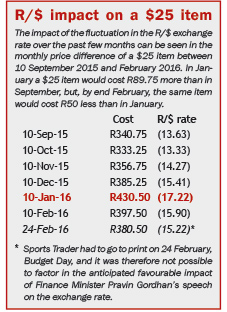 That is without taking other manufacturing and transport price increases into consideration, which brands across the world were preparing for.
Yet, only 42% of the retail respondents believed that the drop in the exchange rate influenced consumer behaviour over the December-January period. But, more than half (54%) believe this will be the biggest challenge they will have to face this year.
A further 17% believe that the worsening economy would pose the biggest trading challenge this year. This brings the number of respondents who are concerned that consumers will have less spending money this year due to the failing economy and rising prices, to more than 70%.
As one respondent pointed out, "the affect of the price increases [due to the exchange rate] were not yet reflected in our December prices." The impact will be felt with future shipments, another retailer added.
Normal trading challenges like competition from other retailers, distributors selling direct to the public, top brands refusing to supply them or the impact of low-priced Chinese stores, received scant interest from respondents, with a low 12.5%, 8% and 4% respectively indicating these as major challenges they expect to face this year.
Interestingly, none of the respondents indicated that online trading would be a challenge this year. In previous years 7, 5 and 11 percent saw online sales as major threat.
In the previous three similar surveys most retailers did say that they believed the economy impacting on consumer spending was the main challenge, namely 39% (2014/15), 40% (2013/14) and 39% (2012/13). But, more competition from other retailers was identified as a major threat by about a quarter (2014/15), a third (2013/14) and a fifth (2012/13) of the respondents to previous surveys.
December still OK
In the latest survey, most of the respondents (50%) said their December 2015 sales were on par with what they expected. A small number (17%) said their sales in December were a pleasant surprise, but about a third expected to do better.
The respondents were about equally divided whether there were more, fewer, or about the same number of visitors to their stores.
This is in sharp contrast to last year when 71% of the retail respondents reported that they had more feet through their doors.
Spending was, however, much more subdued than the same period a year ago. This time around very few respondents (only 8%) reported that their December sales were more than 20% higher than the previous year … compared to 39% respondents in December 2014/15 that reported more than 20% sales growth. A year ago 61% of the respondents reported that their December trade was much better than they expected.
This season retail customers bought more mid-priced items (say 46% of respondents) or functional, but more expensive items, like shoes or clothing (33%). Hardly any reported that customers mainly bought luxury items in the pre-Christmas period.
A year ago the picture looked decidedly more rosy: 63% said their customers mainly bought functional, but expensive, items and 41% reported that most customers bought luxury items.
January Rand drop
January 2016 started badly for most of the industry. Just as most suppliers returned to work and retailers started preparing for the January 2016 back-to-school and back-to-work sales, the Rand took another dip to R17.22/$.
This time it was not directly linked to internal political factors, but had more to do with fears about the Chinese economy, a slow-down in their buying of our commodities, the economic woes of our BRICS partner Brazil, etc. The fear that we would be downgraded to junk status following a less than 1% growth forecast by the World Bank, hovered like a dark, gloomy cloud.
Consumers were not unaffected, and 41% respondents reported that their January sales were lower than the previous year — nearly a fifth reported that sales were more than 20% down. On the other end of the spectrum, nearly a third of the respondents did grow their January sales, but most said it was just a little higher.
Last year's January trading was much better: more than half (54%) of the respondents reported that their sales grew from the previous year — 35% saying that their sales had grown more than 20% compared to the period the previous year. Only a fifth said that their sales were lower.
The fear of a depression was also reflected in the spending patterns of January shoppers: A high 95% of respondents reported that customers were buying either entry-level (30%) or mid-priced (65%) items. None reported that their customers bought functional, yet high-priced items, and very few (4%) indicated that customers were buying luxury items.
This is not good news for sport retailers who were looking forward to parents spending on quality sport equipment — which can be expensive — for their children going back to school.
Looking ahead
Just as a week can be a lifetime in politics, a few weeks can make a vast difference to the economy and the exchange rate.
Sports Trader unfortunately had to go to print before new Minister of Finance Pravin Gordhan delivered his much-anticipated Budget Speech and the anticipated affect on the exchange rate could be determined.
Yet, the renewed confidence that the working groups the Finance Minister established to bring the economy on track, measures to clamp down on corruption and anticipated curtailing of unnecessary government spending, was evident in the run-up to the speech.
For the industry the recovery of the Rand before the Budget Speech was indeed good news, because that $25 item had already become R50 cheaper than in January.
About this survey
For the past five years Sports Trader has asked Southern African sport, outdoor and lifestyle retailers to supply feedback on their December and January sales and expectations. The survey is conducted anonymously on Survey Monkey and unless respondents give their permission, we are unable to see the names of respondents. Respondents have the opportunity to leave comments.