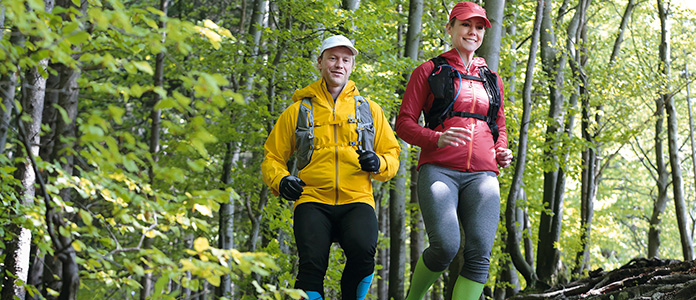 Q2 2017
ABC of
outdoor technologies
The unique technologies in outdoor clothing and footwear help protect the wearer, keep him warm and dry, cool and comfortable, amongst many other benefits. But, some of these technologies have even more unique and difficult to remember names. In this alphabetical glossary LINZA DE JAGER unpacks the meaning behind the outdoor technologies used by brands
Bi-Flex: a technology developed by Boreal to improve the forward and lateral flexibility of mountain boots by carefully positioning panels of soft pliable materials in specific areas of the upper. These soft compressible panels act like hinges to allow the natural articulation of the ankle in both the lateral and fore/aft directions.
-C-
Climachill keeps you cool and dry in the hottest weather. Used in adidas's outdoor Terrex range, this cooling technology is based on ultra-breathable moisture-wicking fabric and aluminium cooling spheres. It absorbs and wicks away moisture fast, in under 2 seconds.
Climalite is an adidas textile technology that wicks perspiration away from the skin to the outer fabric for quick evaporation, enhancing the body's natural temperature regulation.
Climaproof: the adidas technology keeps you dry from inside out in all weather conditions. It provides breathable protection against weather conditions like harsh wind, rain and cold by optimising the body's temperature and allowing moisture to escape easily.
Climastorm is a textile technology from adidas that protects from wind and light rain by acting as a barrier to the elements, while allowing heat and sweat to escape through evaporation.
Climawarm is a lightweight, breathable insulation technology from adidas that keeps the wearer dry and comfortable in cold weather conditions by using densely woven synthetic.
- D -
Dri-Tec: an advanced, waterproof, breathable membrane developed by Hi-Tec to provide waterproofing in even the wettest of environments. Millions of microscopic pores in the membrane allow water vapour to escape without allowing water droplets in, keeping feet dry and comfortable.
Dry-Line: a waterproof lining system developed by Boreal that combines the waterproof laminate Sympatex 337 professional and a leather or synthetic outer layer to enable horizontal as well as vertical breathing. Moisture vapour in the boot enters an air space between the membrane and lining and is pumped out of the boot during normal walking action. The Sympatex 337 membrane has a breathable micro-fibre lining and since it is made of polyether/ester copolymer it has no pores to clog, so its performance does not deteriorate with use.
DTA (Dynamic Transition Aid): a nylon lightweight shank that offers the same rigidity of a steel shank in Hi-Tec footwear.
- F -
FIST: Flex Insole System Technology from Merrell designs insoles around the way a shoe will be used. Stiffer soles provide the stability needed when carrying heavy loads through rocky, uneven terrain, while lighter, more flexible insoles enhance agility while speed hiking. By using different materials and configurations — like steel shanks of different lengths and thicknesses and tapered injected nylon — the manufacturer can fine-tune the flex of each insole, so that it's just right for its intended purpose.
Flexconnect from Merrell was designed to resemble and support the ligaments and tendons in the human foot, the Hyperlock heel provides a precise heel lock for quick descents and sharp turns. Anatomically-inspired dual-directional flex grooves support the natural motion of the foot by promoting upward and downward flexibility for agility and stability on uneven terrain. A sticky, durable, rubber outsole with skeleton-like lugs and flex grooves moves with the foot to offer a full range of flexibility for superior grip and traction on wet or dry trails.
Foam Tech Cushioning is provided by foam material in Jeep footwear to provide structural support, stability and shock absorption.
- I -
I-Shield: a Hi-Tec technology that provides an invisible protective layer to repel water and dirt to keep shoes clean and lightweight. By reducing water uptake the shoe stays lighter and the inherent stain resistance also protects against oil and stains.
- M -
M-Select DRY technology in Merrell footwear provides protection for footwear in wet weather conditions. The products shed external moisture from precipitation and wet ground conditions, while allowing moisture from physical activity to escape. For extreme wet weather there is M-Select XDRY that delivers added protection.
M-Select GRIP: outsole technology by Merrell that offers superior grip. The outsoles are slip-resistant on wet and dry ground, and over mixed terrain, and releases dirt and debris with specialized lugs.
GRIP+ delivers added traction and WET GRIP provides maximum grip on wet surfaces. Highly angled lug designs channel excess water away from underfoot while the razor siped rubber increases surface contact for better traction.
M-Select Move: the footframe from Merrell has been anatomically designed to follow the natural flex and contours of the foot. It integrates resilient Return Foam cushioning and contoured support to offer an ideal combination of natural freedom of movement, stability and all-day comfort.
- O -
Omni-Heat Thermal Reflective: this warming technology from Columbia regulates body temperature with little silver dots that reflect and retain the body's heat. The patent-pending OutDry Extreme waterproof membrane keeps moisture out, while the abrasion-resistant material on the outside provides permanent water repellency and durability.
Omni-Shield technology from Columbia resists the absorption of liquids into the yarns to prevent stains and water penetrating. Blood 'N Guts goes further to prevent and remove stains. It provides long-lasting stain repellency without affecting the breathability or feel of the fabric
Omni-Tech from Columbia is a technology that provides 100% waterproof and air-permeable (breathable) apparel that allows perspiration to escape. The membrane is windproof, waterproof and breathable while Omni-Shield offers protection on the face-fabric.
- Q -
Q FORM: Merrell developed this footwear technology especially for women's feet. It combines properly sequenced cushioning with a supportive and naturally aligning midsole to provide proper support, cushioning, and corrective positioning for women to ensure a balanced, natural stride. It provides a soft landing, a little guidance, transition, support system and all-day cushioning.
- S -
Stratafuse Cage in Merrell footwear comprises of injecting a TPU foot cage into the mesh upper, fusing it together for a lightweight, glove-like fit, that enhances natural movement, and increased durability. The process also reduces manufacturing waste.
Stealth Rubber from adidas provides unbeatable grip, high friction and optimal shock absorption.
Super Comfort is a feature of Jeep footwear that offers relief of foot pain and tired feet related to standing or walking on hard surfaces for extended periods. A removable innersole, that may be hand washed or aired out to allow trapped moisture between the innersole and foot bed to dry, adds further comfort.
- T -
Tecproof: an invisible waterproof membrane from Hi-Tec that serves as a protective layer on rain jackets.
Thermo-Dri is a waterproof insulation technology exclusive to Hi-Tec. It integrates Thinsulate insulation from 3M with Hi-Tec's Dri-Tec waterproof membrane, keeping feet both warm and dry.
Traxion: this technology from adidas offers maximum grip by combining an optimal lug pattern with the most appropriate rubber compound. It offers an optimal alignment of cleats, maximum outsole grip on specific ground, as well as maximum propulsion.
- U -
Unifly from Merrell is a footwear technology using premium, uLeathera durable, lightweight EVA foam that is 20% softer than standard EVA foams. Strategically placed heel and forefoot shock pods are made of a special formulation of firmer EVA foam that distributes impact and provides feedback from the ground. This provides a strike that is soft to the ground for cushioning and terrain absorption, and firm against the foot for stability and agility.
- V -
V-Lite technology in Hi-Tec shoes reduce weight and increase comfort through construction and lightweight performance components through the minimum use of rubber while retaining outsole performance.
- X -
XLR8>>: Hi-Tec's lightweight midsole technology gives 10% better rebound and 10% better energy absorption than regular EVA. It is also 10% lighter than regular EVA. The midsole is very comfortable and significantly boosts performance.
- Z -
Zenith Rubber: a high performance rubber developed by Boreal for no-compromise performance, which features incredible friction properties combined with an ability to hold micro edges. Prevents feet slipping when climbing on very small rock features.