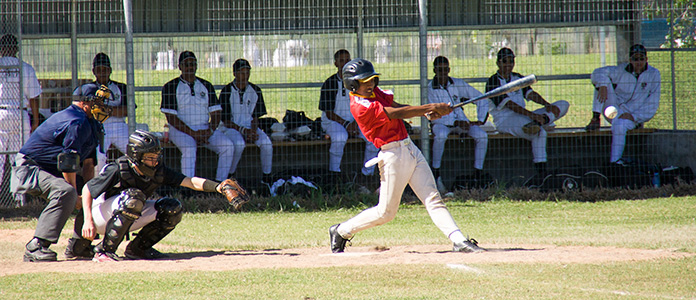 Q2 2017
Bouncing back?
Softball and baseball are bouncing back after facing challenges. The story of the two sports can be read in their trials and tribulations, but most of all in the way they've bounced back, writes Linza de Jager. Will retailers and suppliers finally be able to benefit from these growing markets?
Softball SA can again hold its head high. The federation has a functioning, elected board, is again participating in international events and is recovering from the financial shambles that resulted in being placed under administration by SASCOC for several years.
"We're growing," a source within Softball SA tells Sports Trader confidently. "The new Softball SA executive is making strides in moving the sport forward. They are working day and night to ensure that softball is successfully transformed into a priority sport by 2020."
The federation is sending senior men and junior (U19) women to compete in their respective world series this year, and last year sent a team to the junior men's world championship in the US.
That the sport is growing at all levels was demonstrated by the softball participation at the school summer games in December 2016, in which all the provinces were represented. The sport is one of the 16 designated priority code sports for schools, which makes it eligible for funding from SRSA. During the last season, seven new softball clubs were started — six of them in townships.
According to the latest figures supplied by Softball SA, there are 314 softball clubs across South Africa, of which 210 currently participate in organised competitions. They have 4 200 registered members. In addition, 502 schools offer softball as sport, of which 418 (180 primary and 239 senior) participate in softball school leagues.
The primary school competitions start at U13 level, with 181 teams competing in this age group. At high school, most softball is played at U17 level, with 209 schools participating in these competitions, compared to 22 schools participating in the U18 competitions. This represents at least a further 4 120 players.
Softball is played by rich and poor — in 24 private and 143 township based schools. According to Softball SA figures only 13 primary and 18 senior schools, however, have proper softball facilities.
At club level it is predominantly played in poorer communities as 187 clubs, or 89% of the total, are based in townships where only 2 clubs have proper facilities. Nearly 40% (74) of these township clubs are dependent on financial assistance.
Softball features strongly in the Western Cape, and it is also played enthusiastically in Limpopo, Gauteng and the Eastern Cape. But it does not feature at all in the Northern Cape, and only marginally in Mpumalanga.
Softball SA's statistics provide a fascinating peep inside the sport and country (table below). It shows the forces of urbanisation, but also the steady advance that the sports administrators have made in rural areas.
For example, in Limpopo 72 schools in predominantly rural districts offer softball as a sport and there are 42 junior and 42 senior softball clubs in the province. Despite being one of the poorest provinces, Limpopo obviously has strong softball structures in place — which is attested to by the fact that the new president of Softball SA, Mashido Matsetela, as well as the treasurer who is credited with getting the federation's finances back on track, Moloko Legodi, hail from Limpopo.
Yet, players from the 82 clubs in the province do not buy their equipment from retailers. Softball and baseball equipment "only sell to schools," says Mohamed Baksa of Arons Sport in Mokopane. "They buy when they are allocated funds, but even when allocated funds, the schools would rather buy other sports products."
Softball and baseball is therefore a small category for him, not even contributing 3-5% to his sales. "The sports are not as big as they are overseas." He also attributes this to the fact that equipment is "a bit pricey".
In Gauteng and KwaZulu Natal softball is an urban sport, played only in Johannesburg (at seven clubs and no schools), Pretoria (124 clubs and schools), the East Rand and Durban. While Cape Town features strongly with 37 senior and 48 junior clubs as well as 22 primary, 17 senior and 4 private schools offering softball, Western Cape country districts are well represented with 75 clubs and schools offering the sport. For example, in the Eden district (around Oudtshoorn), 20 clubs and schools play softball, while along the West Coast and in the Overberg softball is played by respectively 19 and 14 clubs and schools.
But, whether in urban or rural areas, retailers across the country report that softball sales are lukewarm.
"We sell very little, if any, in the softball and baseball markets," says Kevin Woodings, of Trevor Smith Sports in Newcastle. "Our area of coverage is Northern and Central KwaZulu Natal, Free State and lower Mpumalanga."
Poobie Naidoo's in Pietermaritzburg stock both base- and softball products. Mervyn and Poobie Naidoo describe the sale of these goods as "average". The sales figures have remained stable over the past few years, not going up or down, despite changes in the sports. With more than 60 softball teams at KwaZulu Natal schools — five at private schools — it is no surprise that most of the sales are made to schools.
Both softball and baseball sales are "very slow" in the city of roses, says Christmis Dumezweni of Kloppers in Bloemfontein. Not surprising, because in the Manguang district (which includes Bloemfontein) there are only 8 clubs and no schools that offer softball, although there are 42 schools and clubs in rural Free State districts playing softball. "It will grow in the future," he believes. "Softball and baseball is bigger in Lesotho and they buy from Kloppers in Bloemfontein."
The reason why softball does not sell well in retail is because the clubs import equipment directly and supply it to their players, explains LJ Albertyn of Kloppers in Brackenfell. Even though softball is so popular in Cape Town, there is little demand for soft- or baseball equipment from this Cape-based sport specialist store.
On the other hand, they do not really stock much equipment. "We periodically get an enquiry for specialised equipment, which we would then get from the local suppliers."
Geographical breakdown of where the softball teams are situated
Western Cape
64
48
53
34
4
203
Limpopo
42
42
22
50
156
Gauteng
25
38
77
15
155
Eastern Cape
51
48
34
133
KwaZulu Natal
9
35
22
5
71
Free State
15
18
17
50
North West
17
6
22
45
Mpumalanga
1
1
1
3
Northern Cape
0
This breakdown of clubs and schools offering softball gives an insight into the areas where retailers can expect to look for sales opportunities for softball equipment. With each team representing at least 11 players, there are at least about 9 000 players if each school or club only has one team. Statistics: Softball SA.
Import directly
This cause-and-effect — low demand resulting in the equipment becoming a low priority for retailers, resulting in even less demand — is confirmed by people involved in the sport.
"There is no equipment available! Local sports shops don't stock it," says Jenni Muir, founding member of the Milnerton Mavericks Baseball Club, where members have "enormous fun" playing socially. The club provides the equipment for the players.
Like other softball administrators, she is unhappy with the quality of the equipment imported directly by a leading sports retail chain. But, she could not find any equipment they needed in other Cape Town independent sport retailers. Instead, they opted to import directly.
"We go to the websites of suppliers in the US and try to find one that has free shipping. We generally order every second or third year for the club (from overseas). If we do a bigger order, our shipping cost comes down. It works on volume."
Mark Moore, founder of the Pole 2 Pole Baseball Academy, shares Muir's dissatisfaction with the equipment on offer and the fact that there are only a few importers spread across the country who'll deliver to clubs.
"You get what you pay for," he says. "You can get anything you want directly shipped to South Africa now, so quality is not the issue, it is the budget."
The imported equipment is very expensive compared to the rest of the world due to the shipping and tax and exchange rate. "A $2 ball does not cost R26 here, it is more like R60," he adds. "Sadly, the South African budget only allows for the cheaper and nastier stuff. It is odd though, I still have my Catchers glove that I used in the 1990s. It was very, very expensive but I have got 25 years' use out of it."
Apart from a soft- and baseball specialist like South African Sports Imports, which offers a wide selection of well-known brands and different price points, most other sport stores would only offer one brand — if any. This lack of selection is a problem, says a source in Softball SA.
Those who choose to approach the local importers of international brands directly face the same problem. "So, if you want a specific brand, there will be, for example, one supplier in Gauteng, which makes it difficult for clients in other provinces to get products," says the source. "They can order equipment online from the suppliers, but they can't handle the items to get a feel before doing so." This could result in them receiving equipment that is not quite what they expected.
In some ways it's cheaper to import than to buy locally, she adds. "I've imported balls for R52 that would cost R76 in South Africa. Online retailers (based overseas) give discount when you spend more than a certain amount, or they give free shipping. If they have stock it reaches your post office within 10 days."
It is, however, not only clubs or schools who import directly. "Some players import their own equipment, in other instances others will club together and order en masse."
Players also buy from local online stores. Ryan o' Donohue of the online sports and outdoor store SportsDynamix.com reports that soft- and baseball sales are not great, but he says they are picking up.
"We have only recently added these products to our offering," he says. "Although not a huge seller, we have seen a steady increase in the number of inquiries for these products with a few orders coming in over the last few months."
Tips for retailers wanting to break into the market
The soft- and baseball markets aren't the easiest to break into, but it is a big, and growing, market where not many retailers are active. The clubs and organisations gave reasons why they rather buy online from oversees than support local retailers – that should give you some pointers on how to reverse the pattern in your favour. Some ideas are:
Stock a number of brands that offer the full spectrum of products from entry level to top end;
Stock a bigger variety of products: bats, balls, protective, as well as accessories (if you want to sell it, it has to be in your store);
Be involved with the clubs and schools in your communities and build a relationship so that you are always at the top of their mind when they want to buy new products;
Ask the schools and clubs advice about what they need in terms of equipment.
Baseball getting its bounce back
Baseball South Africa might not currently be a priority designated sporting code at school, but it intends to bounce back. "There is a lot of excitement and when the players see the new eight-year plan there will be excitement and relief," says its president Marc Moreau. The plan addresses transformation, mass participation and cultivating elite players.
On the upside there is the carrot of the 2020 Olympics, and the fact that baseball has been admitted as an Olympic sport.
There are other world class events that baseball teams will also be competing in. In July this year the U12s will participate in the world cup in Taiwan and the U18s will go travel to the world cup in Canada in September. Next year the U15s and U23s will get to attend the world cup in Canada.
"I'll make an understatement and say there are around 7 500 baseball players in the country," Moreau says. The majority are social players as there are only about 2 000 competitive players. "The bulk of the players are in rural areas, and at school."
Most of the competitive players are, however, in the urban areas of Gauteng, KwaZulu Natal and predominantly Cape Town, where 50% of the competitive players are based.
Every weekend 100 junior and senior matches are played, Moreau says. A baseball championship is held in April in Johannesburg, which is attended by 1 500 players.
It is a problem to grow rural participation, says Mark Moore, founder of the Pole 2 Pole Baseball Academy (which is not associated with South African baseball). "Your biggest problem in rural areas is the culture. You have to fetch everybody and they live 10-12km away; it is unlikely that an entire team will walk 10-12km to practice. Unless an inordinate amount of money, which includes a shuttle service, is put into baseball, I can't see it flourishing in the rural areas.
The high cost of equipment is another problem. "You can't kit out a team of U10s — even with the cheapest nastiest kit — for R7 000," says Moore. "The cheapest gloves cost R800, a bat costs R1 500, a helmet R500. It is so expensive because we don't manufacture any equipment here."
Enthusiasm for baseball needs to be fuelled, too. According to Moore the enthusiasm "is definitely not at school. It is at junior and senior club level."
His outreach programme entails going into places like Blikkiesdorp and Grassy Park, "When you go into any township," he explains, "the enthusiasm is enormous. When you go into a place that has nothing, it makes a massive difference."
Moreau is upbeat about the future of baseball "We are very active in five provinces. We have an eight-year strategy to become a priority sport."