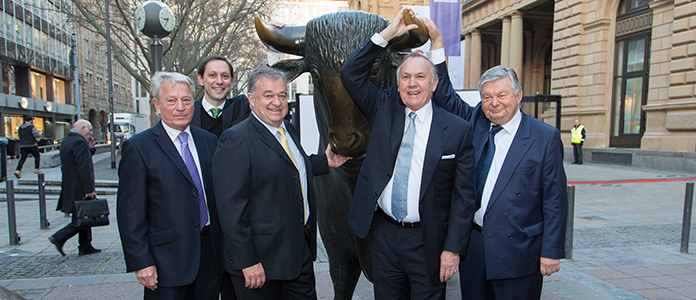 Steinhoff executives celebrate listing on the Franfort Stock Exchange: Bruno Steinhoff, Ben la Grange, Danie van der Merwe and Christo Wiese.
Q2 2017
Brand stores in
world top 250
Abrand like Nike has a larger global retail footprint than major US sports stores like Dick's Sporting Goods, or a footwear retail chain like Foot Locker, according to the latest report of the world's largest retailers*. Nike is the world's 123rd biggest retailer, earning revenue of $7.86-bn in 2015. Dick's, on the other hand, ranks 129th in the world ($7.27-bn revenue) and Foot Locker is the 126th largest (revenue $7.41-bn). Nike is, however, ranked behind France's Décathlon (94th with $10.1-bn revenue).
In addition, Nike's Direct to Consumer retail division is the 17th fastest growing of all global retailers. UK-based sporting goods company Sports Direct International lags far behind its American and European counterpart in 221st place and $4-bn in revenue. But, it is one of the 50 fastest growing retailers in the world, ranked #44.
Apart from Nike, other athletic or athleisure brands, have not been so aggressively involved in retailing. Abercrombie & Fitch Co's retail arm just-just made it onto the list at #248 with $3.5-bn revenue.
Companies were included in the report based on the revenue they generated for fiscal year 2015. For retailers to be listed among the top 250, their minimum retail revenue had to be $3.5-bn.
South African retailers
South African household goods and general merchandise retailer Steinhoff was ranked #72 in the world — and is the world's 6th fastest growing retailer (see Tekkie Town article).
Four other South African retailers are among the world's top 200:
Shoprite Holdings (110th) reported $9-bn revenue — with 14.4% growth, it is also the world's 47th fastest growing retailer.
The Spar Group (155th) with $6.2-bn revenue and 34.6% growth, it is ranked as the world's 30th fastest growing retailer.
Woolworths Holdings (197th) with $4.5-bn revenue and 15% growth it is the 22nd fastest growing retailer.
Pick n Pay Stores (171th) with $5.4-bn in revenue, is not among the 50 fastest retailers.
In general, retailing in the Africa/Middle East region is on a high-growth path, reports Deloitte's. The rising middle class in Africa has contributed to the modernization of the retailing sector, and many African economies are transitioning toward consumption-driven markets. The Middle East also remains an attractive destination for retailers.
The Africa/Middle East region has been identified as the biggest retail growth hot point in 2015 with just over 19% retailing growth and just under 6% net profit margin for this sector — the highest of the five geographic regions.
Nine retailers from the region (classified by where the company is based) are among the top 250 largest in the world. Aside from the five from South Africa, four other top 250 retailers in the region are based in the United Arab Emirates, Saudi Arabia and Turkey.
*The Global Powers of Retailing 2017 report by Deloitte's identifies the 250 largest retailers around the world and analyses their performance and growth across geographies, sectors, and channels. Also see Tekkie Town article.