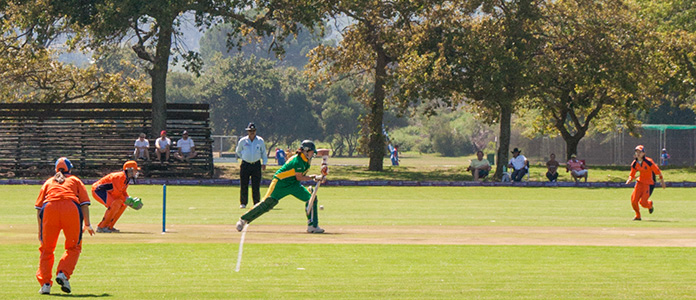 Q2 2017
Cricket transformation:
Counting the right numbers
Can the current transformation initiatives grow cricket participation among disadvantaged and black communities and women? And will this cultivate a whole new market for cricket products? ANTOINETTE MULLER* looks for answers about the impact of transformation on cricket player numbers
When transformation in cricket — or any sport for that matter — is discussed, the focus almost always centres on numbers. These numbers focus on transformation targets — how many players of race group X, Y and Z make up the demographics of the national, franchise and domestic teams.
This is, of course, the most simplistic view of the matter. Transformation is about far more than simply ticking boxes.
The rise and fall of cricket participation
Primary schools
4 900
5 186
6%
5 362
3%
12 000
11 761
-2%
12 349
5%
997
1 293
30%
1 293
0
Senior schools
863
1 077
25%
1 043
-3%
2 176
2 290
5%
2 290
0
498
629
26%
629
0
Cricket clubs
823
998
21%
843
-16%
39 761
24 015
-40%
25 216
5%
2 435
2 180
-10%%
2 289
5%
640
700
9%
705
1%
The statistics Cricket SA submitted to Sport and Recreation SA tell a sad tale of low growth, no growth or a decline in cricket participation — even though there was a substantial increase in the number of facilities available for cricket between 2014 and 2015 (30% at primary schools, 26% at senior schools and 9% at club level). There was also a big increase in the number of senior schools (25%) and clubs (21%) participating in organised competitions in the same period. Yet, the number of players declined. Between 2015 and 2016 cricket participation and facilities really took a knock. This would support anecdotal reports that cricket sales were down over the past few seasons.
Transformation
% Schools participate
30%
16%
% Township schools participate
8%
6%
Ave no facilities per school
0.2
1
Ave no coaches per school
0.3
0.5
The table above shows how far township schools lag behind when it comes to cricket participation. While 30% of all primary schools participate in cricket, only 8% of township schools participate in leagues. In secondary schools the total percentage of schools offering cricket are much lower, although the ratio of facilities and average number of coaches improve at secondary level. There is not even an average of one cricket coach or pitch per school.
It is, in part, about rectifying the wrongs of the past, but in its essence, transformation is about ensuring that every single person in South Africa has the same shot at being successful. Transformation is about access to resources and access to opportunities.
Wider access to sporting opportunities and thereby growing the number of players, is obviously also in the interest of cricket retailers and their suppliers.
Transformation is also about broadening the talent pool. The more players that come through at grassroots level — and the more that are retained through the senior structures — the better the chances of unearthing some of the best players in the world.
Solid youth structures
Cricket South Africa (CSA) has realised this and has spent the last few years building solid youth structures to help facilitate this talent growth.
In 2014, they implemented several Hubs and Regional Performance Centres (RPCs) around the country. These cater for all age groups — both boys and girls — who might not have access to cricket at their schools. These programmes ensure that players not only receive coaching, but get to play competitive fixtures on a regular basis.
In March, CSA took these initiatives one step further by launching the Friendship Matches where a CSA Hub or RPC play a traditional cricket school with the first of these three fixtures having already taken place in Bloemfontein, Port Elizabeth and Johannesburg.
Friendship matches
"We are looking to build on this exciting concept and will pilot these matches this month before expanding to the rest of the country during next season," says CSA General Manager: Cricket, Corrie van Zyl.
"The aim is to improve the quality and increase the number of cricket matches played within previously disadvantaged areas," adds Van Zyl.
"This will also create and nurture the love of the sport amongst the black communities, develop quality black African cricketers who will contribute positively towards the CSA pipeline and establish long lasting friendships between parents from both sides — and in so doing, contribute to nation building and social change."
Ensuring the structures are in place to retain players beyond primary school level is a critical part of CSA's development plan, especially when considering the vast interest in the sport at grassroots level.
While soccer and netball enjoys the highest participation rate at primary school level, cricket beats rugby in participation level in every province except for the Western Cape.
This is largely thanks to a joint effort in terms of mini-cricket participation — a soft ball version of the game which saw more than 114 000 kids from 5 584 schools — participate in 2015/16. The numbers have increased 37% since 2010.
The number of cricket players in the Western Cape are likely to overtake rugby players through initiatives like the JP Duminy project, though.
Enter JP Duminy
The South African international started a foundation in 2014 that is aimed at getting cricket back into schools in disadvantaged areas, and set up a league systems to ensure regular game time for young players.
The project currently has 30 out of 54 schools in the Mitchells Plain area participating, with over 1 500 kids playing the game. He hopes to expand the programme to different areas of Cape Town.
At high school level, rugby still out-performs cricket in terms of participation, but CSA hopes that this will change as they continue to roll out development plans and facilities across the country.
Central to their efforts is the Eastern Cape. The province has long been considered the heartland of black cricket in the country and you are far more likely to find cricket pitches or rugby poles rather than soccer nets dotted around the rural hills.
Beyond the Boundary
In 2016, The Daily Maverick ran a long-form investigative piece into the state of transformation of cricket in the country. Titled Beyond the Boundary, the piece explored the pathway young cricketers follow — from primary school to the cricket bursaries at Fort Hare, and eventually attending the national academy for three months.
The authors discovered that not only is a discernible effort being made to retain players into their high school years, but attempts are made to ensure that aspiring cricket players have access to the structures once they leave school.
While the biggest challenge remains post-school opportunities — especially with just six professional franchises in such a vast country — various factors have started to lay the foundations for what could go on to become a great transformation success story. Among them are the semi-professional structures, the growth of Varsity Cricket and the rebranding of the domestic T20 competition as the Africa T20 Cup — a competition which is now broadcast globally.
Equally important is the country's growing black class. With increasingly prominent black role models to look up to, and more lucrative career opportunities available in professional sports, cricket's popularity continues to grow, especially places where cricket might not have been the first choice sport previously.
This popularity is most evident in the television viewership of the 2016 season.
When Temba Bavuma made history by becoming the first black test centurion for South Africa, viewership on the SABC was higher than any other match ever before. Across the board, more black people watched cricket than anyone else on SABC with the audience peaking on day four — the day of Bavuma's historic feat — when 61% of the audience was black.
Bat sizes must be toned down
To Hit further and harder has been the dream of many a young cricketer who aspired to hit sixes with as much regularity as his T20 heroes. Some bat manufacturers responded by creating bats with thicker and thicker edges and broader faces — even though its highly unlikely that the six-hitting hero's custom made bat would be available in the brand's consumer ranges.
But, now the MCC's World Cricket Committee has said Enough! After lengthy discussions and consultations, they decided at their meeting in March this year that new codes to limit the depth and edges of cricket bats should be adopted.
After the new Code is issued on 1 October 2017, the maximum dimensions of a cricket bat will be 108mm in width, 67mm in depth with 40mm edges, the cricket law-making body announced.
From October, a bat gauge will be used to measure the bats of professional players, but manufacturers will have a moratorium period to introduce the new bat sizes into their ranges for the amateur game.
The local governing bodies will decide on how long the moratorium period will be.
The decision came after lengthy debates about the unfair advantage the powerful high spine and thick-edged bats give batsmen who seemingly manage to hit sixes effortlessly, especially in T20 games.
Several bat manufacturers — especially those represented on the MCC committee like Gunn & Moore — have already announced that their new season bats comply with these regulations. But, Australia's David Warner, who was criticised for his mega-size Kaboom Gray-Nicolls bat, is not amused.
Growing black interest
Cricket also sees a consistently higher time spent watching on SABC — higher even than soccer. The case is the same when compared to rugby on SuperSport with audiences spending around 38% more time watching cricket than rugby.
These figures matter because not only do they point to a loyal and growing fanbase, but it serves as a reminder of just how influential having somebody relatable in a high-profile position can be.
Almost every single one of the young men aged between 14 and 16 interviewed for the Beyond the Boundary feature, said that Makhaya Ntini was the person who inspired them to start playing cricket.
Ntini, who became one of the country's most successful players ever, hails from Mdingi — a small village in the rural Eastern Cape that does not even have a road sign pointing towards it.
To this day, his story remains one of the most inspiring and incredible sporting achievements to ever come out of South Africa, but it also points to the broader point of transformation: imagine all the talent lying in wait.
Uncovering that talent will happen organically through a symbiotic relationship between grassroots participation, striving for excellence at high performance level and, of course, relatable rolemodels.
There has never been a better time to be a young cricketer. The game continues to expand and while the career opportunities are not quite on the level of rugby or soccer yet, there are many reasons why young players will be hopeful that they can play the game they love for a living.
Growing among women
Encouraging, too, is that this expansion is not just reserved for men. The sport is increasingly popular amongst women, too. With both the Women's Big Bash as well as the English Super League offering lucrative T20 contracts and drawing a large TV audience. The Australian media reported that the second edition of the Women's Big Bash saw a 14% increase from the previous season.
More eyeballs on TV will, eventually, mean more money in everyone's pockets, including those at the coalface of development.
CSA currently contracts 14 women and the International Cricket Council (ICC) has expressed its interest in getting the women's game approved for the 2022 Commonwealth Games.
All of these numbers boil down to one rather simple thing: the love for the game is there and it will bloom as long as it is nurtured.
*Antoinette Muller is co-author of the 'Beyond Boundaries' series on Daily Maverick. She is a freelance sports writer, specialising in cricket.