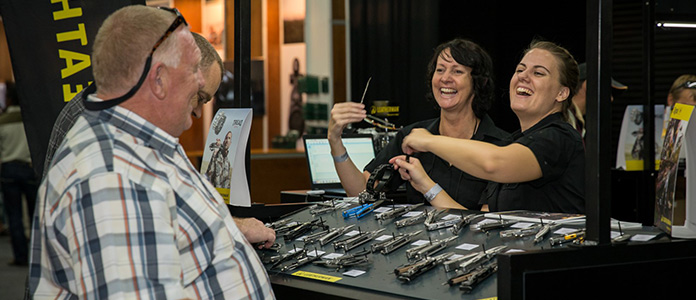 Photo courtesy of HuntEx.
Q2 2017
Father's Day gifts
offer great sales opportunities
Outdoor accessories are the ideal gift options for Father's Day. With consumers looking for new and interesting products to surprise their loved ones, outdoor retailers can use the lead up to this day to their advantage. RHIANAH RHODE found out what products suppliers predict will have customers lining up at the tills
Your customers will want to treat their fathers on the 18th of June with a special gift that says I love you. There is no shortage of interesting new products available from local suppliers as gift options that cater for a variety of consumer tastes and stock options for outdoor retailers.
Lighting products, especially, are popular gift options for fathers.
Lighting gift ideas
While enjoying the outdoors your customer's father will be without electricity and away from overhead power sources — it's after all one of the drawcards of getting away from it all. But, he'll still want to be able to see in the dark. Outdoor lighting products have therefore become popular gift options for fathers because they are so versatile and cater for so many different needs.
Whether in the forest, atop a mountain, or on water — Ledlenser's new outdoor series will ensure fathers are equipped with the right light on any of his outdoor adventures.
"Their functionality, design and use have been specially developed for experiencing nature at night," says Bruce Woodroffe from local distributor Awesome Tools.
The lightweight MH10 headlamp can produce up to 600 lumens of light, enables adjustment between close-up and distance vision through its stepless focus function and offers up to 120 hours of battery life.
The MH6 headlamp, which can be relied upon to light up roads and paths, intuitively operates between several modes at the touch of a switch and offers up to 200 lumens of light for up to 120m. It features an integrated charging indicator that warns users when the battery is running low, as well as a replaceable and washable headband.
The entry-level MH2 headlamp is a handy companion for short or spontaneous adventures and offers consumers high performance at a low price, says Woodroffe. It can run for up to 40 hours and produces up to 100 lumens of light.
The MT18 torch is the brightest torch of the series and features a USB connection through which it can be charged in just eight hours, says Woodroffe. It produce 3 000 lumens of bright illumination, provides a lighting range of up to 540m and is excellent for illuminating paths, caves and expanses, he explains.
The MT14 torch offers a lighting range of up to 180m and can stay lit for up to 192 hours after a single charge. It features the Speed Charging and Smart Light technologies, which help ensure it is fully charged within eight hours and provides ideal lighting function at all times, says Woodroffe.
The lightweight MT10 torch is suitable for illuminating narrow spaces or rock crevices can easily fit in any of dad's jacket pockets. Its battery operation and speed charging system ensure that it is fully charged in just six hours and offers up to 144 hours of uninterrupted light.
The stable, robust and compact MT6 torch is the most cost-effective torch in the range, says Woodroffe. It produces up to 600 lumens of light and is suitable for night-time hikes or walks. Its one-handed focusing ability makes it easy to use and like all other lights in the series it can be used in temperatures ranging between -20°C to 40°C.
The father who is constantly on the go will welcome Black Diamond's smallest and lightest rechargeable headlamp, Iota. It'll not only lessen the worry about phones, etc. running flat, whether he'll have the correct type of plug point, if travelling outside of South Africa, for the various chargers for his devices, and it also means he can travel lighter (no extra chargers!).
The Iota can produce up to 150 lumens of light for use during fast moving training sessions, morning trail runs, post-work evening hikes and urban adventures, says Richard Turkington, key accounts manager for Ram Mountaineering. It also features the brand's unique PowerTap technology that enables fast and easy brightness adjustment, and offers two to four hours' run time for up to 40m's at a time.
"Our headlights and torches are always popular gifts for Father's Day, especially fathers that love camping and the outdoors," says Kevin De Wet from Medalist distributor De Wet Sports. The brand's variety of headlamps and torches offer an array of sought-after features like tiltable bodies to adjust the beam angle, adjustable head straps for the perfect fit, as well as several useful modes.
The Spark headlamp not only has one 3W white LED, but also another two red LED's —combined they can generate up to 80 lumens of light. It has two modes (full and flashing) and comes with three AAA batteries. The Starburst headlamp features an LED light that generates up to 180 lumens, has a beam range of 150m and a zoom function. It can be used in full, low or flashing modes and comes with 3 AAA batteries. Similarly, the Meteor and Nebular torches also have the full, low and flashing modes. They can also provide up to 120 lumens of light with a beam range of up to 150m, and each has a built-in zoom function and aluminium body. The Meteor runs on a rechargeable Li-ion battery, and on three AAA batteries — all are included. The Flare 9 torch features nine bright long life LED's as well as an aluminium body and convenient wrist lanyard. It is powered by three AAA batteries.
With its emergency red flash mode Nebo's Big Larry light is ideal for distress signalling or roadside emergencies, says Brendan Lambert from local distributor Lite Optec. It produces up to 400 lumens of intense light through its new C.O.B. LED technology and also features a low (160 lumens) mode. Furthermore, the anodized aluminum body and recessed LED housing ensures that the BIG Larry can handle any situation, says Lambert.
Kaufmann offers fathers a range of lighting products with various versatile options. The high powered and rechargeable spotlights are ideal for hunting, fishing or general outdoor use whereas the headlights are multi-adjustable and useful for freeing up the hands while dad does what he does in the dark, explains Peter Nieuwenhuizen, from distributor Agrinet.
The LED lantern range (T200, T400, T600) has adjustable brightness settings and optional 360o light, the LED flashlights (T300, T350, T650, T700) feature adjustable light beams, and the LED spotlights (T600, T650) offer rechargeable capabilities.
AceCamp's waterproof flashlight is also a powerbank, says Andrew Robinson of distributor Outdoor Supply Company. The flashlight is available in 600ML and 1000ML, made from aircraft grade aluminium, and has three modes (high, low and flash). "It is ideal for those who love the outdoors, but still need the convenience of staying connected with technology."
Venture Outdoors' beanie with headlamp, locally distributed by Outdoor Supply Company, is ideal for the keen fisherman, camping enthusiast and the perfect gift for any dad who likes to braai, hunt or do adventure races in the winter, says Robinson . It produces a 60 lumen light output and can cover a 20m work zone. It can toggle between three light intensity levels and the integrated LED light can be popped in and out so that the premium quality polyester beanie can be washed, he explains. This product provides up to one and a half hours of run time and can be recharged via USB.
Drinking outdoors
The main man in the house will love Thermo Steel's Big Daddy drinking cup that holds up to 890ml and keeps drinks ice cold or piping hot, says Lambert. "He'll be the boss with the biggest mug around while manning the Braai with a Tonglite braai tong!"
Kaufmann's steel beer mug is the perfect size to hold a 375ml drink and will keep the drink colder for longer, Nieuwenhuizen adds. In addition, their high quality and stylish stainless steel flasks feature unique double walled vacuum technology that provides optimum insulation to keep drinks hot for 12 hours and cold for up to 24 hours.
"These bottles are durable and lightweight, can take a beating and still provide you with an ice cold drink," he adds. Their slim design means they fit most vehicle bottle cup holders and the stainless steel inners allow for easy cleaning. "These flasks are perfect for use in a gym bag, car, bicycle and backpack to enjoy drinks during long hikes, trekking, hot yoga class, long load trip, or any other outdoor activities," he says.
They are available in their 500mm, 750mm and 1 000mm sizes and come with a five year guarantee.
The durable Glacier stainless steel Vacuum Bottle from GSI has an insulated design that provides superior heat and cold retention for up to 30 hours and is ideal for camping, commuting, a picnic and sporting events, says Turkington. It also features a non-slip foot, a solid pour-through insulated stopper, a double walled cup/cap's stainless steel liner for better taste and an insulated plastic exterior that protects lips and hands from heat.
For coffee lovers
These days there is no excuse to not be able to enjoy a good cup of coffee – no matter where your customer finds himself.
Jetboil's coffee press will appeal to outdoorsmen as it can be used to turn certain Jetboil camping stoves into French Presses that make the perfect brew, explains Turkington.
For the coffee enthusiast who prefers to grind his own beans and enjoy freshly ground coffee anywhere, GSI's Javamill is the perfect gift, says Turkington. Its rugged and compact design integrates an adjustable ceramic burr grinder, which provides unequalled brews during travels. This device has a foldable handle and nesting design that makes it compact, its silicone handle provides good grip and it has a high performance, durable co-polyester build.
It's not only outdoorsmen who want to take their coffee with them. If a cup of coffee makes the dad's morning commute to the office more bearable, then GSI's Personal Java Press is just the right gift. "An incredibly clever, sliding inner carafe replaces the rod from classic French presses for unencumbered drinking and a double wall of insulation rounds off the perfect coffee on the go!"
The Personal Java Press is made from BPA-free Copolyester, dishwasher safe, impact resistant and has a 444ml capacity. Other features also include a spill-resistant top with an attachment loop and sealable spout, a cloth-wrapper, foam sleeve that insulates the user's hand for a secure grip and a non-slip foot that fits most car holders.
Eating accessories
Medalist's four person picnic set and the De Luxe cooler bag will help make the father's picnic trip even more enjoyable. The picnic set enable him to keep his cans cold at the same time as carrying enough cutlery, goblets and plates for four people as well, a cutting board, can opener and salt and pepper shakers. It also features carry handles that make it easy to transport, adjustable shoulder straps, and a wine bottle holder. The De Luxe cooler bag, on the other hand, has a 600D nylon construction and is available in size options that can carry six or up to 24 cans.
It also features adjustable straps, two storage pockets and has a flip lid that enables easy access.
Lite Optec's Tekut biltong slicer will make another great gift, says Lambert. It not only slices biltong super thin, but could be used for lemons, peppers or salami.
An item to slice biltong with is a great gift for Father's Day, agrees Robert Beamish of Brentoni Distributors, local distributor of Dog of War (DOW). Its Biltong Buddy is in the form of a biltong knife in a stylish display box. "It's always a winner: simple and small, but something that lasts for years." It features a 420 stainless steel blade, solid brass bolsters with rosewood scales and brass pins.
Other nifty gift ideas
The Oregon Scientific weather station will enable a father to plan all his outdoor activities ahead, while taking the weather into account. "Oregon Scientific is all about smart living," says Lambert of Lite Optec. He believes that the WMR series of weather stations are a must for any outdoor active lifestyle and the RGR126N Wireless Rain Gauge will appeal to men who want to know how many mm's their garden received last night.
Once he's enjoying Kaufmann's range of folding outdoor chairs, the customers' father will not want to get up again any time soon, says Nieuwenhuizen. The chairs are ultra-compact and lightweight, making them convenient and easy to take along on any occasion. The new innovative Ultra Compact lightweight folding director chairs are convenient and easy to take along to any occasion, and are therefore especially popular, says Nieuwenhuizen.
Nite Ize's Steelie secures any brand of mobile phone in the vehicle, but still provides easy access. "Dad will wonder how he managed without it," says Lambert from local distributor Lite Optec. The magnetic phone holder is great from a safety perspective and enables easy viewing of the user's mobile device on his office desk or in his vehicle.
Daiwa's BG Series Spinning and Black Gold Multiplier reel, as well as the Saltist Surf Casting rods, will be great gifts for fishermen. An additional motivation for sourcing these products from local distributor The Kingfisher is that retailers may offer a free Daiwa cap or sports scarf with any of these products sold during their Father's Day promotion.
The new 2016 BG is big on looks and big on features, says Mike Philip. It offers a powerful combination of performance, strength and reliability and is one of Daiwa's most renowned names in heavy duty spin reels, he says.