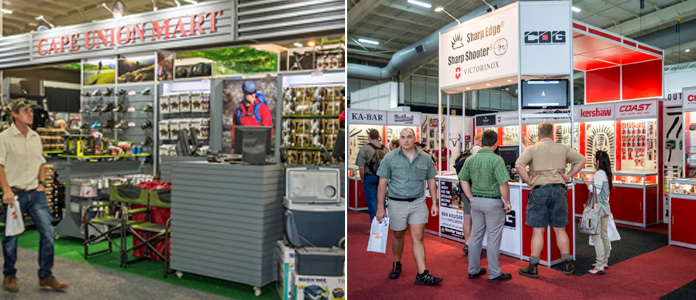 Images courtesy of HuntEx.
Q2 2017
40 000 reasons
to be at HuntEx
Anyone who has any doubts about the popularity of sport shooting or hunting in South Africa, should pay a visit to HuntEx in Gauteng where close to 40 000 visitors annually crowd the Gallagher Convention Centre aisles to buy the latest hunting-related products.
After six years the show has become a firm fixture on the calendar of gunshop owners and importers and many outdoor retailers and their suppliers. Since customers nowadays seem to save their firearm and hunting spending money for the show, retailers can almost NOT afford to be NOT there. Customers waiting to buy specials at HuntEx has become a tide that traders cannot turn back, so they might as well swim with the flow.
Following NAMPO and Decorex, HuntEx has grown into the third biggest expo in South Africa, says organiser Adriaan Woudstra.
This year even more local and international firearms dealers — namely 40 compared to 34 last year — will have stands on the full 26 000m2 of the Gallagher Convention Centre booked for the show.
Catering for women
One of the features of last year's HuntEx show was the significant increase in interest showed by women. More than a third (35%) of the visitors last year were women, compared to less than a fifth (18%) in previous years.
"They are serious buyers with a growing interest in hunting and shooting," says Woudstra. "Women that are new to the industry are frustrated that certain dealers do not take them seriously."
To make it easier for women to enter the hunting and sportshooting sector, the HuntEx organisers introduced and sponsor a stand in Hall 2, Mia Caccia (My hunt) where experienced female hunters and sportshooters will be available during the expo to answer women's questions and give advice. 'The stand will provide an informal setting to encourage female visitors to interact freely, ask questions and obtain advice on how and where to start," he says.
Extras offered
HuntEx has this year also introduced a brand merchandise clothing range, comprising of T-shirts and hats, from children to adult sizes for both men and women.
Apart from food demonstrations on the processing and preparation of game meat and the regular reloading presentations, there will be various talks in Hall 3. Topics include:
A discussion on firearm maintenance and care;
Choosing the best calibre, bullet and optics for your hunting application and personal preference;
Barrel twist, bullet behaviour and bullet choices;
Theory and practical application for long distance shooting;
Self-defence bullets.
A second HuntEx show will be held in the Eastern Cape at the Mentors Country Estate in Jeffreys Bay from 26 to 28 May this year.
For more information or to buy online tickets visit www.huntex.net. Online tickets cost R110 compared to R120 at the door.