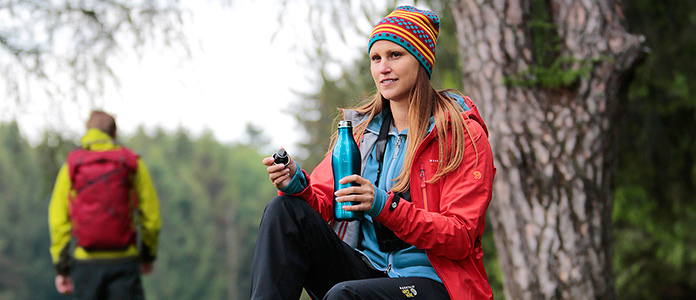 Q2 2017
Mother's Day:
A chance to reach the women's market
More and more women are becoming interested in sport and outdoor activities, and globally companies are targeting this fast growing market. RHIANAH RHODE explores ways local sport, outdoor and athleisure retailers can appeal to female consumers, especially with Mother's Day almost upon us
The days when men watched sport and women ballet, or men went camping while women stayed in hotels, are almost as ancient history as movies where everybody smoked. Even traditional male sports like rugby, soccer or cricket attract almost as many women spectators as men and a growing number of participants.
Nearly half of women (46%) are interested in sport, and 43% of women are as keen as men to watch sport on TV, showed a major global research study on Women and Sport conducted by Repucom in 24 countries*. More than half of the women surveyed watch more than three hours of sport per week, with tennis and basketball the most, but American football is the sport most women are likely to watch in future, the report shows.
Nearly half (46%) of the 100-m people who watched the 2015 NFL Superbowl were women. And about a third of the fans following traditional American male sports like football, basketball, baseball and ice hockey are women.
But, strangely, for many years this large, growing and very lucrative market had been mostly ignored in the sport and outdoor retail space and brand marketing campaigns. Women had to be content with smaller sized men's athletic or outdoor footwear, replica shirts or T-shirts. And they queued with men to try on performance clothing in ill-lit and often mirrorless changing rooms … if they were lucky enough to find any.
This has now changed. In the US the woman's athletic apparel market is estimated to be worth $14-bn and has been recognised as one of the fastest growing sectors in sport and outdoor. More and more brands are focusing on women as a special category.
This year's ISPO Munich featured the women's category as a key topic at the trade show. The show for the first time featured Experts4Women guided tours where experts took visitors to selected brands that exhibit and offered women's products and explained the specification of collections to them.
Other women-centred events included a panel discussion on women as a target group, where experts explained the opportunities and potential for gender marketing in the retail trade; a talk about consumer behaviour and future trends in women's sport in China; and meetings with extreme sportswoman Isa Sebastiao at the Watersports Village.
Fitness brand campaigns
Many brands and retailers are rethinking strategies to attract the female consumer and many innovative campaigns had been introduced to appeal to this huge market.
But, the focus has shifted from the pretty and pink campaigns that might conform to the male fantasy of what the ideal woman should like, to what the modern, strong, active, woman who can outrun and outplay many men, pitch her own tent, hike for a day and then light her own fire, would actually find interesting.
PUMA's latest women's ranges, for example, aren't aimed at pretty little wallflowers, but are made for driven women who know what they want.
Their DO YOU campaign features New York City Ballet dancers Mimi Staker and Olivia Boisson as heroines wearing the new PUMA Swan Pack collection, on and off stage. Featuring strong women from a range of different fields, DO YOU (launched last year August) tells a story of bravery and confidence, encouraging women to focus on their strengths, explains the brand.
The PUMA Swan Pack collection is inspired by ballet dancers' freedom of self-expression as well as their strength and grace. It is therefore fitting that the brand worked with the New York City Ballet to create the campaign. The collection brings together the brand's "fiercest sport and training styles" with swan-inspired details including a black-and-white colour palette, iridescent materials, and feather prints.
Adidas' new Unleash Your Creativity video campaign emphasises its pursuit of creativity that pushes the boundaries of sport. The short-film series tells the stories of women who use creativity to change and challenge conventional ways of thinking, create their own and new paths, as well as to inspire others to make a difference and push the boundaries of sport.
Skechers, on the other hand, doesn't currently have a focused woman-specific campaign as it has always been more of a woman's brand, with 40% women compared to 30% men buying footwear from the brand, according to the local distributor Brand Folio LLC. Their comfortable, but very functional, GOwalk Performance range is a best seller among women, says Kim Aires. This popularity helped to propel Skechers into the number one walking footwear spot in America.
Gift ideas for the outdoor woman
Items such as lighting products will appeal to the active woman. With a waterproof construction, the sleek and bright Cosmo from Black Diamond can take on a myriad of mountain adventures and offers 160 lumens of light, while the bright, compact Moji camp lantern has a simple design, but a durable construction and provides up to 100 lumens.
The Eye Light USB, also from Black Diamond, offers 360o light and is handy for after dark use at home or around the campsite. Its 40cm bendable arm is made from strong ABS material and can be attached to almost anything.
The Commuter Java Press French Press Coffee Mug provides an amazingly bold flavour of freshly pressed coffee or tea every time. This should appeal to the busy multi-tasking woman who has to take her morning coffee or tea fix on the go, says Pieters from local distributor Ram Mountaineering.
Black Diamond's beanies like the soft and stretchy lacey-knit designed Karina and the very soft and stylish Susannah winter beanies are the types of products consumers will most likely buy for their mothers or wives, says Pieters.
Leatherman's compact Micra tool appeals to the female consumer and has been the best-selling product in the history of their company, says Tim Leatherman, who owns the Leatherman Tool Group Inc. He designed the tool aimed at women because despite most tools ending up in the hands of men, they are often bought as gifts by women. It features ten useful tools, which can fit in a tackle box, pocket, purse, fanny pack, or sewing kit. It is also available in pink.
Changes in products for women
Women now expect more than just a shrink it, pink it approach and want products tailored to their needs. Women are problem solvers and want products that make their lives easier, faster and cheaper — versatile, multi-purpose, products will therefore appeal, research by the NPD Group showed*. Women also appreciate those little details that improve a product, the research company found. Women furthermore want versatile apparel that is functional, but looks good, the research indicated.
ASICS SA's key story for this season is What Matters is You, which is driven by its women's running and training apparel, says Sarah Mundy from ASICS SA. They are mindful that women want to look and feel great in whatever they are wearing, in addition to this and at the core of their collections is their focus on technology.
"This essentially elevates our garments to something more than just a tight, or a sports bra for instance, underpinning the ethos of our collections being designed with the end consumer's needs in mind."
Similarly, PUMA's PWRShape training range has been designed so that women can both be supported and feel good while training. Their women's training collection features clothing that offer the wearer everything she needs to look and feel good while training. The PWRShape range has been specifically designed and is proof that women can have control and feel good while training. The collection gives women the support they need, combined with the brand's top technology. It's not just a good-looking collection — it means business.
Women going outdoors
Outdoor brands are also paying special attention to their female customers.
Hi-Tec SA has collaborated with local athleisure apparel brand MOVEPRETTY in a campaign that combines their footwear and clothing ranges to style women in South Africa in true leisure, street and fitness wear this winter, says Andrea Engelbrecht from Hi-Tec SA.
The campaign is mainly digital and "while our product range already incorporates a greater selection in footwear and apparel for ladies, growth in this area and serving this segment authentically is a big strategy for Hi-Tec," explains Joanne Esterhuizen from Hi-Tec SA.
Black Diamond's Forge Yourself video campaign features two of their very strong women athletes training in a gym and climbing rock faces on equal footing with men, showing how hard they work to forge themselves to achieve these climbing feats.
An outdoor brand like Black Diamond and outdoor footwear brands like Boreal and Zamberlan offer women-specific products designed with a woman's body shape in mind," says Deidre Pieters from local distributors Ram Mountaineering and Traverse Outdoor Gear. Instead of women making do with lighter versions of men's packs, helmets, trekking poles, clothing or shoes, these products now provide more comfort as well as the best possible fit and protection in the outdoors.
Attract shoppers' attention
Brands have created the products and the campaigns to tell the stories, but what can sport and outdoor retailers do to attract women into their stores and to entice them to buy these women-specific products?
Retailers need to create an environment where women will feel at ease and comfortable, says Mundy. As a starting point he suggests taking a truly women-centric view. "Traditional sports stores can be intimidating and I think we are seeing success in the creation of shopping environments designed specifically for women — from the decor and sales staff, to the product on offer."
Retailers could also create a dedicated section in their stores that is consciously marketed for the female consumer (whatever that may mean for each brand), suggests Aires.
Women are willing to connect with brands via social media and like to share their experiences with friends on social media, the NPD study showed. Apart from listening to and learning from what women say on social media, retailers can also attract shoppers by joining these conversations around brand campaigns, recommends Scott Pringle from PUMA SA.
Placing marketing merchandise, campaign-related displays and products in windows, at doors, etc. will further help lure consumers into your store, say suppliers.
"Many buying decisions are influenced by colour," says Mundy. He would therefore recommend placing eye-catching colourful items in shop windows. "ASICS SA offers beautiful graphic tights in their range, which will definitely catch the eyes of consumers passing by if used in shop windows." Incorporating seasonal colours that tie in with garment displays is a must, he says, despite black remaining a staple colour for women's garments.
Skechers also offers various women's products that would be ideal for window displays and placement at store entrances, says Aires.
Cross-merchandising items on a table in the front of the shop also always catches the eye and attention, says Ben van der Westhuizen from Hi-Tec. "Colourful T-stands or tent cards with information about the promo or products are also a must and can be duplicated throughout the shop."
Group items that will go well together in the same display to create a story, suggest suppliers. You could, for example, incorporate apparel, footwear and accessories in top-to-toe displays, "essentially making the buying decision very easy as everything is housed in one place," explains Mundy. Mannequins are a great asset for highlighting apparel, while on the footwear side a shoe box on the wall is a great way to accentuate products. Where possible, retailers should also use call outs, he suggests.
Mothers' Day opportunities
An event like Mothers' Day offers a retailer the ideal excuse — and opportunity — to advertise that his sport or outdoor store is women friendly. Special promotions on sporty or outdoorsy gift ideas will also catch the eye of family members shopping for mother, provided they are prominently displayed.
Call outs at the products on promotion are a good way of attracting customers' attention, says Derik van Wyk from Footwear Trading. He would, however, move these to the front of the store to attract passers-by and so that they are the first thing customers see when they walk in the store. The point of sale (POS) items should ideally be displayed on easels at shop entrances, he recommends.
To help their product stand out even better in your store, many suppliers like Hi-Tec, Levi's and Skechers have customisable display options, branded wall displays, risers, etc. that will help to emphasise and sell their products.