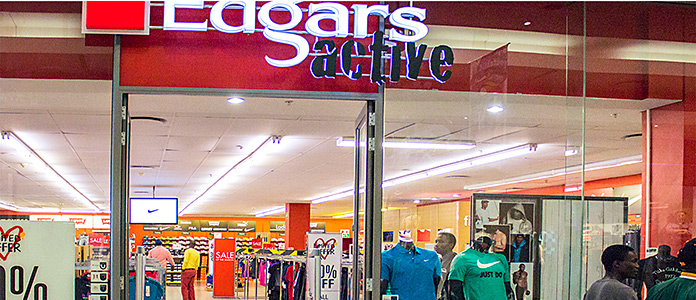 Q2 2017
Some positive responses
to Q1 challenges
Compared to the first months of 2016, retailers have reason to feel much more positive about 2017. But, not all customers share the optimism — especially outdoor shoppers and some athleisure customers
This year started with the Rand on average 17% stronger compared to the same period last year. Economists are cautiously forecasting GDP growth of 1% in 2017, following the almost nothing 0.5% growth in 2016. South Africa has not only avoided going into recession, but also managed to escape from a junk status ratings downgrade.
Now, think back a year ago: 2016 started with the shock of the free-falling Nenegate Rand, followed by the economic woes of our BRICS partners, the price increases from China, and the constant threat of a downgrade by investment agencies.
It was not a year the retail industry will remember fondly. Comparable store sales growth in most of the big retailers was pretty modest, with growth mainly coming from new stores opening. Edgars almost drowned in debt and Stuttafords, called for outside help to survive (see here).
Good reasons, therefore, for retailers to start 2017 feeling more positive than last year … and nearly half of the sport, outdoor and athleisure retailers who responded to Sports Trader's first quarter sales survey* agree.
Even better, about a quarter of the respondents started 2017 feeling much more positive compared to 2016, and the same number is slightly more positive. Only 8% of the respondents say they now feel much more negative and a fifth is slightly more negative than at the start of 2016.
Most sport retailers (70%) are starting 2017 more positively than last year - 40% feel much more and 30% slightly more positive. But, more than two-thirds (67%) of outdoor retailers feel more negative than last year, while lifestyle/athleisure retailers feel more neutral: half of them feel about the same as last year (which could be interpreted as a negative), but a low 12.5% either feel much more positive or negative.
"People came in with an attitude of We WILL be more positive than last year," reports a respondent who wishes to stay anonymous. Another retailer says he can't keep up with demand and that while "2016 was a superb year, much better than forecasted, 2017 will again build on the previous year."
But, unfortunately a positive attitude does not always translate into positive sales. While some respondents were happy to report 23% and more growth in sales, for others the first months of 2017 were "the worst ever. Crime and the unstable economy resulted in less people going on holiday, and people holding on to their money," says a tackle trader.
In January customers spent much lower per head than before, reports Jeremy Hare of the Great White Sport & Surf, followed by a February that produced "the worst year on year stats in 4 ½ years of trading."
Biggest challenges
For most (84%) of retailers it's (still) the economy stupid! that looms as their biggest challenge, with the closely linked high price of imported goods identified as a challenge by 60% of respondents. The economy is especially a major challenge for outdoor (89%) and athleisure (88%) traders, with 80% of sport retailers agreeing.
The high price of goods imported while the Rand value was low is of most concern to outdoor retailers (67%), while just half of the sport and athleisure retailers consider this as a big challenge.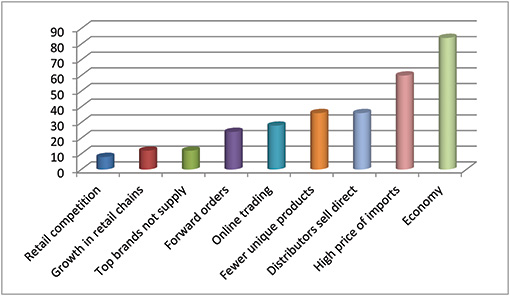 Main challenges for retailers: Respondents identified the economy, the high price of imported goods, distri-
butors selling direct and fewer unique products as their main challenges. Interestingly, competition from
other retailers, brands not supplying them, forward orders and online trading are less of a concern.
Interestingly, distributors selling directly and fewer unique products, resulting in the same stock in all stores, are identified as the next biggest challenges faced by 36% of respondents.
For more than two-thirds of outdoor retailers the shrinking number of unique products on offer is a major problem. Which is ironic, because we've often heard complaints from suppliers that outdoor retailers have cut down on the number of brands they stock —some mainly stocking house brands plus one or two — and that this lack of support forced some distributors to close down, or reduce the number of brands or product categories they import.
Sport retailers are more concerned about distributors selling directly, with 40% identifying this as a major challenge. (Also see Sports Trader Q1 2017 Should brands open stores. Should retailers import brands?).
"The distributors who think they can make more money by dealing directly with the customers will only find out what we retailers know already," says a retailer. "They should rather place their trust in the retailers who know better how to deal with our local customers. They should also be looking at offering better deals, longer pay back periods and trade shows closer to the end of the year."
In addition, some believe that Black Friday, which seemed such a good idea last year, will require a rethink, especially as the discount deals could have impacted on January back-to-school sales.
January sales
While nearly a third (32%) of the respondents said that their January sales were better than expected, or about what they expected, 36% reported that their January sales were worse than what they expected. The same percentage (32%) also reported that they had more and the same number, or fewer (36%) customers in January 2017 than the year before.
Yet, 36% reported that their January sales figures were higher than in 2016, and 32% said it was the same. For 12% of the respondents January sales were either more than 20% higher or lower, while nearly a quarter (24%) and a fifth respectively reported a more modest increase or drop in sales.
Problem is, January 2016 was not exactly good for the trade as 41% of the respondents to our annual survey reported lower sales than the year before.
Not surprisingly, sport retailers reported higher sales growth than the other categories of retailers: half reported sales growth (a fifth grew 20% or more), while 40% said their sales were about the same as January last year. Half of the sport retailers also reported more customers, but a fifth had fewer feet through the door. For half of the sport retailers their January sales exceeded expectations, while only a fifth was disappointed.
Outdoor retailers didn't start the year well: more than half (55%) reported lower sales than the year before and only 22% experienced sales growth in January. No wonder more than two-thirds say that January sales were much worse than they expected. The lower sales were, however, not necessarily due to fewer customers (only 44% reported a drop), but lower spend per customer.
Responses from athleisure retailers were lukewarm: half said January sales were the same as last year and about what they expected — although 38% got a nasty surprise when fewer customers than before, or what they expected, visited their stores. The same number reported that January sales were static, with a quarter either reporting slight growth, or a slight drop in sales.
Lower price points
Like last year, customers in general mainly bought mid-priced (say 68%) or entry level (report 36%) goods, although 28% more respondents reported that customers this year bought high-priced, yet functional, items like footwear, clothing and sports equipment than last year.
Sporting goods buyers also tended to spend more per item than their outdoor and athleisure counterparts: 70% bought mid-priced goods, but 40% were prepared to buy high-priced, but functional, goods. Outdoor customers, on the other hand tended to aim for mid-priced and entry level products, report 56% and 44% of outdoor retailers.
The fact that no athleisure retailers reported that their customers wanted to buy luxury goods, but that most (75%) sold mid-priced and 38% entry level products, lends credence to verbal reports from several suppliers. They report that the bottom had dropped out of the branded canvas/galvanized rubber sneaker market because of a huge influx of entry level and mid-priced products.
And February was even worse for athleisure retailers: nearly two-thirds sold a lot of entry-level goods, while half reported that their sales were mainly at mid-price point.
Customers also aimed for the mid-priced goods in most (89%) of the outdoor stores, while a third sold a lot of entry level products. Hardly any outdoor retailers sold luxury or high-priced functional goods.
Sport retailers again fared best during February: half of them reporting sales of luxury and high-priced functional items, even though the bulk (70%) reported sales at mid-price points.
Across the board February was not a month for high flyers: 76% of all respondents report that customers mainly bought mid-priced goods and 44% sold a lot of entry-level products. Only 12% reported that customers bought luxury items. And while 28% reported sales growth of less than 20%, an equal number said their sales dropped more than 20%. A fifth said their February sales were about the same as last year.
Retailers were divided about whether February sales were up or down on the same month in 2016: 38% athleisure retailers reported a drop of more than 20%, while a quarter said sales were slightly lower. Only 12.5% reported slight sales gains.
Outdoor retailers fared even worse, with 66% reporting a drop in sales (44% said sales dropped 20% and more). Only 22% outdoor retailers reported sales growth when compared to February 2016 — of them, half reported sales growth of more than 20%.
But, sport retailers had it better: half of the respondents report year on year sales growth in February — a fifth, had more than 20% growth — with most of the rest reporting static sales.
One can but hope that the outdoor sales will pick up in the second quarter before the hunting season and July holidays, and athleisure will improve before Christmas, for these retailers to end 2017 on a more positive note.
*The Sports Trader Q1 sales survey was done in February and early March 2017. Retailers active in the South African sport, outdoor and lifestyle/athleisure trade were invited to complete a survey on Survey Monkey.