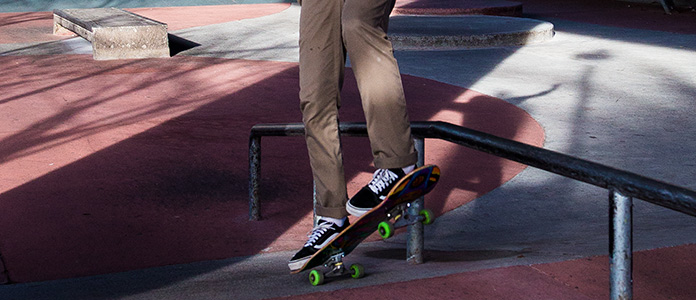 Q2 2017
Tap into
skateboarding's cool image
Skateboarding is an icon of popular culture, distinctly recognisable and heavily referenced across media and marketing. Traditionally practiced in large by adolescent males and predominantly associated with a certain cool factor, its once tainted counter-culture image of delinquency has been transformed into more of a mainstream sport, more accepted by society at large. Internationally there has been a huge recent surge in investment from sportswear brands and participation is at an all-time high, writes Luke Jackson*
Skateboarders are still predominantly male youths in urban areas, but the appeal of skateboarding and wider interest in it has become far more diverse. A recent market research study conducted by Transworld Business refers to skateboarders in two distinct groups: the core skater (someone who skates 26 times or more per year) and the casual skater (someone who skates 1-25 times per year).
The study indicates that over the last five years between 2011 and 2016 the number of casual skaters in the US has increased. Similarly in South Africa we've seen a massive growth in the number of people who own a skateboard of some sort and/or who own skate affiliated products such as footwear or branded clothing.
The majority of trade conducted around skateboarding is focused on footwear and apparel, as the influence skateboarding generates leads to sales of these goods in the mass market.
The sale of actual board parts such as decks, wheels and trucks are significantly smaller because these items are only really purchased on mass by individuals who are physically engaging in skateboarding as a pastime or sport. The casual skateboarder replaces the board parts more seldom than the core skater who needs to constantly replace parts, due to the abrasive movements and impact.
The niche culture of skateboarding is at an all-time high in terms of influence in the fashion world for example. This popularity has led to an increase in various types of skateboards and even gimmicky skateboard accessories. For example the longboard has become quite popular — a longboard is not as functional as a regular skateboard in terms of the ability to do tricks as it is quite large and clunky, but because it is stable and easy to ride it appeals to those who are not necessarily committed enough to spend the time learning complex manoeuvres, but who do connect to the appeal of casually riding a skateboard on flat ground.
However, at the core of skate culture is the shorter, more standard skateboard that has a double-kick nose and tail. This classic shape allows the user to do tricks and ultimately this type of skateboard is the common depiction of coolness.
Trying to market to the person who buys a longboard or the gimmicks will most often alienate a brand from the core skateboarder and thus you will find it difficult to gain the cool factor in the wider market.
Organised events
There is an ever-increasing aspect of performance in skateboarding, leading to more contests and competitiveness. Certainly the large spending within the skateboarding industry that the big sportswear giants are investing at present has meant larger prize money, bigger endorsements and more careers for skateboarders, who are now perceived more as athletes. These big brands are looking for growth into Africa and skateboarding as an influencer is a tried and tested method used around the world, but high pricing is proving to be a challenge for the local market.
Skateboarding has been included as an Olympic sport in Tokyo 2020. This will certainly mean more investment and focus on growing the performance side of skateboarding over the next few years. But this has also led to a negative backlash from many at the counter-culture core, who shy away from conventional organised sporting practices.
Skateboarding has become so big now that it plays both the role of a competitive sport and a more artistic pastime of sorts. One could argue that both facets are equally important, but they are currently at odds somewhat. The sporting side has the potential to grow huge financial investment outside of the industry, but at the same time the core culture provides the highly sought after cool factor and influence that so many brands try to emulate and possess.
In particular SA has seen a massive growth in the number of previously disadvantaged kids from lower LSM groups taking up skateboarding. There is also a growing number of organisations using skateboarding to reach youths in underprivileged areas ranging from Soweto and the Johannesburg CBD, to rural KwaZulu Natal, across the Northern Cape and down to the Cape flats. This has meant a changing demographic in terms of the numbers participating in organised skateboarding events and a change in terms of buying power. Many of the participants don't necessarily have access to disposable income, which means many rely on sponsorship or donated product to take part, due to the high cost of goods.
A big challenge for the local skateboarding industry is the weak rand and the resulting cost of expensive imports, not to mention high government duties on goods. The backbone of the skate industry is the skate shop, but unfortunately since the recent recession skate retail chains have been in slow decline.
Only a few years ago there were several successful skate–focused retail doors in malls across the country, with a growing number of private park facilities. But since the recession very few have seemingly been able to appeal to the market in the right way. With continually growing investment from major sportswear brands in the local scene and their willingness to bring skate-specific product into the local market, perhaps this is a possible opportunity to stock the product and take advantage of it.
Be authentic to be cool
A big challenge for brands is how to reach skateboarders in the right away — effective communication is the key. The skateboarding influencer model works on the premise that if you market to skateboarders and they adopt it first, then they will in turn make something become cool in the eyes of the mass market and popular in wider popular culture. This is a proven formula that's been successfully carried out by countless brands over the past decade.
The challenge is how to get the niche subculture of skateboarders to think something is cool? To do this you have to be authentic and committed, because it won't just happen overnight with one campaign. You build trust by providing support for the skate scene in a credible way.
Don't try and dictate to skateboarders; the best way to figure out skateboarding is to consult with actual skateboarders when creating and implementing a strategy. The way in which the fashion world is looking to skateboarding for inspiration of late indicates that skateboarders are probably a good focus area to determine what trends are coming next.
Skate fashion has been heavily rooted in 90s revival for several seasons and the trend is continuing with Dad caps (adjustable 6 panel with a bent peak), baggy pants and toe cap shoes with a slimmed down silhouette. In the practice of skateboarding functionality is key, but curiously fashion often trumps functionality for skateboarders.
Support them and they'll do same
Skateboarders form a connected community, always looking for something new — a new place to skate, the next trick to learn, the latest video and so on. This makes skateboarding prime for fast-moving channels like social networks.
Stock unique and dynamic specialised skate product that makes your door a destination and create skate-focused stories around the product to build a relationship with the skate community.
Keep skaters interested or lose them. Brand loyalty is based on which brand the skateboarders feel is doing the most to support them and their scene — that's the one they are going to support in return.
Trust is earned over time, but can be lost very quickly if you change your focus from month to month. A designated sustainable skate program and ambassador support structure should be a key focus. If you provide support and opportunities for your ambassadors, they will champion you in the wider skate community.
* When Luke Jackson isn't on his board, he is editor of skateboarding magazine, Session.