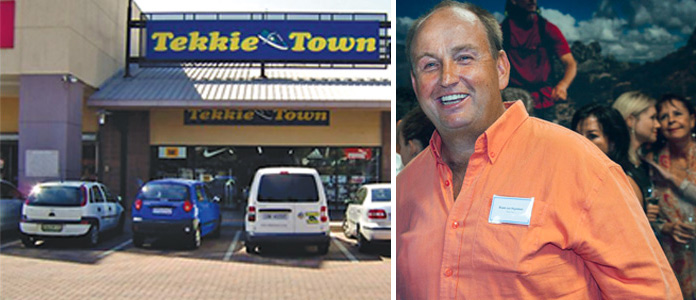 Photo: Nicol du Toit
Q2 2017
Tekkie Town
becomes corporate
From an independent store to part of one of the largest retailers in the world in just 18 years — the Tekkie Town success story is based on much more than luck. Words: Trudi du Toit
Eighteen years is a very short period in anybody's life. It just about covers childhood and the school going years. Yet, it took Braam van Huyssteen less than eighteen years to grow one retail store into a subsidiary of the biggest retailer in Africa and the Middle East. If you want to nit-pick and only include the Tekkie Town stores in the countdown, the time frame comes down to less than sixteen years.
Tekkie Town is a teenager who just became part of a very wealthy family.
When its acquisition by Steinhoff International Holdings became official on February 1 this year, the footwear chain became part of a retail empire worth $25-bn*.
In addition, they gain access to the legal, financial, tax and other services a corporate like Steinhoff can offer. Steinhoff CEO Markus Jooste and COO Danie van der Merwe join Tekkie Town's Bernard Mostert (CEO), Dawie van Niekerk (COO) and Van Huyssteen (Chairman) on the Tekkie Town board. Van Huyssteen gains a seat on the Steinhoff Exco and shares in the company.
Rapid growth
Apart from that, it's business as usual for Tekkie Town, says Van Huyssteen. Their head office remains in George, and they will continue trading as normal, making their own decisions about the best way to sell branded footwear at prices most South Africans understand.
What will change, though, will be their rate of expansion. If you thought Tekkie Town's growth had been rapid till now, hold on to your seat: they now have the ways and means to go into turbo drive.
Up to now their store expansion had been financed internally and the pace accelerated as the group grew: they opened 100 stores within the first nine years after Van Huyssteen opened the first Sport City sports store in George in 1999 — or a mere seven years after he opened the first Tekkie Town in 2001.
The stores later merged under the Tekkie Town label. Depending on which date you count from, they opened an average of 11 or 14 stores per year.
In the next nine years they opened 230 more stores.
The rate accelerated after a substantial $65-m investment from UK private equity firm Actis in 2014, which enabled them to open 37 stores in the following two years, 25 of them in 2016.
By the middle of March this year they had 330 stores … and the tally is growing. Towards the end of March they added more stores in Springs Mall, Ballito Mall, Elukwatini Mall (Mpumalanga) and Steilloop Shopping Centre (Limpopo), with others in the pipeline.
What makes this growth even more remarkable is the fact that until 2014, when Actis bought a 42% shareholding, Tekkie Town financed all their new stores internally, without any loans or debt.
Apart from expanding countrywide, they now also have their eye on growth into Africa, and through Steinhoff's international profile into areas like Eastern Europe — Poland, to be precise, where they might have to find a name that will be easier on the Polish tongue, he laughs.
Investigating new store opportunities and keeping abreast of property developments is a portfolio Van Huyssteen now relishes in. It was, after all, his insight into the value of property that kick-started Tekkie Town: ownership of a huge warehouse enabled him to negotiate profitable deals with well-known brands for end of line and discontinued styles, plus a few new styles added as a sweetener. Thus, the stores advertising great brands at great prices drew customers in droves.
Nowadays, Tekkie Town buyers can choose from the latest offerings of all the top brands — still at good prices due to the rebates their huge footprint earns them. The fact that the athleisure styles they focus on come with a more modest price tag than the top technical footwear is a benefit in the current economy when money is tight everywhere. "The middle price tier we operate in is still nicely affordable and its going to grow even bigger in future," he predicts.
Started as independent
His roots as an independent makes Van Huyssteen sympathetic to the difficulties faced by smaller traders — especially with the growth of chains like Tekkie Town. But, he is also very cognisant of the fact that like him, several other South African retailers who started as small independents, have gained significant market share and are growing despite the economy. The unspoken implication is that perhaps a little less complaining and a little more initiative might breed success.
Apart from the financial safety blanket offered by Steinhoff's vast resources, as an Exco member Van Huyssteen regularly comes into contact with the executives from other subsidiaries in the group, where they naturally share information and discuss possible opportunities for example about retail space.
Active in diverse fields like household goods (Bradlows, Russells, Hi-Fi Corporation, Sleepmasters, Incredible Connection, etc) and general merchandise (Pep, Ackermans, Shoe City, Tekkie Town, etc.) the Steinhoff executives share knowledge about just about every aspect of retailing in the country, including the best and to-be-avoided trading spaces.
And following the downscaling and relocating of some stores in the JD Group, which Steinhoff acquired last year, many opportunities come from inside the group.
It is this keen eye for spotting new opportunities that contributed to Van Huyssteen earning the title of Ernst & Young South African Entrepreneur of the Year in 2011 and Tekkie Town being selected by the World Economic Forum as one of the 16 African global growth companies with a clear potential to become global economic leaders.
By becoming part of Steinhoff, Van Huyssteen and Tekkie Town shed the entrepreneurial mantle and entered the global economic leader space. The South African company, which operates in 29 countries, is ranked as the 72nd largest retailer in the world, according to Deloitte's Global Powers of Retailing 2017 report* (see below). Following the acquisition of Pepkor in 2015, Steinhoff's 39.5% revenue growth propelled it to the sixth fastest growing retailer in the world spot.
To put their performance into perspective: Steinhoff is bigger than major US retail chains J.C. Penney (74th), Toys R Us (82nd) and Foot Locker (126th in the world). And that was in 2015, before the likes of the JD Group and Tekkie Town became part of the group.
In December 2015, when Steinhoff listed on the Frankfurt Stock Exchange, it was the largest listing of the year in Germany. The company generates about 60% of its income from Europe.
Tekkie Town trades in Southern Africa alongside Pep, Ackermans, Shoe City, John Craig, Dunns and Refinery as part of the General Merchandise division, worth Є3.6-bn in gross revenue.
Make own luck
There are some people who might say that Braam van Huyssteen was just born lucky. Lucky that he did his army service as one of 2 men among 200 women doing accounts for the Women's College in his homeground George.Lucky that he opened his first store in Mossel Bay in 1989 just as 10 000 contract workers arrived to work on the Moss Gas project. Lucky that he brought the Tekkie Town concept to brands just when they had sufficient returns on hand to fill his warehouse. Lucky that he has been able to find such good spots for his stores in retail malls. Lucky that in the current horse racing season he had 10 juvenile winners from 12 runners in every racing centre in the country.
But, as American founding father Thomas Jefferson said: I'm a great believer in luck, and I find the harder I work, the more I have of it. Or to paraphrase another American, general Douglas MacArthur when he said that the best luck is what you make for yourself.
Another way of looking at it is to understand that Van Huyssteen opened that first store in Mossel Bay with R20 000 he managed to scrape together himself. One should also appreciate that Van Huyssteen had the vision to spot a gap in the market and provide a solution that brands could just about live with. Also realise the amount of time he spends scouting for new locations and the homework he does before entering into negotiations with shopping centre owners. And as for the horses? Well, everybody deserves a bit of luck in their hobby ... especially when the odds are 50:1.
Another success factor had been Van Huyssteen's ability to cultivate — and retain — a loyal management team, many who have been with him almost from the start.
Current COO and board member Dawie van Niekerk had been with the Tekkie Town team since the first store opened in 2001; ditto procurement manager Michael Brown.
Pojects and marketing manager Gert Claassen had been overseeing the opening of Tekkie Town stores right from the beginning and had been working for Van Huyssteen since 1996.
CEO and board member Bernard Mostert might be a newer addition to the team, but he had been mentored by Van Huyssteen before being appointed CEO in 2014. "He is extremely very well qualified, and has a good understanding of finance — he was one of the top MBA students of his year," Van Huyssteen said about him at the time. "He adapted to the company culture like a fish to water."
*Deloitte's report Global Powers of Retailing 2017 identifies the 250 largest retailers around the world and analyses their performance and growth across geographies, sectors, and channels. Steinhoff's results are based on their audited results for the year ended 30 June 2015, before the latest acquisitions, when they were still worth $13.6-bn.