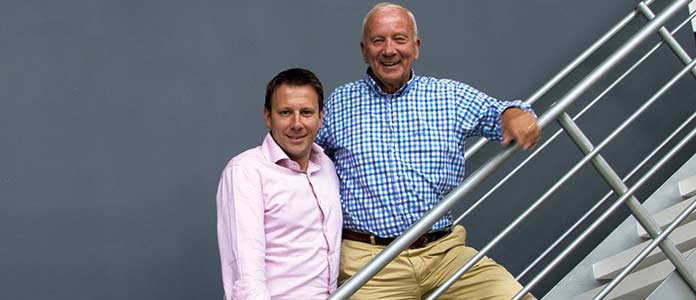 Corporate Frank van Wezel and his son Edward, CEO of Hi-Tec, in their Amsterdam office. Photo: Nicol du Toit
January 2017
A new career
for Frank van Wezel at 75
Last year Frank van Wezel sold Hi-Tec, received a Lifetime Achievement award from his almal mater, and turned 75. This year he is taking Hi-Tec SA into Africa as the official licensee, he will be introducing South Africans to a new European lifestyle brand and in between enjoy spending more time in Cape Town. Words: Trudi du Toit
Question: What do you do after you sell the company you built from nothing into a leading international brand?
Answer: If you are Frank van Wezel of Hi-Tec, you start a new career at 75.
"I'm not ready to retire," he says adamantly. Tanned, fit and brimming with energy and an infectious joy for life, Van Wezel made the transition from corporate chairman to entrepreneur seemingly effortlessly. He sold Hi-Tec Sports International Holdings to Cherokee Global Brands at the end of last year and has already embarked with exuberance on phase three of his career.
In phase one he worked for an agricultural-chemical company in Kenya and Zimbabwe, then he founded Hi-Tec in 1974. Now, instead of running a global company that sells 13-m pairs of shoes per year worth $250-m in more than 100 countries, Van Wezel is the proud owner of the Hi-Tec distributor license in Africa.
And just to add interest, he will be introducing a new Italian golf chic lifestyle footwear brand, Duca del Cosma, to the local market after a successful European launch in 2016.
In between he would like to play a bit more golf and tennis, even perhaps play in a few tournaments.
He compares obtaining the license to distribute Hi-Tec in Africa to being left with your favourite girlfriend when all your other girlfriends (subsidiaries) go their separate ways. "It is fantastic! The Africa deal keeps me in the country I love, in the house I love, and living in a city where I feel so comfortable," he enthuses.
Van Wezel has always had a close relationship with South Africa, and Cape Town in particular, where he owns a beautiful sea view house, within walking distance from Camps Bay beach. He has been a regular visitor to the country for more than forty years and he has made many close friends locally. He says the first South African Hi-Tec distributor, Brad Lemkus, is his best friend who had done such a good job of establishing the brand here in 1985, that Van Wezel offered him the position of general manager at the international Hi-Tec head office. While South African distributors contribute about 2% to international brands' turnover, Hi-Tec get about 10% of their international sales from South Africa.
It has almost become a generic name for lightweight outdoor shoes and some South Africans identify so much with the brand that they write in Afrikaans when they respond to the invitation in every shoe box to contact the chairman on his personal email. He will continue to respond to these messages , as always, since Cherokee asked him to stay on as an ambassador for the brand he built.
Respond in Afrikaans
Dutch-born Frank and his wife Caroline return the compliment by corresponding with, and talking to, Afrikaners in their native language. Therefore, when it became clear during the negotiations with Cherokee that the Americans were not particularly interested in the African distributorship, Van Wezel promptly made a deal whereby Africa remains with him. This delighted everyone involved: he wanted to spend more time in South Africa and he can continue to talk products with his son, Ed, who'll remain CEO of Hi-Tec, which becomes a subsidiary of Cherokee.
"Our flagship store in Amsterdam is a lovely store, with a coffee shop where young people sit for hours playing on the computers … it is always buzzing, and is more of a lifestyle centre," he continues. Cherokee was not interested in buying any Hi-Tec stores and happily said yes when he asked if he could keep it. "I thought, if all else fails, at least I'll have a shop."
While talking to Cherokee, he knew at the back of his mind that he was not ready to stop working. He also knew that the South African subsidiary he now owns is well run and would not require much of his hands-on presence. What else am I going to do? he asked himself almost in a panic.
So, he bought another brand.
About a decade ago Hi-Tec sold quite a lot of golf shoes, which they dropped when the economic downturn almost decimated the golf market. "As I went around to the golf shops, I almost drooled over the shoes of a brand called Duca del Cosma. They were so beautiful! Real Italian beauties. If you love shoes like I do, and you see a really great product … oh, man!"
Then, last year he read in the Sporting Goods Intelligence magazine that Duca del Cosma had been liquidated. Without hesitation he contacted the liquidator and the result is that he relaunched the brand in Europe in the last quarter of 2016 as Italian golf chic on the street.
"I am now dealing as a start-up," he laughs. He rented a new office in Holland, within walking distance of his house, and appointed ten people — among them the former Duca del Cosma designer who is now on board as creative director tasked with producing beautiful shoes.
The brand used to be available in a number of countries — on a very modest scale in South Africa as well, but all the distributors are gone. Van Wezel and Hi-Tec SA general manager, Mickey Mallett, therefore agreed that the brand will locally be distributed as a division of Hi-Tec SA.
Van Wezel knew if he remains focused on the golf market, the brand will remain small. "I wanted something small, but not THAT small!" He therefore created a lifestyle collection, which he clearly cherishes, just like others would enjoy their art collections. He enthuses about the sleek designs, the nice fresh colours, but above all, the golf shoe base that provides technology. "This will keep me nicely busy," he says with a satisfied smile.
This range will be aimed at a completely different market to Hi-Tec and he will appoint a new sales force to introduce them to local upmarket lifestyle stores. Worldwide, sport retailers who embrace lifestyle are the most successful, and he is therefore confident that the new brand will do well. Although he is not planning on creating a new Hi-Tec brand, he points out.
The reason why Duca del Cosma went bankrupt had nothing to do with their footwear, says Van Wezel. "Apparel killed them." Due to late deliveries from China they missed a season and battled to sell dated stock with the new stock. In fashion it is impossible to sell anything that is already out of fashion and he ran out of money.
But, what prompted him to sell the brand he founded in 1974 when he designed a lightweight squash shoe to an American company, which globally distributes brands like Tony Hawk, Sideout, Everyday California, etc. through licensed wholesalers?
The short answer is that the right question was asked at the right time.
"Last year we cultivated Sports Authority as our number one customer in the US," he explains. "But, almost overnight they went into bankruptcy and closed all their stores." In the UK, JD Sports took over Go Outdoors, another top customer, with 150 lovely shops, he adds.
"The big boys are just getting bigger and the smaller, or financially weaker ones, are falling by the wayside, and it is not going to get any easier."
Big boys getting bigger
His strengths had always been to build individual relationships with customers, especially mom and pop stores. "I had so many friends in the business, but they were all growing old, retiring, and the younger generation didn't want to take over. These stores were disappearing as nobody wanted to take over and the big guys just got bigger."
Against this background he was receptive when a broker acting on behalf of American clients interested in buying Hi-Tec, asked if he would be willing to talk. He said yes, instead of showing him the door as he did with previous proposals.
"I just decided: let's get some cash in the bank for the family before I am caught unawares by other unforeseen events in the trade."
The family were all in favour. His son Edward, who became Hi-Tec's CEO five years ago after being put through a rigorous training programme to learn all aspects of the business, including a stint in the Korean factory, encouraged him to. Selected as one of the 40 under 40 global industry leaders by the American SGB trade publication a few years ago, he made such a favourable impression on the Cherokee executives that they asked him to remain as Hi-Tec CEO, based in the current Amsterdam head-office.
His two sons-in-law will also remain with Hi-Tec, while his wife Caroline, who has a high-powered international PR background, already produced very impressive PR and brand information books to introduce Duca del Cosma to new customers.
The many Lifetime Achievement awards (among them Life Vice President of the Squash Rackets Association in the UK), honorary doctorates, and other accolades Van Wezel amassed during his career, would need a book to document them … and a book on his life, aptly titled Frank — Inspired by Life, will indeed be launched in March. But, the way he keeps on making news headlines, another book will soon be required.
For example, his alma mater, the business University of Nyenrode, last year gave him a Lifetime Achievement Award on the day they unveiled the new Hi-Tec Hall, where future sports industry leaders will be trained.
Black Mamba success
Many sports clubs and worthy enterprises have benefitted from Hi-Tec philanthropy over the years. He is especially proud of their partnership with the anti-poaching Black Mamba project in Balule Nature Reserve — which receives worldwide attention through a rhino anti-poaching disk in every shoe box. "The 40 ladies do a fantastic job on anti-poaching of Rhinos. While rhinos are still killed on a daily basis in the Kruger, Balule claims they lost only one rhino last year — five years ago they lost 40." Hi-Tec sponsored Landrovers, night vision and satellite communication equipment, and Magnum boots to help them operate more efficiently.
The year has barely begun, but the energetic Van Wezel has already been thinking about new opportunities. They want to expand Hi-Tec into Africa, he says. Having lived in Kenya for ten years during the 1960's and 1970's, Van Wezel is no Africa-novice and he is buoyed by the many opportunities the young sneaker-wearing consumers in neighbouring countries offer a brand willing to make a serious commitment to meeting their needs. They will therefore be investing in "a really good guy to take this company into Africa." He is also keen to expand the Magnum workboot brand into Africa, where he believes many opportunities beckon.
One can make the mistake of believing that he had such an easy journey from changing the squash market with a lightweight shoe in the 1970's, followed by a revolutionary lightweight hiking shoe, which helped build a successful business empire.
Along the way they, however, learnt some harsh business lessons. When Hi-Tec went public in 1988 and floated on the London Stock Exchange, they were four times oversubscribed. "We thought we had arrived."
Not believe your own PR
They used the money to expand aggressively in Europe, opening offices and subsidiaries in many countries. "In fact, we over-expanded, and that was a hard lesson as we lost a lot of money. Because we were over-subscribed four times we thought we could walk on water. But, as soon as you start believing your own publicity, you're in trouble. We were sinking."
Once they realised what was happening, they restructured and the company became profitable again. "But it taught me a lesson: don't go too fast. You have to stay modest and spend your money wisely."
And it is their modesty that makes the lasting impression when meeting Frank, Caroline and Edward van Wezel — apart from their enthusiasm and irrepressible humour.
In Amsterdam they eat lunch in the canteen with the other Hi-Tec staff members. Edward personally meets visitors in the foyer. In Cape Town Caroline has a desk in the open-plan PR office. Frank's office is smaller than the other managers' offices.
Because at 75, he is obviously too busy pursuing new opportunities to be bothered by small status symbols.