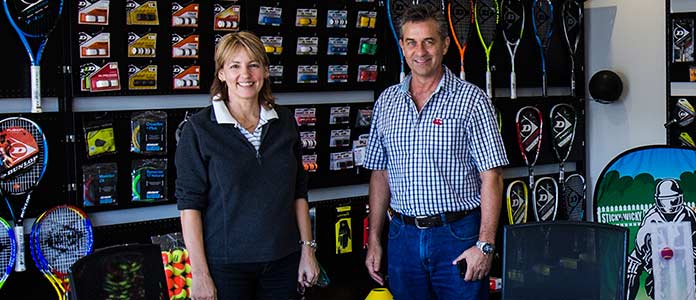 Steve and Susan Gallienne in the Dunslaz showroom at Brand ID in Cape Town, before they departed for Bristol to run Karakal.
January 2017
Gallienne's to run
Karakal worldwide
Steve Gallienne will be the new worldwide head of the Karakal racket sport brand and is soon leaving Brand ID to take up this prestigious global position. He will be the third current member of the South African sports industry to run a global brand
Steve Gallienne, one of the most respected members of the South African sports industry, is soon moving to the UK, where he will be heading up the Karakal racket sport brand.
After 28 years as distributor of well-known international sports brands — including Karakal — to South African retailers, the soft-spoken Gallienne and his vivacious wife, Susan, are relocating to Bristol in the UK to run the racket brand founded in Belgium in 1978 by the late Roger Vercambre.
As you read this, they are probably packing in Cape Town, or unpacking in Bristol, Gallienne, who has been representing Karakal in South Africa since the early 2000's, describes this "as a lovely opportunity" to run the family racket business with a footprint in 40 countries and experience a new environment.
He is the third current member of the South African sporting goods industry to run an international brand: Rassie Pieterse heads TK hockey and Gary van Rooyen is the global owner of Coreban.
Although Karakal was originally owned by the Belgium company SPGS Dendermonde, Karakal has been distributed in the UK since 1981. Karakal UK purchased the rights to the UK and Ireland in 1985, but a new company, Karakal Worldwide, was formed in 1991 to distribute the brand globally.
"It is currently the number one grip brand in the world and it s also very strong in squash," says Gallienne. "It is similar to Dunlop, just smaller."
World #1 in squash and Karakal
Several top European squash players — including former World #1 player Vanessa Atkinson — have played with Karakal rackets and wore their clothing.
The brand offers comprehensive racket sport ranges: squash, badminton, tennis, racketball and even table tennis. Apart from rackets and balls, they also offer clothing and footwear ranges, including leisure footwear, and of course, grips.
Gallienne has had a good working relationship with the current management team for many years and they have been talking to him about running the brand for some time.
Although it is a highly regarded international brand, the company is very informal, says Gallienne, adding that it is not the kind of place where just about everybody has an impressive sounding title. The title attached to his new position is therefore irrelevant.
His wife, Susan, who has been working alongside him in the local industry since 1992, will also join the Karakal staff to oversee international consolidations and internal operations — similar to her current position at Brand ID. But, with the added responsibility of looking after the needs of all the international distributors.
Apart from extensive experience selling and promoting international brands since 1989, Gallienne earned respect in the industry for his non-stop dedication to work and straight dealings.
In 2003 his Dunslaz Distributorship team were voted as one of the best suppliers by retailers for their excellent service and good backup when selling the Slazenger V1200 bat. They were runners-up in the Best Service section of the 2003 Sports Trader Product of the Year competition.
He will be returning to his country of birth, which he left as a child when the family moved to the West Coast of South Africa.
He excelled in sport at school, especially in hockey, cricket and tennis. He was good enough to be invited to the U21 Western Province hockey trails and he also played cricket for Boland B.
After moving to Johannesburg he continued playing hockey, but nowadays he just plays golf "with Dunlop Clubs!" he adds.
Gallienne started his career working for Makro before joining the Slazenger sales team as an agent in 1989. When the Dunlop and Slazenger brands merged and the local company was restructured, he became a partner in the Sports Trade Specialist agency. Apart from representing the Dunlop Slazenger brands in the old Transvaal, they also represented Energade and Polaroid eyewear.
In 1998 the Dunlop Slazenger International subsidiary in Johannesburg offered him the position of national sales manager.
In August 2001, after the Dunlop Slazenger tennis and squash ball factory in Durban was closed down, the subsidiary became the independent distributor Dunslaz, with Gallienne and Richard Agar (a former financial executive and tax consultant) as owners.
Most of the Dunlop Slazenger sales and marketing team, joined the new distributorship, which operated from Durban. Susan added her administration skills to the team.
Apart from Dunlop and Slazenger tennis, squash and hockey equipment, they also supplied Ashaway strings, Maxfli golf, Swingball and later Karakal grips and Karrimor backpacks.
At the end of 2008 Super-Brands — until then mainly active in the electronics and home markets — bought the Dunslaz Distributorship.
Gallienne joined as sales manager of the sports brands, and he and Susan, who remained his right hand in the office, moved to Cape Town.
While he stayed in charge of the former Dunslaz brands, which now also included Opro mouthguards, Super-Brands over time acquired other brands like then Springbok rugby sponsor Canterbury, running brand Mizuno, and compression brand Skins, etc. This division was headed by Dutoit Botes.
In April 2014 the sports brands distributed by Super-Brands were bought by Brand ID, which distributed Speedo, in addition to several clothing brands. Gallienne and Botes and their respective teams moved across to the new company — where they continued to grow and add new brands under the Dunslaz and Performance Sports banners.