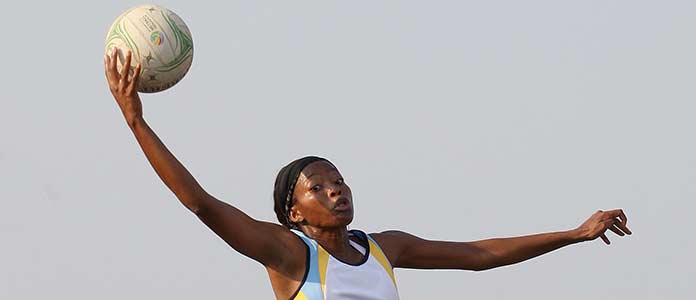 Keneiloe Kgasi of Gauteng in action against Kwa-Zulu Natal during the SPAR National Netball Championship in 2015. Photo: Reg Caldecott/Gallo Images.
January 2017
Netball hots up
The former Cinderella sport of netball has transformed itself. Once considered boring, it is now considered to be sexy. Not surprisingly, there's been a cash injection from sponsors, and distributors and retailers are benefitting, reports LINZA DE JAGER
To understand just how sexy netball has suddenly become for sponsors one need only look at the statistics, and compare it to a few years ago, when the sport had some participation numbers, but no money in the bank.
South Africa now has 1.5-m adult netball players and 2 800 000 netball players at school level, according to Netball SA CEO Blanche de la Guerre. This is about 66% more than about ten years ago.
South Africa is ranked #5 in the world and #1 in Africa.
Netball SA has seen a 20% growth in membership over the past 12 months.
Both primary and secondary schools have experienced 100% growth in player numbers over the past 12 months.
At club level, the 2 853 affiliated clubs grew 80% over the past 12 months.
The money trail
During the past four years netball has received a healthy financial injection.
In 2012 the Department of Sport and Recreation South Africa (SRSA) allocated R2-m for netball.
In 2016 the Minister of Basic Education signed a memorandum of intent with the Motsepe Foundation for a R117.5-m partnership over ten years. The goal of the partnership is to allow schools' football and netball leagues to become part of the sports leagues.
Part of this joint sports programme is The Kay Motsepe Schools Netball Cup, which will receive R2-m a year from 2016 to 2020.
Netball SA president Mimi Mthethwa gives kudos to the Brutal Fruit Netball Premier League (BFNPLL) and SuperSport for boosting netball interest. "The BFNPLL provided the opportunity for netball to show that we can run the sport professionally. It has helped raise the profile of netball nationally, regionally and internationally."
Having SuperSport as a broadcast partner has also benefitted the sport. Even though it is a pay-to-view channel, viewer numbers are now much higher than when the SABC was their broadcast partner, says Mthethwa. "We have more airtime with SuperSport and the higher quality of the coverage also had a positive impact on the growth of viewership."
In the past netball players trained hard, but had few oportunities to play at a high level, Fast5 coach Elsje Jordaan told Sports Trader.
"BFPNL changed all of this. The 2016 format exposed more South African players to the highest competitive level. Although there might still be a gap between the top six and the rest of the teams, this is the only way to expose more players to top competition and enlarge the pool of players who can feed into the NSA top teams.
"Television exposure adds pressure to the players and coaches to perform. They are exposed to opinions as more people watch the games, and they want to better themselves and their performance."
Sponsors benefit
These developments resulted in a facelift for netball that also benefitted the industry.
"The smaller affiliated sporting codes were always seen as the Cinderella sports and therefore funding and management were lacking," says Du Toit Botes of Brand ID, a sponsor of Netball SA and the BFNPL. "Netball now has TV, sponsors, mass participation and proper administration. You now have a winning formula," Botes says.
"The BFNPL, in which teams representing ten regions play against each other, is televised for weeks on end. You have maximum exposure and you can inform and educate the consumer."
They have seen a definite spike in sales over the past three years since Brand ID became a partner of Netball SA. Sales of Canterbury netball clothing have, for example, increased by 35-40%, sales of Skins ladies compression wear have increased by 25%-30% and Mizuno's first netball footwear range was launched at the Brutal Fruit cup last year — the impact will only be seen this year, reports Botes.
"Exposure is crucial for netball in South Africa," says Martin Ferreira of Exco Sport and Teamwear, who gives praise to television for raising netball's profile and thereby increasing sales. They recently renewed the contract with SA Schools Netball as the official technical supplier.
"Television is an obvious interest generator. We believe that the increase in our 2016 sales is directly linked to this exposure.
Television has a very positive outcome and is much more powerful to the spectator, sponsors and participation in general. The online mentions also help grow interest."
XCO had a great season with netball, he says. They had 32% growth in sales. In the previous two years their sales had been flat, with only a 10% increase that was inflation generated. "Growth only materialised over the last financial year."
ASICS, official footwear partner to Netball SA, experienced "a slight increase" in sales of their Super and Pivot netball shoes, says Wesley Tam. "Every bit of exposure that Netball SA receives via the various media channels will have a benefit for ASICS as a brand.
"Online is certainly a start for generating interest. However, further analysis is required to determine the sales correlation."
Other netball suppliers also benefitted from the bigger exposure.
In general their netball sales have grown substantially in the last three years, says Grant Stephen of Legacy Sport and Leisure, distributor of Mitre in South Africa. "The vast majority of our balls are sold to consumers for recreational purposes, or to schools."
Any television coverage is good for a sport and will plant a seed for future and current netball players to set their sights on playing to a bigger audience — like their counterparts playing rugby, cricket and soccer, says Patrick Franck of W.E.T. Sports.
Growth in the sales of W.E.T. Sports netball products has continued to rise thanks to these initiatives, he believes. "We can honestly say that our Star netball sales in particular have shown excellent growth. Sales to retail outlets throughout Southern African has shown continued growth."
While the sport administrators and distributors strongly believe in the power of TV, not all retailers share this view. Retailers' reports of the impact on netball and related products vary — sometimes dramatically.
Impact on retail
Their netball sales grew approximately 50% over the last three years, says Gielie Albertyn of Somerset Sport in Stellenbosch. "Sales are predominantly to school children, about 20% of sales are to adults."
In their sister store in Somerset West ball sales growth was fairly modest, but they experienced quite a nice increase in the sale of netball shoes, says Jaap Engelbrecht.
Trevor Smith Sport in Benoni also experienced massive (about 30%) sales growth in netball balls, says Mlanda Landman. "We always have balls in stock, but this year we ran out during the season. Our sales of netball attire, however, stayed the same."
Michael Bester of Brian Bands Sports in Port Elizabeth also reports "a positive growth in sales of netball balls and rings for home use, which means the players are keen to practice after school.
"School and club sales are growing as the interest and awareness increases. We have noticed a shift in schools purchasing better quality netball balls and equipment and not just entry level to mid-range."
Along the Garden Route "sales of specialised shoes like New Balance, ASICS and Mizuno increased by at least 50% during the past two years," reports Tertius Giliomee of Top Gear Sport in George. "Sales of balls have gone up by 20%-25% during the past two to three years.
"I don't think this has to do with television, nor can I link this to the Brutal Fruit tournament or social media. I think this is thanks to the influence of schools."
No impact from TV
While Kloppers Sports in Bloemfontein had good growth in their netball category over the past three years, Grant Steyl says he finds it hard to determine if the Premier League or television coverage boosted sales.
"We see the same sales level — or even higher — before or during leagues, or afterwards. I don't think that coverage during a league always benefits netball as there are people who don't have television or don't have SuperSport. I don't think that television and media coverage have impacted a lot on our sales. People don't really watch what is on television, but, they go online to research the best shoes or equipment."
The netball boom has, however, not yet reached areas like Worcester, Upington and Kimberley.
"We stock unique netball attire for each school, but sales have stayed basically the same," says Jody Strydom of De Jagers Uitrusters in Worcester.
Ricardo Barries of Top Gear Sport in Upington reports only "a small increase in the sale of netball attire, shoes and netballs."
Netball sales have remained much the same during the past three years in Desnic's Planet Sport in Kimberley. But, says Keith Mclaren, the tournaments and greater television coverage have NOT grown netball sales.