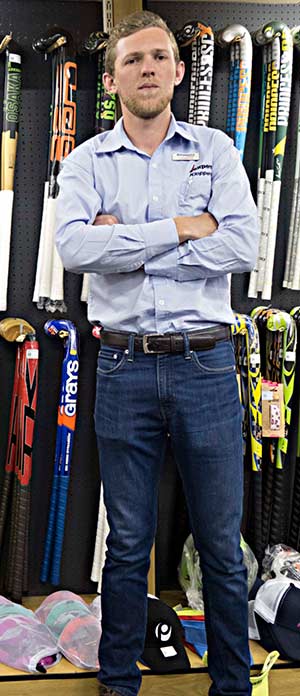 January 2017
Selling more...
hockey sticks
Dirk Klopper, who runs the Kloppers sport section, recommended LJ Albertyn as a top salesperson. "LJ has a real passion for what he does," he says. "He has managed to transform his sport and hobby into a very successful sales career. His main areas of expertise are cricket and hockey, and especially since moving down to Cape Town in April 2016, he has taken it upon himself to get better known in the hockey community through playing club and provincial hockey, and coaching individually and at schools. He is always on top of his game with the newest hockey trends, locally and internationally, and makes sure that Kloppers have the latest equipment and shoes in stock. He is also very aware of what our competitors are doing, price and range-wise. LJ offers excellent customer service and often delivers sticks or bats to customers after hours.
"You have to act like a professional if you want to succeed in sales, says LJ Albertyn, assistant manager at Kloppers Sport in Brackenfell. "I often get the impression from people who work in retail that they don't perceive themselves to be part of a leading profession.
"The first day that I started working in the Kloppers store, I made sure that I wore my best looking pair of shoes and that I looked neat, because first impressions count," he explains.
"It gives a client a warm feeling when he sees a professional –looking person greeting him, someone who is proud of who he is, and what he is doing."
Similarly, it's important to be able to communicate with everybody at any level. When talking to a customer, Albertyn tries to form a relationship that will grow a one-time experience into something so much more.
"It's a relationship that you are basically trying to build for a lifetime. You have to remember that it's not only a once-off thing." The relationships you create with customers should be of such a nature that they would want to shake your hand when they see you again and want to get to know you on a first name basis, he adds.
When a customer walks into the store, Albertyn greets them and makes his presence known without being too overpowering. He lets the customer know that he is available at their service, before leaving them to their own devices until they are ready to be assisted.
"When a customer walks in to buy something specific, you would know that instantly as they would immediately look for assistance," he says.
It is very important to have played a sport in order to give people good advice, he believes.
"I've tried out every single hockey stick in our shop: from a junior stick to a senior stick, from the cheapest, to the most expensive. You have to have played with the equipment to know what you're talking about."
When it comes to gaining product knowledge, Albertyn mainly relies on testing the equipment first-hand in matches, or during training.
Spending time with suppliers makes a huge difference as well, he says. Their presentations of new products can be an informative experience. "They know exactly what is new in a product and what has been improved."
More about LJ Albertyn
Leslie John (LJ) Albertyn, the assistant manager at Kloppers Sport in Brackenfell, is an avid hockey player with a long-standing affiliation with the Kloppers stores.
As a student he bought all the equipment for the sports he played at the Bloemfontein store. Kloppers Sport was his first work experience: with the help of family connections (his mother knows Steva Klopper, one of the directors) Albertyn started working for the retailer in Bloemfontein two weeks after finishing his degree.
He found being employed in Kloppers' sport department was the ideal work environment for him, as there was room for improvement to push out more sales, especially in the hockey department. "There wasn't anybody else who played hockey and wanted to promote the sport, someone who was amped to see the new products come in, or was keen to find out about the new technologies that go into the hockey sticks," he says.
After a year, an opportunity arose for him to move to Cape Town when Kloppers took over the Somerset Sport store in the Cape Gate Mall.
This resonated with Albertyn, as it was always his desire to live in Cape Town.
He has been an avid hockey player for the past 11 years. He started playing hockey at the age of 14, and through the years he has played for his school's first team, and later for the first teams at the University of the Free State and Central University of Technology.
Since moving to Cape Town, he has joined a hockey club and earlier this year Albertyn also represented Western Province 10s in the country district rugby tournament.
He also plays cricket and even helped launch a Kloppers staff cricket team, because he believes it is important for staff members to have experience of playing a sport when selling the equipment.
---
Tips for selling hockey sticks
Matching the right stick to a hockey player is of the utmost importance, says LJ Albertyn, assistant manager at Kloppers Sport in Brackenfell.
To best assist your customer with making the choice, the salesperson needs to know the age of the player, the level of hockey he plays — or want to play — and the position he plays.
These factors will influence the shape and size of the stick he'll recommend.
Finding the right stick length
There are various guidelines from manufacturers about the correct stick length, but when assisting a young player, Albertyn prefers to measure the stick to the level of his navel.
A big mistake novice players sometimes make is to buy a big stick with the thought of using it for years, he says. This is a misconception and he advises that the stick should be the size that the player is most comfortable with at the time.
As a general guideline, the most popular stick length for senior and high school players is 36.5", but the 37.5" is becoming more popular, especially when defenders become accustomed to the benefits of the longer reach when tackling. In offense, a shorter stick improves a player's stick handling skills.
The player will also need to handle the stick to determine if he is comfortable with the weight.
Forwards generally prefer a lightweight stick that allows more rapid stick work.
A mid-weight stick is aimed at midfielders as it benefits defensive as well as offensive manoeuvres.
Heavier sticks appeal to backs as the greater power is good for clearing the ball.
Material used
The material the hockey stick is made of is, however, more important than the size of the stick, Albertyn believes.
Different combinations and levels of composite materials influence the performance, weight, power, and stiffness of a stick, as well as its price.
Carbon provides stiffness and rigidity, resulting in more power. High carbon content sticks require greater skill to manoeuvre and are therefore recommended for advanced and elite-level players.
Fibreglass adds durability, power, and feel to a stick. It is similar, but less expensive, than carbon. Because it is less rigid than carbon it is better suited to beginners.
Aramid is added to composite sticks to dampen and absorb vibrations.
Wooden sticks are still preferred by some players who appreciate their natural feel and good control, which makes it ideal for beginners. Most are wrapped in fibreglass for extra strength and power.
Stick shapes
There are different shapes in hockey sticks: the low and extra low bow, mid bow and high bow, are identified by the position of the bow in relation to the end of the stick.
The size of the bow (arch), combined with its position on the stick, determines how a stick will play. The bow size is measured as the distance between the surface and the upper edge of the stick when placed on a flat surface.
Low and extra low bow: the extreme part of the arch is positioned in the lower end of the stick (e.g. about 200-225mm from the toe). The curve at the lower point generates more power, especially when combined with a high arch, and is preferred by elite players who like to drag and flick the ball, although it is more difficult to hit sweep shots. A light stick with a low bow plays extra fast.
Mid to low bow: the arch is at its highest in the middle of the stick, roughly at 225-275mm, and is preferred by more generalist players. It is good for developing drag flicking skills and enhances dribbling and control.
High bow: positioned 275-300mm or further from the head this shape is preferred by players who like dribbling and more control because the stick is more manoeuvrable than a straighter stick. It is often popular with experienced players. The 300mm bow is often chosen by experienced junior players.
Head shapes
Many brands have introduced unique head shapes, but most of them will have some variation of the following:
The Maxi is the most popular head shape amongst players at all levels. It provides good control during reverse side playing and has an improved sweet spot for more powerful shots. The more open curve that can trap a ball, led to the development of dragging skills.
The Shorti has a small sweet spot and a limited area on the reverse side for ball control. Demand has dwindled for this size, except among elite players who believe it enhances their dribbling skills and among indoor hockey players.
The Hook was developed for players with a more upright playing style and wanted a greater surface area on the reverse side. It has lost appeal as more players have adopted a lower playing style.

Testing sticks

Based on the information given to him by a customer, Albertyn will recommend a selection of hockey sticks and direct him to the instore net to hit a few balls. The Kloppers store in Brackenfell has a hockey net set up so customers can try out a stick and get the feel of it before buying.

"In the nets I will see how the customer responds to the different shapes," he says. Albertyn believes allowing your customer to try out a hockey stick before buying is very important as it allows him the opportunity to familiarise himself with the product.

Recommending brands

The more experienced players usually stick to the brands and products they know. When they come into the store, they already know what they are looking for, says Albertyn.

"Even though you recommend the best stick, with the best technology, a customer might sometimes feel that it's not the best because it is not the right brand," he says.

"It obviously has nothing to do with the technology in the stick, but some people feel more confident when they have a certain brand in their hand."

Instead of recommending one brand over another, he will rather explain the different options to the customer so that he can make an informed decision.

"I always give every brand a fair chance with each client, unless a customer comes into the store looking for a specific brand."