January 2017
Will landfills be
the new textile sources?
Discarded plastic bottles, old clothing, used down and other items found on landfills could be the textile sources of the future. This has profound implications: it will not only protect the environment, change manufacturing, but will offer an employment solution for the homeless, reports CARIN HARDISTY
Keeping cotton farmers poor is NOT being sustainable
The apparel industry — whether knowingly or not — is driving unsustainability, NewForesight CEO Lucas Simons said at last year's Textile Exchange Sustainability Conference.
Retailers and consumers keep saying they want more organic cotton, but they aren't willing to pay more, which means that they are actually not willing to pay the farmer more, and in turn means that the farmer loses out. "If you claim sustainability on one side of the vale chain, but the farmers are paid far below the poverty line, that's not sustainability. In fact, it's driving economic suicide."
Organic cotton is the second poorest labour sector in the world, he highlighted, adding that there is no real motivation to farm organic cotton. "Farmers are farming anything but organic cotton and I don't blame them," Simons said, adding that many of those farmers think: Why go through all this trouble so someone at the end of the value chain can claim he uses organic cotton when we are living in poverty?
"Out of sight, out of mind could easily describe the problem facing America's waterways, marine life — and personal health," says international apparel and textile trade publication Sourcing Journal. "It's happening via an unwitting cycle, but one that may be broken by a collective move toward natural fibres."
Landfills might just well be the next regular material sourcing destination for many companies. Recycling plastic such as bottles into material used to make clothing and footwear is already a regular occurence, but what about old and worn clothing?
"In the US alone, approximately 12.8-m tons of textiles are discarded and headed for the dump every year," says Canopy, who works with companies to develop permanent solutions to protecting forests. "In Great Britain, an estimated 350 000 tonnes a year, or about £140-m worth of used clothing, is thrown in the trash."
Canopy partners with top companies and brands such as Stella McCartney, Levi Strauss & Co, H&M, Patagonia, and Marks and Spencer to develop in-store recycling programs in an aim to "divert clothing from the landfill back into the fabric supply chain".
H&M, for example, has a denim range that consists of at least 20% recycled fabric and the retailer plans to increase the number of styles made from these recycled fibres. Marks and Spencer breaks down fabrics so that it can be washed, processed and turned into yarn, textiles and new clothes — over and over again.
Adjust manufacturing processes
Entrepeneurs and start-up companies are increasingly developing new techologies that turn old clothing into textiles and fabrics. One example is Evrnu, which has created engineered fibres made from 100% post-consumer cotton garmet waste and is suitable for various products … and the recycling process developed by Re:newcell turns cotton and cellulosic textiles into a product similar to dissolving pulp, from which viscose and rayon fabrics can be made.
The traditional method to recycle clothing fibres can damage and shorten the fibres, which means bad quality piling. France's Filatures du Parc's patented manufacturing system, however, makes yarn from post-consumer jeans, which is blended with PET (recycled polyester from plastic bottles). The result is that the fibre length is maintained, which results in good quality yarn with the same or better characteristics of the original fibres.
Italian company Tessile Fiorentina collects wool clothing, which is sorted into colours and spun into a recycled wool fibre. Because it's sorted by colour, the fibre doesn't need to be dyed, which means the company also saves on water.
Traceable down is already a staple in manufacturing. Now companies are asking themselves how about using recycled down?.
Through its own washing sterilisation and sorting process, Sofileta is using 100% recycled down from used bedding products, which still offers good and consistent quality in its own products.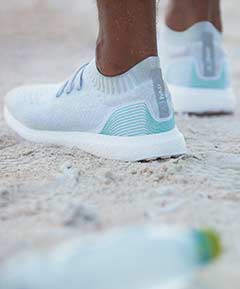 Adidas has launched 7 000 pairs of the UltraBOOST Uncaged Parley running shoes into retail globally. They are made from up-cycled marine plastic waste that's recovered through Parley for the Oceans interception and clean-up operations in the coastal areas of the Maldives. Uncaged Parley features a knitted upper (95% Ocean Plastic, 5% recycled polyester), and the laces, heel cap base material, heel webbing and lining, and the insole are all made from recycled materials. Even its design is inspired by ocean waves.
The next target is to make a million pairs using Parley Ocean Plastic next year, says Eric Liedtke, adidas Group Executive Board member responsible for Global Brands. "Our ultimate ambition is to eliminate virgin plastic from our supply chain."
With this target, at least 11-m plastic bottles will be taken out of coastal areas, and recycled and repurposed.
Agricultural fibres
Another option that Canopy is promoting is to use agricultural residue, left over plant materials after the desired parts are removed, for clothing textiles. With a special enzyme treatment, flax can be made into a fibre that is similar to cotton, and bamboo is gaining traction as a soft and comfortable fabric. Bamboo can also be planted on degraded land, which makes it a sustainable alternative to viscose and rayon fabrics that are made from forests.
"The more educated consumers are on landfills and how much polyester is damaging the environment, the more people will pay more attention to it, for sure," says Andie Verbance of By Land and Sea, which has brands such as Benjamin Jar and SIR the Label.
Interest in organic on the rise
"Organic represents a strong, clearly understood and well-established mark of sustainability, spreading from the food, health and beauty sectors into fibers and textiles, says Textile Exchange in its Organic Cotton Market Report 2016.
"Interest in healthy eating connects with a healthy lifestyle and further connects to choices for a healthy planet and healthy people. This trend is emerging in newer growth economies such as India and China."
In China alone, with its domestic demands on the increase, there was a 7% growth in cotton production. A new organic cotton project has also been started in the Hubei province. In 2016, several factors combined to make cotton a scarce commodity — like China's reserve program, pest problems in Pakistan, India's artificial shortage, etc.
This pushed cotton prices up. "We only get one harvest per year, so that means when we're in the summer months we're completely dependent on what's available, and where, at that time," Jon Devine, senior economist at Cotton Incorporated told Sourcing Journals' The Year of Uncertainty summit.
The good news is that cotton prices are due to stabilise. Pakistan is expected to produce a good crop, India should produce the same as last year, and the US should see an increase of 25%, Devine said.
"Until recently, Organic Fair Trade (OFT) was the choice of the smaller, ethically-driven company working with smaller cotton volumes — this is all changing. There are signs of growth across the board, with larger companies releasing collections in OFT."
The traceability of organic cotton is also improving, with collaborations between industry bodies and key players to create certification bodies and a centralised database.
"What companies have learned from organic cotton is being applied to preferred fibre and materials such as recycled polyester, lyocell, and others," says Textile Exchange. "The combination of environmental, social, and economic benefits that organic cotton brings provides a foundation."
Do consumers actually CARE about sustainability?
Consumers prefer natural fibres, with almost 75% of respondents in the Cotton Incorporated's Lifestyle Monitor Survey saying that garments made from these fibres are better quality compared to synthetics.
"Consumers do seem to like knowing whether something is made of a natural fiber," says Andie Verbance of By Land and Sea. "However, if they do look at apparel labels, it's mostly to determine ease of care, followed by where it's made and then the fibre content."
The majority (74%) of respondents indicated that they would be more likely to shop at a store that uses fibre logos on clothing hangtags, on clothing shelves (71%), and on the online product pages (67%).
Another finding is that consumers are more likely to check the fibre content of a product when shopping online, than if they were in a brick-and-mortar store.
A possible explanation is that about a quarter of respondents indicated that they have trouble when trying to read labels. Just over a third (36%) said the font is too small, and 26% indicated that there is in fact just too much information on the fibre labels.
New sustainable textile index
A new index, the Materials Sustainability Index (MSI), allows materials suppliers to submit apparel, footwear, and material data so that the Sustainable Apparel Coalition (SAC)* can expand its data around materials' sustainability. This information will in turn be used to inform design, develop and sourcing decisions for the SAC's more than 180 members, ranging from designers and developers to top brands.
"Sustainability measurement can only be achieved when the industry is speaking a common language," says Jason Kibbey, SAC CEO.
"With the introduction of the MSI Contributor, we further the depth of that language, providing a baseline for thousands of materials that designers and the rest of the industry can use to make informed product decisions. This is a key milestone in our roadmap to full industry transparency via the Higg Index in 2020."
This Higg MSI is a public tool that allows users to see and compare scores for common materials in the apparel, footwear, and industries. It scores base materials (cotton, polyester, EVA, etc.) and production specifications (organic vs bio-based fibres, weaving and knitting processes, performance finishes, etc.) to get a more accurate score for a material.
"Manufacturers will have a credible and comparable means to show how their responsible production processes reduce impact, allowing them to attract more brands committed to responsible sourcing," explains SAC.
"Soon, manufacturers and their brand and retailer customers will also be able to measure the overall environmental performance of their footwear and apparel with the upcoming launch of the Design & Development Module."
* SAC is an industry-wide group of over 180 apparel, footwear and home textile brands, retailers, suppliers, affiliates (service providers and trade associations), nonprofits/NGOs, and academic institutions working to reduce the environmental and social impacts of products around the world.