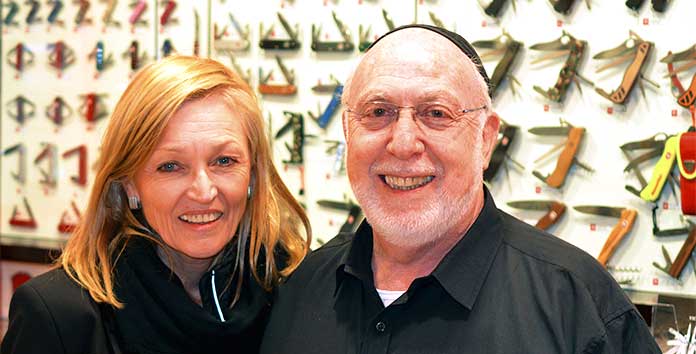 Margi and Stan Gordon
Q2 2018
Selling more ... cutlery
Few people can become as enthusiastic when talking about knives as Stan Gordon, owner of cutlery specialist store, Sharp Edge, Sharp Shooter in Sandton. After almost a lifetime selling cutlery — any item with a blade like kitchen and outdoor knives, swords, etc. — he still becomes excited when talking about new products and design trends. With almost 50 years' experience in the knife business, he is also an expert salesperson who understands what encourages and what upsets customers. That is why we thought he would be the ideal master salesman to share his knowledge with others.
To attract customers to your store, you need to create excitement that will entice them through the door, believes Stan Gordon of Sharp Edge, Sharp Shooter.
"One of the main elements is that store and window displays should be dynamic and attractive, and you need to change the displays regularly to prevent regular customers from becoming bored.
"Another important element to attract regular customers is to ensure that you carry a comprehensive range of products."
You should continually add the latest models to the range so that you have something new to show to customers on an ongoing basis, he explains. Mentioning something new is always a door opener that leads to a conversation about product features and a potential sale.
Interacting with customers
He always trains staff how to greet everybody within a few seconds of entering the store. "Greeting is the most important element of the shopping experience. You greet customers with a smile and direct eye contact and ask, can I be of assistance? Often the response will be that the customer just wants to look around.
Allow him to browse and ask that he calls you if he needs assistance. But, be pro-active: once you see the customer hovering in an area, you can approach him and ask have you seen this new model?, which gives you the opportunity to engage with the customer, Gordon advises.
Once you start a conversation, all kinds of avenues open — a customer who just came in to browse might become interested in buying the new model you showed him, or he might decide that he needs to upgrade his existing knife or multi-tool in addition to buying the product he came in for, or he might think about what you discussed and come back later to buy.
Customers can feel overwhelmed in a store where there is a vast selection on display. A way to eliminate this is to ask questions like is the knife for yourself? If it is a gift, enquire who is it intended for — an executive, outdoorsman or farmer? This will enable you to steer him to a handleable section.
The last thing you want to ask is how much do you want to spend? Once the customer is committed to spending R100, not R200, he will complain when you show him merchandise in higher price categories.
Rather show items in different price categories — lower, middle and higher — and provide additional information on why the better-quality products cost more, Gordon suggests. "This may sway him to upgrade to the better-quality product."
Product knowledge
"Selling is one of greatest occupations in the world," says Gordon. "It is satisfying to assist someone to make the right choice, which is the real function of a good assistant."
You must, however, have in-depth product knowledge to be able to offer the correct advice. "The advice and product variety you offer will encourage customers to return to your store. Not every customer needs to be bombarded with technical information, but sales staff must be able to answer questions and impart knowledge without overwhelming a customer."
A specialist store should be an advertisement for a category of products that will educate customers about what is available in the market, believes Gordon.
"With merchandise like knives one has to appreciate that the majority of items will have to be kept behind glass for security and safety reasons and to prevent theft," Gordon advises.
But, the element of touch and feel is important for selling and one needs to make sure that your staff will be opening display cases to take out merchandise for clients to handle. "It is therefore important that there is easy and regular access for sales staff."
Sales staff should also clean the merchandise on a regular basis as you don't want grubby fingerprints to show up over blades and handles.
"The key to success of selling in a specialised environment is to offer a wide variety of merchandise," Gordon stresses. "Offer a complete spread of different quality merchandise at different price points."
That is where an online presence can be beneficial to a brick and mortar store, which might not be able to display 3 000 knives. "Our website is probably our most valuable communication element regarding new product launches and enables us to show our entire range in a manner that is attractive and easily accessible."
But, be very careful of the proliferation of fake and counterfeit products, which has become a serious problem, he warns. Some of the counterfeiters import cheap products in boxes that are a direct copy of a brand's box, which they sell at a pittance.
This has harmed many brands "because there is a piece of rubbish inside, even though there is a well-known brand name on the blade". He strongly advises retailers not to encourage and support counterfeit products, as it will rebound and give them a bad reputation if they sell a product worth R1 000 for R100 and it cannot perform the functions promoted by the real brand.
---
Tips for selling knives
In order to recommend the most suitable type of knife, you need to know who will be using it, and for what activities it will be used, says Stan Gordon of Sharp Edge, Sharp Shooter. An outdoorsman, for example, will want to carry a much sturdier knife than an executive who will prefer a more compact every day carry pocket knife. All knives are also designed with specific features that are best suited for the job they will be required to perform.
It will require comprehensive product knowledge for a salesperson to guide a customer to purchase the correct knife that will cater for his needs. Important facts to know will be basic knowledge of steel qualities and hardening processes, handle materials, shapes of blades, etc. he advises.
Some guidelines to keep in mind when making recommendations:
Fishing knives: a general knife used for filleting should have a thin, flexible blade. For deep sea game fishing, one would require a more robust butcher's type knife.
Hunting knife blades come in different varieties, and notwithstanding the fact that one could carry a general purpose knife in the bush, a specific shape of blade is required for skinning or caping of an animal, or for meat preparation, says Gordon. A skinning knife will have an upswept blade point to prevent piercing the skin, and a caping knife would be a small blade so that one can have good control whilst performing this delicate job. Preparing the meat for biltong or the freezer will require a butcher's and boning knife.
Tactical knives, which have gained in popularity over the past decade, are designed for defence purposes, and survival knives are used by survivalists and outdoorsmen for all chores, which may include wood preparation, construction of shelters etc. These knives are normally manufactured from heavy duty carbon steel to enable them to be used under extreme conditions, and would normally be a fixed blade knife as opposed to a folding knife.
The Tanto shape of blade has also become popular over the past few years and the design traces its origin to the Japanese Samurai sword design. It is popular amongst military and law enforcement personnel, as well as enthusiasts who are looking for a blade that features a sharp and strong tip that can penetrate hard materials.
Serrated blades, which are good for cutting cardboard, rope, sinews, etc. are, however, more difficult to sharpen than plain blades. The serrations will stay sharp for some time, but will require a special tapered sharpening steel to re sharpen the teeth.
Opening systems have come a long way on folding knives and many of the knife companies offer a variety of one handed opening options, including the self-assisted blade opening systems that incorporates a torsion bar in the handle and deploys the blade very rapidly and safely. Another very popular development is the flipper, which is also a very quick and safe way of opening the knife with one hand.
Knife handles
It is important to understand the advantages and disadvantages of the different handle shapes and materials, says Gordon.
Outdoor knives — especially for hunting and fishing — should have a tactile grip, preferably polymer rubber or something similar, which will give a positive and comfortable grip and will be safe and not slippery when wet.
Materials: one of the modern mainstay handle materials used in the knife industry is G10 — a fibreglass composite material — that is very lightweight and strong and is normally chequered to give it a good feel and grip. Other popular materials used include plastic, aluminium, titanium, stainless steel and some natural bone and horns. "People also enjoy the natural feel and warmth of wood," he says.
Colours play an important role in certain categories — for example, diving knives have bright yellow or lime handles, which can be seen under water.
Selling extras
When you are close to closing the sale, it is important to advise the customer on how to care for his knife and how to sharpen it correctly, Gordon advises. "This normally leads to additional sales."
Sharpening: every knife will go dull at some stage and 99% of people do not know how to sharpen a knife correctly, he believes. Sales people should not only know how to sharpen knives correctly, but also need to know how to demonstrate various sharpening implements, which are stocked in the store.
Protective oils: you need to educate the client to look after the knife by not leaving it wet after returning from hunting or fishing, not leaving it in its scabbard when storing it and to protect the blade with a thin layer of oil. With a folding knife, it is important to occasionally put a drop of oil in the moving parts, which will undoubtedly extend the life of the knife, Gordon advises.
An important fact to remember is that all good quality blades are manufactured from high carbon steel to enable the blade to hold a good edge and be easily re-sharpened. But, if not cared for, the blade will develop some surface corrosion or marks.
Accessories: a salesperson should always be alert to the potential of selling up on accessory products — for example, if the customer is buying a folding knife without a pocket clip or pouch, there is an opportunity to sell him one.
Guard against fakes
Retailers should be aware of the proliferation of fake and counterfeit products, which has become a serious problem in the industry, Gordon warns. In many instances the counterfeit products will be packaged in almost the identical printed boxes as the genuine products, which is very misleading and confusing to the end user. "The bottom line is that the quality will be nowhere near the genuine item, and will sell for a very low unrealistic price as well," warns Gordon.
"There is a world wide effort to educate dealers and end users as to this scourge, which has had a very negative effect on many top brands."
He strongly advises retailers not to encourage and support counterfeit sellers and avoid trading in these items, as it will eventually rebound and destroy the reputation that the store has painstakingly built up.
---
More about Stan Gordon
After nearly 50 years of selling cutlery, Stan Gordon, owner of Sharp Edge, Sharp Shooter in Sandton, can legitimately be labelled a master seller of knives.
He joined his father's business, Cutlery Distributing Group, after he left school in 1971. His father, Colin, had secured the Victorinox agency for Southern Africa in 1954 and Stan had been visiting the factory since his early teens, and developed a passion for the brand and knives in general.
His first job in the business was selling to retail stores and it was during this period that he was struck by the lack of product knowledge and selling skills displayed by the majority of store owners and sales staff.
A major frustration was the lack of imagination and attitude towards presentation and display of the merchandise in counters and shopfront windows. Most traders were quite happy to stick the blades into an old piece of polystyrene at the bottom of the counter, and then wonder why the knives did not sell.
The need to provide knowledgeable advice to customers and offer a good selection of products in dynamic displays, prompted the Gordons to open a specialist cutlery store in the Carlton Centre in 1975. This store, specialising in all forms of cutlery, offered the widest selection of cutting edges in the country at the time.
This was followed by branches in the Eastgate Mall and Sandton City. The Carlton branch was closed when their clientele moved out of Johannesburg CBD and they eventually closed the Eastgate branch to concentrate on their flagship store.
This Sandton store is a destination frequented by customers from all over the world who often just visit to browse and admire the interesting displays of more than 6 000 products — coats of arms, swords, knives of every description, sharpening equipment, scissors and grooming gear.
They added martial arts equipment, firearms, bows, darts and flashlights, but the more than 4 000 cutlery items remain at the heart of the store, where striking window displays attract eye-buyers long after closing time.