---
4 July 2013
Arrests over sale
of adidas in 1990s
Former adidas owner, industrialist, cabinet minister, actor, pop singer, Formula Three racing driver and jailbird, Bernard Tapie, has been arrested by Paris police for alleged fraud related to the sale of adidas in the early 1990's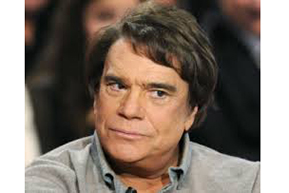 Tapie is being questioned about an alleged conspiracy with former French president Nicolas Sarkozy to defraud the state. He is accused of having made a false statement in July 2012 in relation to the sale of adidas to the French bank Credit Lyonnais. Christine Lagarde, the International Monetary Fund head, the former head of her office, Stephane Richard, and the judge who led an arbitration panel, are also implicated.
Tapie had bought adidas in 1989 for 1.6-bn franks, after Horst Dassler, son of adidas founder Adi Dassler, died and the company went through a difficult period. Tapie was, at the time, renowned for buying bankrupt companies, renegotiating their debts, laying off part of their workforce and reselling them for vast profits.
In 1992, while in government as minister of Urban Affairs, Tapie asked the bank Crédit Lyonnais to sell adidas, setting a minimum price. The bank concealed that it had sold the company to itself at the minimum price. It subsequently resold adidas in 1993 to Robert Louis-Dreyfus, a friend of Tapie and shareholder of Olympique de Marseille, for 4.485-bn and made €400-m profit.
Tapie subsequently went bankrupt and in 1997 served 6 months of a 2-year sentence for bribery and match-fixing while he was president of the Olympique Marseille soccer club.
In July 2008 Tapie received a €403-m settlement after a 15-year dispute with the French state bank over the sale of adidas. It is now alleged that Sarkozy asked Lagarde's office to ensure that the arbitration case was settled in favour of Tapie, in return for political support from the former left-wing politician during the 2007 presidential election.
---