---
24 April 2014
Asics SA
now official
Less than a week before the much-anticipated gala launch of the new Asics Springbok jersey tonight (April 24th), Asics International signed an agreement with Jordan & Co and Steinhoff International Holdings that there will be an Asics subsidiary in South Africa.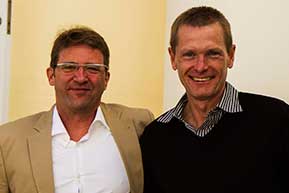 "It has been an amicable parting with (long time distributor) Jordan & Co," says Asics Europe Head of Emerging Markets, Stefan Heinrich (left). "All indications are that it would be a very smooth transition."
The Asics SA team will be headed by Brian Kerby (right), former adidas SA MD. "We are assembling a very strong, young team," he says. South Africans who have already joined Asics went with him to the global marketing conference in the historical Croatian city of Dubrovnik – where the contract was officially signed on April 18th – to see the Spring-Summer 2015 global ranges that will be launched worldwide in October 2014.
The transition will further be eased by Janine Stokes and Dawid Visser from Jordan & Co moving across to join Asics SA. They are still based at Jordan & Co where all Asics orders – including for the new Springbok jerseys – are still being processed.
Spencer King, former sponsorship manager for Canterbury, was appointed by Asics Europe last year to oversee the launch of the first Asics Springbok jersey (see our blog published tomorrow, 25th April).
Asics SA will be moving into their new offices in Black River Park in the beginning of June. By October, the transition should be completed, says Kerby. This will be in time for the launch of the Asics Spring-Summer 2015 range in South Africa, to coincide with the global launches. "The Autumn-Winter 2014 ranges will still be sold until December," he says.
The opening of a subsidiary in South Africa is in line with global developments, says Heinrich.
"Jordan & Co have done a very good job in growing Asics into a strong brand in South Africa, but they are primarily footwear distributors," adds Kerby. "In a subsidiary you have a much bigger team that can explore other opportunities that is not possible for a distributor to investigate."
Apart from diversifying and growing in other sporting codes like rugby, hockey (in Europe a strong market for Asics), cricket (Asics sponsors the Australian cricket team), fitness training and tennis, they will also invest in developing the Onitsuka Tiger lifestyle brand. They also plan on growing their apparel and accessories in South Africa.
"We will be making a significant investment in marketing, in the brand, in growing apparel and accessory ranges, and in people," says Heinrich. They have already appointed ten people, but will have a compliment of 18 towards the end of the year.
---