---
09 April 2015
O'Brien retires
from industry
Industry stalwart Miles O'Brien from Jordan & Co. hanged up his hat in March after a 33 year career in the footwear industry when he reached the compulsory retirement age of 65.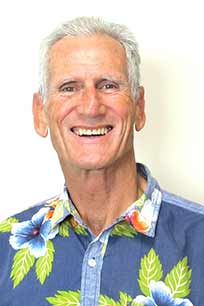 "I have nothing but appreciation for the amazing career that I was gifted with. Over the years, the people I have interacted with, the excitement of the business opportunities I enjoyed and the support of all my colleagues at Jordan has been indescribable. No need to have any regrets about how my business life unfolded, thanks to my Jordan colleagues," he says.
O'Brien's first job was at Golden Arrow Bus services in 1970, where he worked for 12 years, rising to the level of General Manager.
In his early 20's O'Brien had played for the Western Province rugby side, which was captained by former Springbok captain Morné du Plessis, with whom he also became good friends.
In 1982 Du Plessis convinced his friend to leave the transport business and join him at Sportshoe, which manufactured adidas footwear under the Conshu umbrella.
He loved the shoe business from day one in the factory and the fact that he no more started work at 4am, which he did during his Golden Arrow days, was by far his biggest incentive at the time, he says. Shortly after he joined Sportshoe, Du Plessis left making him the successor as MD. "I was at the right place just at the right time!" explains O'Brien.
After his promotion, O'Brien tried to diversify their product range beyond making only adidas products and soon his efforts were rewarded with a 120 000 pair gym shoe order from the South African National Defence Force. This blew the Sportshoe factory's production ability apart and in 1989 Conshu purchased the Jordan Shoe Factory and moved the Sportshoe factory into their top floor. "The Jordan factory, with the extra adidas and army sales, really took off," he says. "Luckily for me, I was the adidas and army connection, so Rob Jordan, the Jordan MD at the time, had no option but to employ me."
During his time at Jordan & Co. he resurrected their Olympic sports brand and was instrumental in adding Bronx safety shoes to their corporate shoe range. "We now have a successful Safety Shoe division, focused on the upper end of the market place."
O'Brien plans a retirement full of activity and connecting with his friends and family. "Retirement will obviously include many early morning cycling and running outings, and also regular gym sessions," he says. He hopes to keep his wife and himself healthy and that she will learn the trick of having "double the husband and half the salary". He also hopes to learn how to play a musical instrument and will be offering his DIY skills to his family and friends.
---