---
07 May 2015
Hi-Tec's TV ad
walks the talk
Hi-Tec will become a very familiar brand for South African rugby fans during May, as their 30-second TV ad will be broadcast in 33 slots during Vodacom Super Rugby matches.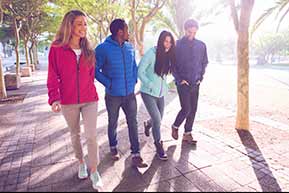 Set against spectacular urban and mountain landscapes, the advert is part of Hi-Tec's Walking Just Got Better campaign.
The ad shows a group of happy young South Africans using and enjoying the brand's wide range of technical and urban gear and apparel. Known for their technical hiking and mountaineering products, Hi-Tec now also has a funky urban range that is young, vibrant and energetic. The ad shows how the brand's products transcend categories and are equally at home at work as on a mountain scramble.
The catchy advert takes viewers from the Western Cape mountains to the urban spaces of inner-city Cape Town before culminating in a feel-good finish on the iconic landmark of Table Mountain. It shows young people from diverse backgrounds enjoying these urban and natural landscapes dressed in a technical, yet fashionable, range of Hi-Tec jackets, shoes, pants and boots, and using Hi-Tec tents, sleeping bags, backpacks and more.
The ad also uses graphics to showcase the latest technologies like the Vibram RollinGait Sytem that helps wearers of the V-Lite Walk-Lite Wittons transition from heel strike to toe-off, which drastically reduces fatigue. Other technologies highlighted are Dri-Tec and i-Shield, which make the Altitude V i WP a popular wet-weather boot.
People walk every day, and Hi-Tec aims to make every step a more joyful experience. They want to inspire South Africans to reclaim their streets, parks, mountains and beaches with the strapline Walking Just Got Better.
Click here to watch the ad.
---