---
04 June 2015
Custom designed
Springbok kit
"You tell us what you want in your kit. We'll develop it for you." This is what the Springboks were told by official sponsors Asics. And they have delivered.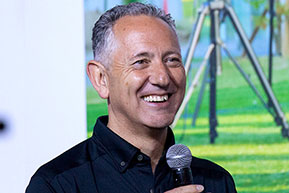 The official Springboks jersey will be launched later this afternoon and in the run-up to the event, Asics has been creating added excitement by releasing a video a week focusing on key elements in the Springboks' kit. This morning the brand invited media to a sneak peek of the technology that went into the development of the new kit.
Sticking to their promise to SARU, Asics has ensured that the replica jersey is 100% made in South Africa. "The replica is made for the modern man, with a looser fit," says Alistair Cameron, CEO of Asics Europe (photo). It has a UV treatment, which is especially important in a climate like South Africa's, as well as a technical fabric.
The Springboks' kit was specifically developed for them. The players were flown to the ASICS Institute of Sport Science (ISS) in Kobe, Japan, where they were able to give their input about what they require. "We believe this is the most technically advanced jersey," says Cameron.
For a start, the jersey is almost half the weight of last year's (down from 250g to 180g). In doing this, however, the developers have not compromised on the strength of the jersey. It has undergone several tests, both in the lab and on the field, to make sure it will stand up to the rigorous conditions that players find themselves in during the game.
The jersey material has a slippery feel as well as a stretch quality. This is so that players can't easily be grabbed and held. If an opponent tries to pull a Springbok down by grabbing his shirt, the shirt will allow a slight stretch, but only up to a point – when it will snap back and allow the Springbok player to escape the grasp.
This slippery material is, however, not a problem for our own players. While the Springbok players were at ISS, the developers were able to track exactly where the players need extra grip to catch the ball and to hold onto each other. The Silicone Super Grip dots are spread from the middle to the sides of the jersey – not across the chest, where extra grip would be have been applied before. This is because players tend to carry and hold the ball against their side. Similarly, when they have to lock with fellow players, they need grip on their sides. There is also a special seam down the side that helps forwards bind in the scrum.
The Springboks will wear their new kit during the IRB Rugby World Cup, which will be held 18 September-31 October in England.
---